Jimmy Butler recorded 25 points, 11 rebounds, four assists and two steals in 43 minutes – playing through a rolled ankle late – as Miami Heat profited from turnovers, overcoming a sluggish start to overwhelm the New York Knicks 108-101 in Game 1 of their Eastern Conference semi-final matchup on Sunday night.
Knicks run out of steam in telling third quarter
Having stifled the Cleveland Cavaliers in round one, New York led 55-50 here at half-time and Madison Square Garden was booming. Their fans were bullish, buoyed by Mitchell Robinson and Jalen Brunson's baskets through traffic in an eventful first-half.
It didn't take long for them to get increasingly restless though, and their worried murmurs were justified as Miami responded perfectly to start the third quarter.
After all, this was the eighth seed who stunned the Milwaukee Bucks – many critics' championship pick – into a five-game gentleman's sweep earlier this week.
A never-ending postseason schedule meant they didn't have the luxury of extra rest days to recover, but with tenacious veterans like Kyle Lowry and their leader Jimmy Butler both fully engaged, a 900-mile trip east wouldn't have mattered much.
Kevin Love had three of his four assists in a three-minute frenzy as lazor-like outlet passes were gladly gobbled up by Butler, during a 21-3 run as easy transition buckets were key in seizing upon New York's on-ball carelessness.
The five-point lead had suddenly turned into an eight-point deficit with 5:34 remaining in the third quarter, and the Heat had multiple players contributing.
Sharpshooting reserve Duncan Robinson (0-of-5 from three) went scoreless in 13 minutes, while big man duo Haywood Highsmith and Cody Zeller didn't do much.
Caleb Martin (9 pts, five rebs, two steals, one ast and blk) certainly made himself useful, but it was a NBA champion on the bench who really flourished in Game 1.
Lowry gets it done, multiple ways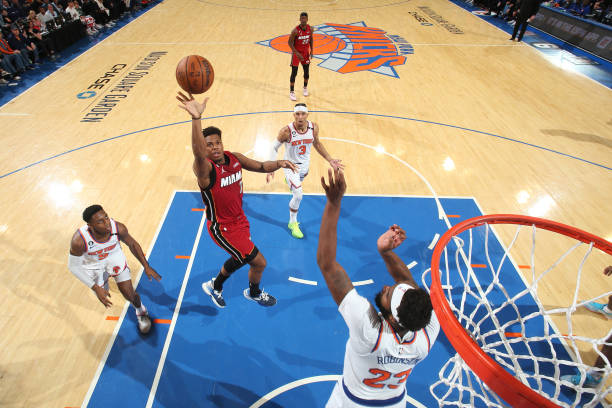 Lowry (18 pts, six assists, five rebounds, four blocks), did more in half-an-hour's play than the Knicks' three-man bench unit combined.
As cameras focused on Heat president Pat Riley in the stands, it felt fitting he was there in person to marvel at the 37-year-old's overall showing.
Riley didn't mince his words last summer when calling for Lowry to be in world-class shape, which the 2019 champion dismissed when asked by reporters three months later. He's struggled with injuries and form, but this was a timely reminder.
He does all the little things that don't show up in the box score like defensive hustle plays or intelligent game-management sequences, and like Butler acknowledged post-game, those are winning plays which help strengthen them in the long run.
"He's a winner, our leader, whether he starts or comes off the bench. He's a champion and is one of the engines that helps us go where we need to," he told ESPN's Cassidy Hubbarth before limping off into the locker room.
Butler fell awkwardly and rolled his right ankle in the act of shooting as Josh Hart contested the attempt. There was immediate concern for the 33-year-old, especially after season-ending injuries to Tyler Herro (wrist) and Victor Oladipo (knee).
He gingerly rose to his feet before insisting on playing through pain for the final 5:05, despite being visibly compromised in what was a three-point game at one stage.
He sunk both free throws, Brunson scoring a running floater shortly afterwards and Lowry made three key plays in less than 30 seconds after missing a pullup jumper.
First, he poked the ball free from Robinson (4:33), before watching Gabe Vincent profit from said steal with a contested triple at the top of the key. Next, he blocked and forced a jump ball as Brunson drove to the basket ten seconds later.
Martin got an inadvertent whack to his face, but the tip went in Miami's favour at a critical juncture. They didn't score on the next possession, though shaved precious time off the clock before Martin timed a big block on RJ Barrett's layup attempt.
Lowry assisted Bam Adebayo's turnaround shot in the paint, Barrett was subsequently penalised for an offensive foul and the 15-year veteran drilled a two-pointer down the other end, giving them a ten-point lead with 2:53 remaining.
As the New York crowd were increasingly silent, resigned to defeat, it was clear Erik Spoelstra's side wouldn't dare relinquish such an advantage at that stage. Alas, maybe they'll have Julius Randle (ankle) to call upon for Game 2 on Tuesday?
---
What's next?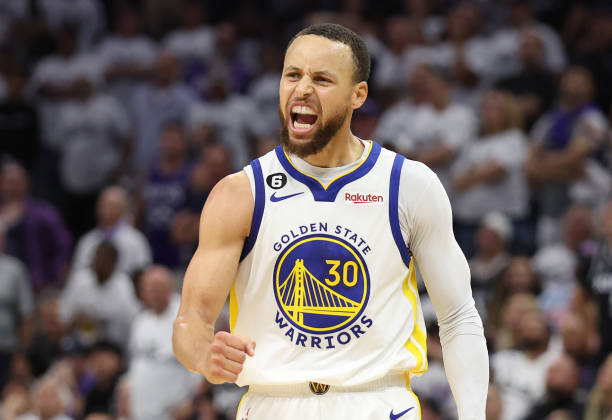 Tuesday
Game 1, East Semis – Boston Celtics vs. Philadelphia 76ers (12.30am BST)
Game 2, West Semis – Denver Nuggets vs. Phoenix Suns (3am BST)
Wednesday
Game 2, East Semis – New York Knicks vs. Miami Heat (12.30am BST)
Game 1, West Semis – Golden State Warriors vs. Los Angeles Lakers (3am BST)
Picture source: Getty Images, quotes via ESPN broadcast