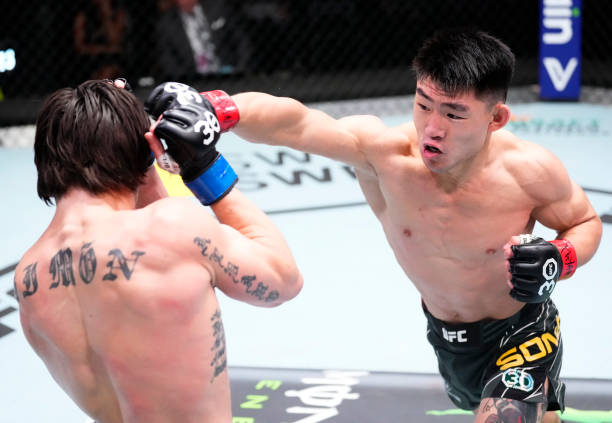 Song Yadong produced a statement showing against Ricky Simon, snapping the fellow top-10 contender's five-fight win streak in Saturday's main event before calling out Sean O'Malley [1] and former foe Marlon Vera [5]. The Chinese talent is still only 25 and a firm fixture at bantamweight, so who should be next?
Yadong back to winning ways in style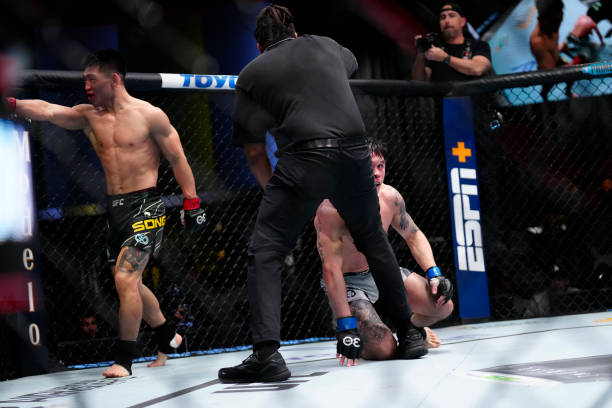 R5, 1:10 – Song Yadong bt. Ricky Simon via TKO (punches)
"I'm extremely happy, Simon a very tough opponent, sorry but today was my night. Next, I want top-5 fighters. I practice [the technique] everyday, just learning, a perfect left hook! Don't let him rest, that was my plan," Yadong reflects during his post-fight interview with Daniel Cormier
25-year-old calls out bantamweight contenders Sean O'Malley [2] and floats a Marlon Vera [5] rematch, but will he get what he wants? 
Reigning champion Aljamain Sterling says he will "very likely" depart the division in two more fights and move up to featherweight, while this weekend's challenger Henry Cejudo similarly has been vocal in wanting prospective matchup against featherweight titlist Alexander Volkanovski
The first round was tense and packed with leg kicks from the midway point, as both tried to establish their assertiveness and steal points on the judges' scorecards.
This fight, after all, had been pushed back a week and given main event rounds – rather than the normal three – so energy conservation was a conscious thought too.
Media were split over who edged R1, though Simon landed a strike more and had a 13% accuracy advantage, so it would be fair to lean towards him in that regard.
Just as you were gearing up for a five-round chess match, chaos ensued to start round two… between rounds Urijah Faber told Yadong he needed to throw more volume and be increasingly active with his striking, so the 25-year-old duly obliged.
---
Yadong's significant strikes per round
R1: 11 of 28 (39%)
R2: 25 of 57 (43%)
R3: 20 of 57 (35%)
R4: 27 of 56 (48%)
R5: 22 of 30 (73%)
---
Yadong landed the teep kick well, defended two takedown attempts in the previous round and briefly appeared to land a knockdown with Simon's back up against the fence – rocking him with a punch flurry before Simon reversed it into a takedown.
Simon did well to withstand a dangerous moment and not long after the sequence, the commentators confirmed a clash of heads started that after rewatching it in their replay monitor, though the judges wouldn't have been privvy to that information.
Even still the optics didn't do Simon any favours, having countered back with punches well enough but finding himself walked back against the cage and absorbing a series of damaging strikes in-front of an excitably small Apex crowd.
The 30-year-old finished well in the final 15 seconds, timing a takedown and raining down with hammer fists, but it wasn't enough to steal the round.
His jab landed flush when he threw it, but Yadong didn't respect the punch power coming back and that was abundantly clear during the third.
Whipping haymakers and flashy spinning kicks foreshadowed what came soon afterwards, as Simon had his takedown attempts snuffed early in the fourth.
That merely emboldened the Chinese to box his way forward and press, landing body shots, boxing sharply up close and countering well as the end was near.
Yadong sat Simon down with a beautiful left hook with two seconds left of round four, and the jiu-jitsu black belt's five-fight winning streak wasn't lasting much longer.
His corner told him he needed a final round stoppage, so most of his defensive caution had to be abandoned: needing to lure Yadong into a firefight.
The problem was, his head hadn't fully cleared after being dropped in the final moments of the fourth and so it proved. Song landed a right-hand which stung him in the centre of the cage, then scored another knockdown with the left hook.
Yadong's furious onslaught continued as Simon tried to recover, or fight back, though it was futile as referee Herb Dean had seen enough and ultimately waved it off.
---
Matchmaking what's next, up and down the rankings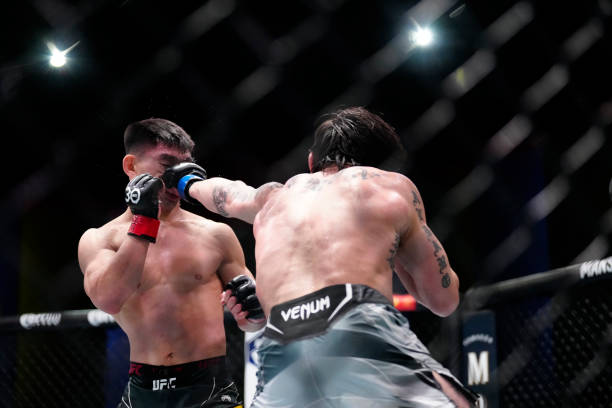 He called for a top-five opponent and if you don't ask, you won't get. It's an interesting question considering he'll now naturally look to fight up the top-15 rankings – having defended his #8 ranking, leapfrogging Dominick Cruz into #7.
His best win remains Marlon Vera (UD3), a Fight of the Night contest three years ago this month, who now sits at #5. Having been stopped by Cory Sandhagen [3] last September, he can't fight anyone above that in the interest of meritocracy.
Rob Font [6] defended his ranking against rising contender Adrian Yanez [12] in stunning fashion last month, and mmajunkie's Mike Bohn suggested he should fight former champion Petr Yan [4] next, who's on a surprising three-fight losing skid.
Simon, whose R3 submission win over Merab Dvalishvili five years ago has aged like wine, will probably defend his top-10 ranking against lower ranked opposition next.
The promotion has big hopes for unbeaten contender Umar Nurmagomedov [11], Yanez just lost rather decisively, so maybe Jonathan Martinez [13] for instance, after earning a ranked win over Said Nurmagomedov in March.
It very much depends on when he'll be back, with Cruz the most recent example of a rough timeline for his return – he could feature again in November-December, or that could be his year over. The division could shuffle plenty by then.
---
Rest of main card, prelim results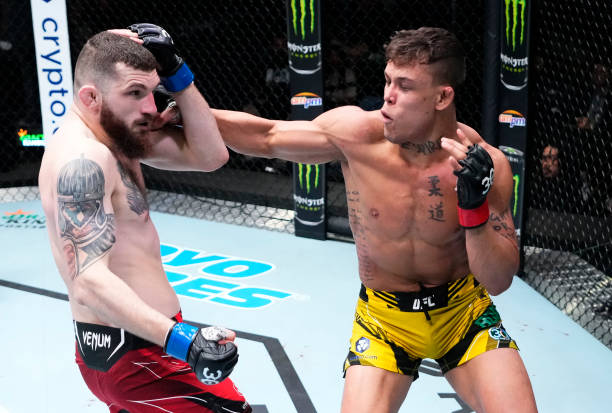 Main card
Middleweight: Caio Borralho bt. Michal Oleksiejczuk via R2 sub (rear-naked choke)
Middleweight: Rodolfo Vieira bt. Cody Brundage via R1 sub (arm-triangle choke)
Featherweight: Fernando Padilla bt. Julian Erosa via R1 TKO (punches)
Heavyweight: Marcos Rogerio de Lima bt. Waldo Cortes-Acosta via UD (29-28 x 3)
Welterweight: Trey Waters bt. Joshua Quinlan via UD (30-27 x 3)
Prelims
Heavyweight: Martin Buday bt. Jake Collier via UD (29-28 x 3)
Flyweight: Cody Durden bt. Charles Johnson via UD (30-27 x 3)
Catchweight (140lbs): Irina Alekseeva bt. Stephanie Egger via R1 sub (kneebar)
140lbs: Marcus McGhee bt. Journey Newson via R2 submission (rear-naked choke)
137.5lbs: Jamey-Lyn Horth bt. Hailey Cowan via UD (29-28 X 3)
Up next: UFC 288 this weekend, headlined by Aljamain Sterling (c) vs. Henry Cejudo for the bantamweight title after welterweight title hopefuls Belal Muhammad [4] vs. Gilbert Burns [5] battle in a five-round co-main event
Picture source: Getty Images, strike stats per UFC