His decision win over London rival Craig Richards long forgotten, light-heavyweight contender Joshua Buatsi turned 30 in March and celebrated by signing an exclusive multi-year agreement with BOXXER. Two months later, he headlines against a fellow unbeaten hopeful: Poland's Pawel Stepien, hungry to seize credentials the Olympic bronze medallist has steadily built at pro level.

Buatsi has sights set on Beterbiev, but must be more active
Joshua Buatsi (#1 WBA, #2 WBO) vs. Pawel Stepien (#4 IBF)
Unbeaten light-heavyweights battle in BOXXER's Birmingham main event
Estimated ringwalks around 10pm BST, Saturday
Live on Sky Sports Action in UK, FITE TV in US
"I understand your point, it's a good question. When someone is being accused of something, I always think why don't they come out online and clarify what the truth is. But then you go back-and-forth with trolls, I don't have time for it.
The evidence is all there, sometimes I think why don't we put it [information] all out there but there's a respect about business, it's confidential, supposed to be kept private. Over the past few months, I've thought about it but kept quiet.
You won't find me arguing with people who don't know the truth."
I'm talking to Joshua Buatsi at the March unveiling of his exclusive multi-fight deal to join Ben Shalom and BOXXER on Sky. Trying to understand why he allows speculation – a lot of half-truths and mud slinging – about him to lie unchallenged.
Leaving Eddie Hearn's Matchroom stable, as well as a £1m offer to fight WBA light-heavyweight champion Dmitry Bivol on the table, seems contradictory considering he's entering the prime years of a finite career that could conceivably end at anytime.
Not good enough. Overhyped. Defensively vulnerable. These are some of the phrases used to describe him, and they went into overdrive after the Bivol offer was rebuffed. 
He acknowledges as much, and as I ask about the topic of time and whether now is the right moment to declare urgency as far as his pursuit of world titles are concerned, the Ghanaian agrees. Injuries and other business have got in the way.
"Yeah, it is. I've got a good ranking, don't see why I can't be manoevured in the right way to get that title shot."
---
Proposed fights have fallen through for multiple reasons…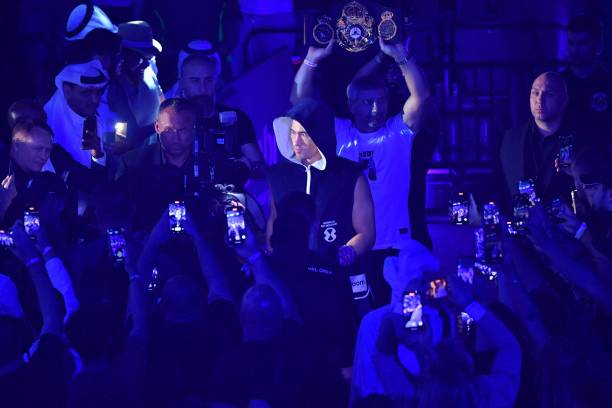 Buatsi withdrew with a hand injury before a Dec. 21 bout with former world title challenger Maxim Vlasov, who many felt beat Joe Smith Jr for the WBO strap eight months earlier. The Russian veteran has since retired after losing 12 months ago.
Former world champion Jean Pascal, who agreed terms to an IBF title eliminator, ultimately lost vs. Michael Eifert instead after VADA testing became a bone of contention between promoters and Buatsi didn't return signed agreements on time.
The aforementioned Bivol offer, which came after his UD12 win over Craig Richards last May, was conditional: accept and sign a three-fight extension, as the company wanted to protect their asset – he didn't want to be there any longer.
---
That's ultimately the key, boxing opponents sufficiently testing him for the world's best. Skeptics will be quick to denigrate BOXXER's talent depth in a division with multiple compatriots targeting the same goal, but that won't matter soon enough.
#1 for Dmitry Bivol's WBA title, #2 (WBO), #3 (WBC) and #13 (IBF) for Artur Beterbiev's unified championships, it's unsurprising to see his bullish quotes ahead of a Birmingham main event against an opponent relatively unknown in the UK.
"A win gives me a shot at three belts. If it's offered to me, I'm not going to turn it down. You can never override Beterbiev, that's a long-reigning champion for a reason. Not by chance, not by anything.
I think there's things he does well, but I also bet on myself and say there's things I do well too. But let me get in the ring [Saturday night] and show something."
Stepien was originally slated to face Callum Smith, Beterbiev's mandatory challenger, in a Liverpool headliner on a Matchroom show two months ago.
As I reported, Smith sustained a minor injury and opted against the bout, labelled a stay-busy before his eagerly-anticipated showdown with the long-reigning titlist.
That could happen before early August, by which time all of Buatsi, new European champion Dan Azeez and Anthony Yarde should've made their own in-ring returns.
The former two are now on the same platform, while Yarde has been open about boxing the right opposition to get back into title contention himself. The same way Yarde cannot afford easy touches at this stage of his career, Buatsi can't either.
---
"You said it: different looks, sparring partners, mentality and more. It broadens my knowledge and how to adapt to different people – I can see why US fighters are champions at a younger age, taught very differently to us over here.
Him saying that was because he said I can have one or two more, while I get ready for it [a title shot], he didn't say I wouldn't take the challenge or if the offer came in, that we wouldn't accept it. That's the mistake people assume."
Buatsi on travelling to the US for training and whether head trainer Virgil Hunter has been more patient with his world title quest than he expected
---
One has had two world title opportunities and fallen short but seen his stock risen in defeat, while the other has stagnated at a time where other high-ranked contenders and former champions are being exposed among the brightest lights.
Should he prove victorious this weekend, Buatsi would have bested his third unbeaten boxer (Marko Calic, Daniel Blenda Dos Santos) travelling from overseas.
Given the discourse about his decision-making and career choices arriving in their droves after his flashy unveiling at Boxpark Croydon seven weeks ago, he'll do well to make this one a memorable display against a durable adversary with plenty to gain.
---
Full card, is as follows
12 rounds
Light-heavyweight main event: Joshua Buatsi vs. Pawel Stepien
Vacant EBU middleweight championship: Tyler Denny vs. Macaulay McGowan
10 rounds
British female welterweight title: Lauren Price vs. Kirstie Bavington
WBO European light-welterweight title: Sean McComb (c) vs. Kaisee Benjamin
8 rounds
Light-heavyweight: Shakkan Pitters vs. Joel McIntyre
Lightweight: Cori Gibbs vs. Jimmy First 2
6 rounds
Light-heavyweight: Ben Whittaker vs. Jordan Grant
4 rounds
Lightweight: Danny Quartermaine vs. Christian Lopez Flores
Picture source: Lawrence Lustig / BOXXER, all quotes procured by me unless hyperlinked