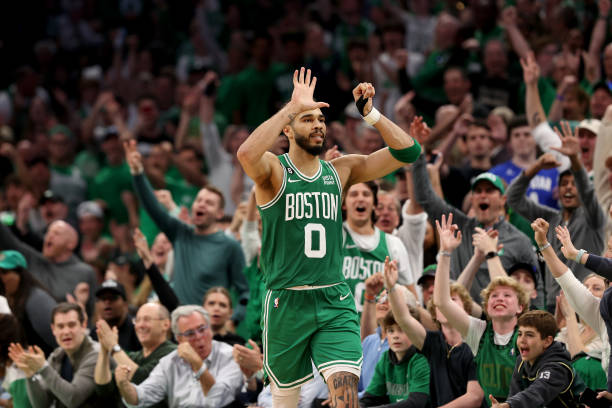 Jayson Tatum broke Stephen Curry's record for most playoff points scored in a Game 7, as the Boston Celtics blasted their way beyond the Philadelphia 76ers after an eventful third quarter – punching their ticket back into the Eastern Conference finals, where Miami await for the third time in the last four seasons.
Tatum inspires Celtics as they return to East Finals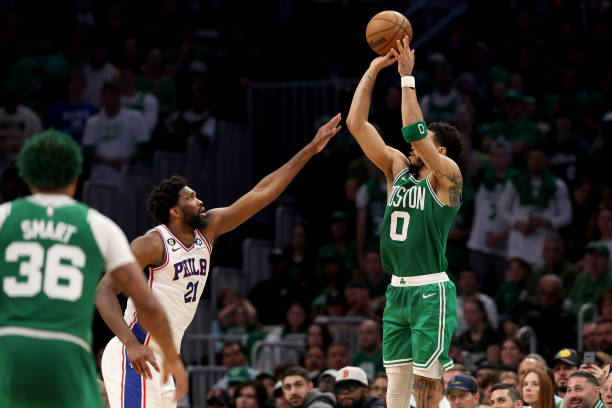 "Al [Horford] did a tremendous job, [Marcus] Smart, big Rob [Williams III], just trying to wear them down… give them different looks, tough as possible and limit them to one shot." Tatum's post-game interview courtside, making sure to praise his teammates' defensive efforts
Tatum overtakes Sam Jones (47 vs. Cincinnati Royals in 1963) as Boston Celtic player with most points in a Game 7 with 51, snaps Stephen Curry's record a fortnight after his 50-piece vs. the Sacramento Kings on Apr. 30 
Resounding home victory means it will be a repeat of both Conference Finals from NBA bubble season (2019-20), as Denver Nuggets vs. Los Angeles Lakers and Miami vs. Boston set to start early next week
James Harden made a conscious effort to dim inevitable celebrations as his Sixers teammates spilled out onto TD Garden, briefly, as if to prove a point.
After all they hadn't done anything yet, besides steal Game 1 on enemy territory without their MVP in an injured Joel Embiid. That May 2 encounter foreshadowed an emotional rollercoaster ride for both teams, culminating here on the same floor.
As a neutral with a thirst for more do-or-die situations like this one proved, there's something comforting about history repeating itself. Conversely, it must be unsettling to watch unfold if you're suffering from the same pitfalls over again.
Philadelphia led 3-2 in the series at one stage and could've closed it out on their home floor, but fell short.
Jayson Tatum's scoring struggles continued that night too, before a fourth quarter explosion saw him finish strong to force a win-or-go-home scenario for both here.
He wasted no time ending a barren spell of scoreless first quarters here, posting more points by half-time (25) than during Games 4-6 combined (18).
When Embiid asked if he had that type of scoring performance waiting for Game 7, you could audibly hear him say "I needed that," and Embiid agree, no matter how hard they were trying to block their post-game interaction to the outside world.
It was actually the other way around. Newly-crowned league MVP Embiid had just taken the scoring title for a second straight season, and was still not over the second-round postseason hump: this marking his sixth playoff campaign (53 games).
Al Horford, a one-time former teammate, may not stick out from his stat sheet numbers but kept Embiid at bay in-and-around the rim whenever called upon.
He led the game in blocks (3), had six points – two much-needed three-pointers – 10 rebounds, three assists and a pair of steals too. Stepping up with the season on the line and outside noise intensifying, as proud father Tito watched on in the stands.
---
Same old for 76ers: A flavour of some disgruntled fan reactions
---
This game was nip-and-tuck in the first-half, yet anything but shortly after the restart. Boston embarked on a startling 21-3 run over a near seven-minute stretch, and their passage into the Eastern Conference Finals felt sealed after one play in particular.
Tatum – who had 38 points at the time – was trapped by a double-team near the three-point line. He fed Horford with a clever bounce pass, who faked to shoot and swung it backwards into an open Jaylen Brown for a perfectly-executed triple.
76-58 the score after that move, the writing was on the wall for Doc Rivers' side after an alarmingly passive James Harden (3-of-11, five turnovers) was penalised for a backcourt violation when receiving a pass from Embiid shortly afterwards.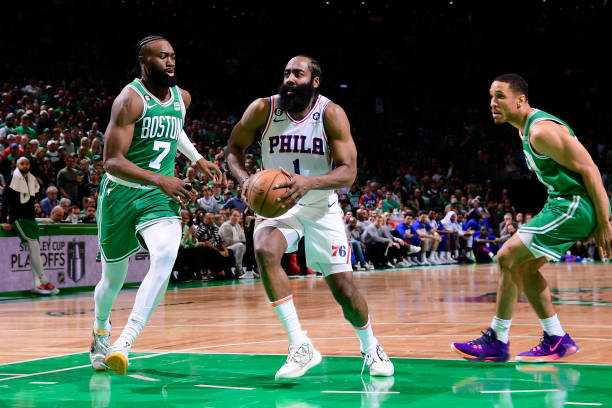 Malcolm Brogdon, the league's Sixth Man of the Year this term, compounded that careless turnover by drilling a three of his own on the subsequent possession.
It was jarring to watch Rivers eventually concede defeat on the sideline late in the fourth, hunched over and willing his team to fight while keeping the ever-increasing scoreline more respectable. They were mentally cooked, embarrased and outplayed.
DeAnthony Melton had some encouraging defensive plays, while Tyrese Maxey didn't stop trying (17 points, four assists) but it felt fitting their leading scorer in the biggest game of the campaign was a man heavily criticised himself: Tobias Harris.
There will naturally be an inquest into how they let this unravel the way it did, and Rivers will inevitably be shown the exit door after another Game 7 loss.
Earlier this week, Joe Mazzula and co were on the brink themselves and it only amplifies how quickly things can change in a league where the cost of failure is increasing. Recent comments suggest their first-year head coach still isn't safe.
They may rejoice for a few hours or so after navigating past pressure well here, but little more than that as a familiar foe travels to Boston for Game 1 on Wednesday.
Miami won their six-game bubble series in 2020, carried over the finish line by one star in particular.
Things were different last year – the Celtics almost collapsed from 3-2 up themselves then – but Erik Spoelstra's men are united by their underdog tag and make you believe they wouldn't have it any other way. Injuries and bad luck don't faze them.
What would Philadelphia do to have Jimmy Butler back, eh?
Picture source: Getty Images