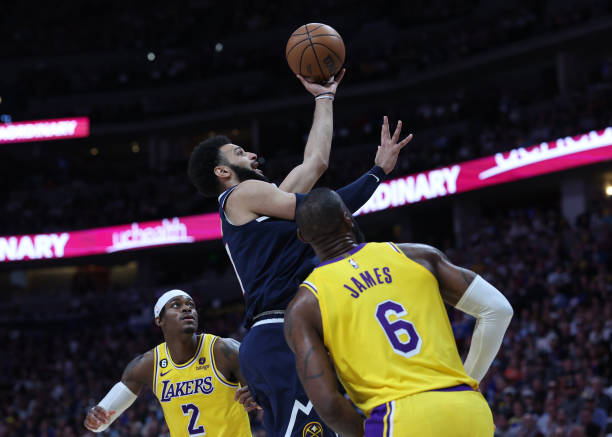 Despite struggling with his shot and some scrambled decision-making early on, Jamal Murray had 23 of his 37 points in the fourth quarter. It proved decisive as Denver executed better down the stretch to increase their West Finals series lead to 2-0 as they're Los Angeles-bound for Game 3 on Saturday night.

Denver in driving seat, as LeBron and co falter late on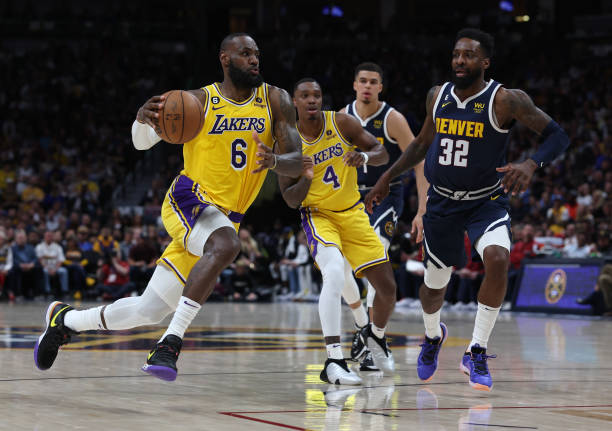 LeBron James finishes one rebound shy of a triple-double (22 pts, 10 ast, 9 rebs) but missed a series of layups, whiffed on a dunk that quickly went viral and was scoreless from three-point range as critics intensify
"They fought, tested us, pushed the ball, but we were more disciplined, made more adjustments and executed. I feel better that we won, my team told me to keep shooting, they kept finding me and knocked it [clutch shots] down the stretch," Jamal Murray during ESPN post-game interview
Lakers lose consecutive playoff games for the first time this postseason, while Murray notches fourth career playoff game with 20+ points in the final quarter – no-one has better over the last 25 postseason campaigns
LeBron James made his 280th career playoff appearance, but couldn't inspire the Lakers past a fourth quarter surge by Denver as their hosts snatched a 2-0 series lead.
To better contextualise LeBron's longevity atop the sport, four-time NBA champion Andre Iguodala (177) is the active player closest to him in that specific category.
The long-time Golden State Warriors small forward, 39, previously said this would be his last year, but has since walked back those comments this week.
He hasn't featured since undergoing wrist surgery during the regular season in late March, and it's unlikely he'd play extended minutes elsewhere in future either.
I mention that tidbit to say, father time is undefeated. LeBron appeared determined to help bail his teammates out of precarious situations as Denver went on scoring runs, but only found sustained success when he drove to the basket.
By the same token, he wasn't faultless from close-range either: four of his ten misses came inside the restricted area where every possession is magnified. The other half-dozen, well, the less said about those three-point attempts the better.
LA began promisingly, baiting their former player Kentavious Caldwell-Pope and Michael Porter Jr into foul trouble as the Nuggets were reckless in possession.
Hachimura steps up, during a frantic game of runs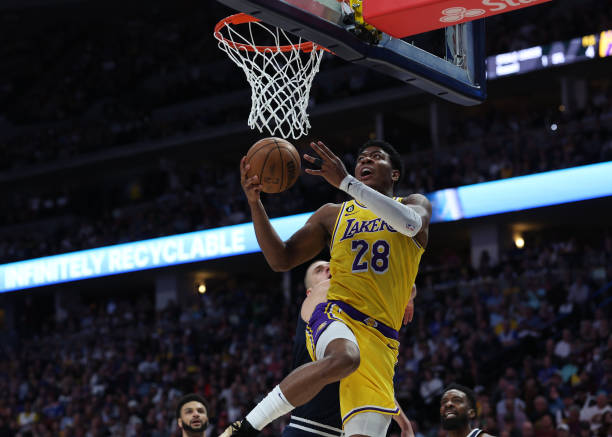 Midseason acquisition Rui Hachimura was getting all sorts of love on the TV broadcast and rightly so, notching up 13 points a variety of ways in his first seven minutes off the Lakers' bench.
The power forward had 21 points on 8-of-10 shooting, seven more than Denver's four-man bench unit on his own, another excellent outing for the 25-year-old.
Darvin Ham's side proceeded to miss ten straight field goal attempts as the Nuggets made a run of their own before half-time, with poor transition defence and questionable shot selection hindering the visitors.
Nikola Jokic was aggressive in-and-around the basket after the restart, with three shots in as many minutes helping Michael Malone's men continue where they left off.
Bruce Brown had five straight points – sandwiched between a D'Angelo Russell miss – as the Nuggets rushed out to a 10-0 run near the end of the quarter, setting up a compelling finale.
"We got to play better defence, we're not just gonna outscore them… we pride ourselves on getting stops, get out and run, we're not playing hard enough… have to leave it all out there," was the mid-game assessment from Malone.
He'd seen his team give up too many cheap points. Right on cue then, Jamal Murray introduced himself in the best way possible down the stretch.
After going 5-of-17 through three quarters with two turnovers and struggling to find his groove, Murray kept shooting and was rewarded for his persistence.
He repeatedly punished the Lakers and didn't discriminate based on who was guarding him – LeBron, Anthony Davis or anyone else besides – he'd drill a pullup three without hesitation.
Bruce Brown gets it done, as Denver finish strong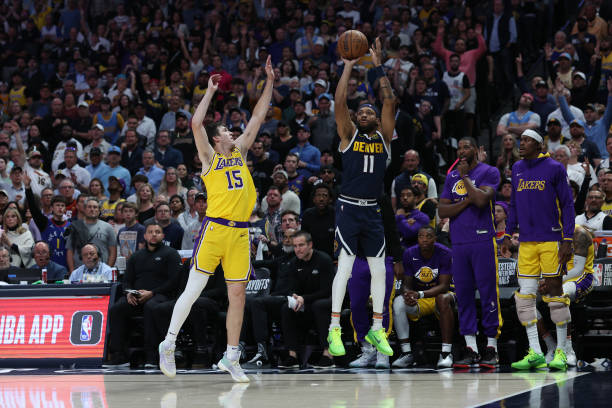 Brown added one too as both LeBron and Porter Jr were struggling from deep, before a sloppy turnover by the latter set off a chain reaction: LeBron's driving finish and a Davis corner three cut the Lakers deficit to just five points.
Aaron Gordon, who was quiet offensively, produced a big block on Dennis Schroder late while Jokic – who made history with another big statline (23 pts, 17 rebs, 12 ast, three steals) – used his body to smartly bait Davis into a foul as time ticked by.
Did you know? Jokic's statline above, his seventh triple-double of this season's playoffs, ties Wilt Chamberlain (1967) for the most in a single postseason.
LeBron made a great defensive play in stealing a poor Murray pass, but missed a layup moments later that would've cut the lead to two with 26.1 seconds remaining.
Failing to convert, like the dunk attempt which slipped out of his hands earlier, it typified a regrettable finish.
"[What's the expectation for Game 3 in Los Angeles?] They'll play with pace and energy. We've got to match that, eliminate their runs, we'll be in a good spot as long as we do that," Murray insisted in his post-game interview.
Austin Reaves posted his third straight 20-point game (22 pts, 5-of-9 3PM and five ast) while Hachimura was again impressive. Can they collectively benefit while it lasts?
Besides those two and fleeting moments elsewhere, there wasn't enough to be encouraged about from the Lakers' perspective, as they travel home and expectations heighten for a seismic Game 3 upcoming on Saturday night.
Picture source: Getty Images, quotes via ESPN broadcast