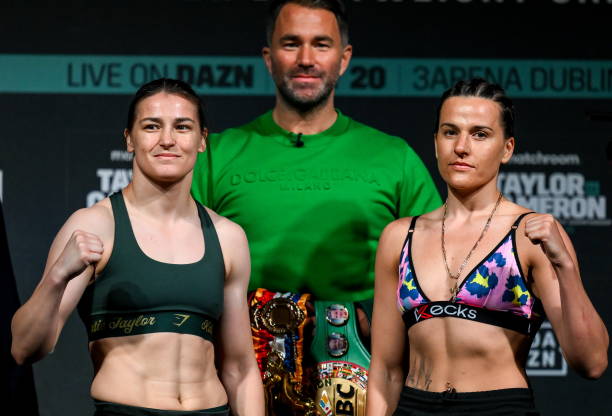 Two weeks shy of 12 years since their first meeting as amateurs, undisputed light-welterweight champion Chantelle Cameron looks to play spoiler as Katie Taylor makes her long-awaited Irish homecoming tonight. Over the course of a month in the build-up to this bout, I spoke to a series of boxing folk – current and former champions among them – with some contrasting opinions to share.
Durability the buzzword as Taylor takes on her latest test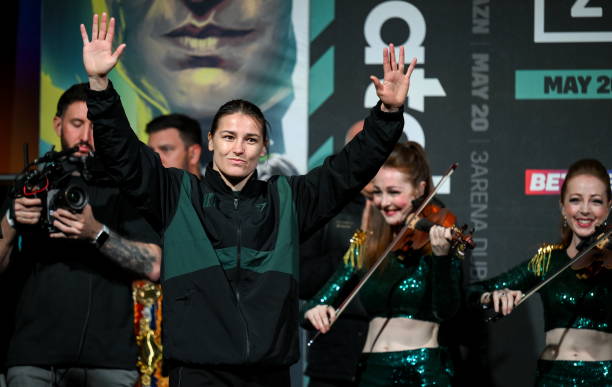 Katie Taylor (22-0, 6 KOs) vs. Chantelle Cameron (17-0, 8 KOs)
IBF, IBO, WBA, WBC, WBO world light-welterweight titles
Live at 3Arena in Dublin, Ireland – ringwalks expected at 10pm BST
Two-weight world champion and reigning lightweight queen Katie Taylor celebrates her 37th birthday in six weeks' time, but retirement talk remains premature.
It feels fitting then, her Ireland homecoming has been billed the hardest fight of an illustrious career that still has a few legacy-building moments to experience.
World featherweight titlist Amanda Serrano almost stopped her cold in round five of their historic clash last April, and an immediate rematch proved a pipedream.
Serrano has since seized undisputed status at 126lbs against Erika Cruz, before a minor undisclosed injury poured cold water on a proposed rematch for this date.
Instead, she'll return from injury in August by rematching Heather Hardy four years on from outpointing the then-unbeaten WBO featherweight champion.
Serrano has won belts across seven divisions as a professional, but is naturally a featherweight motivated by the challenges of moving up and conquering other weight classes besides her own. Cameron by contrast, is a career light-welter.
Taylor has only once fought at this weight: November 2019, a UD10 win over Christina Linardatou for the WBO 140lb title five months removed from a controversial majority decision win over Delfine Persoon at Madison Square Garden.
Linardatou was scheduled to face former unified super-featherweight champion Mikaela Mayer on the Joyce-Zhang card, before the Greek wasn't medically cleared to fight after failing a medical – due to a permanent lens in her eye – the day prior.
The WBC interim lightweight title remained up for grabs that evening, as Mayer won comfortably against a gamely short-notice opponent in Lucy Wildheart.
Naturally, she's eyeing a Taylor showdown herself and will be among those ringside – doing commentary for BBC Radio 5 Live tonight. So without further ado, what did these six men and women in boxing say when I quizzed them about this matchup?
---
Mikaela Mayer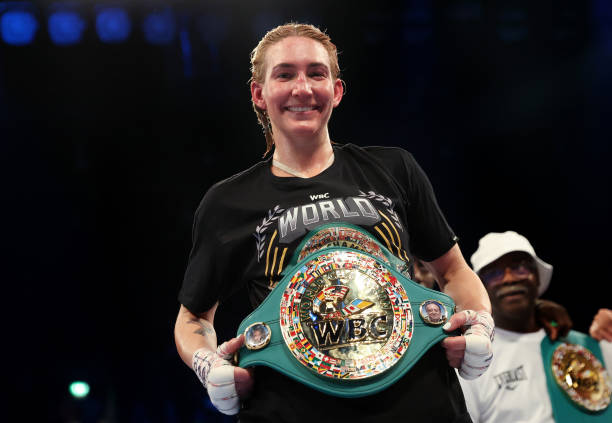 "I've always wanted a fight with Katie Taylor, feel like I'm deserving of that – come a long way in this sport – Katie is a great champion, wants to challenge the top competitors and that's me right now.
A lot of people are talking about Katie being on the decline but if you ask her, she's not looking to hang up the gloves anytime soon, still wants to fight, we'll see how she does against Chantelle…"
---
Franchon Crews-Dezurn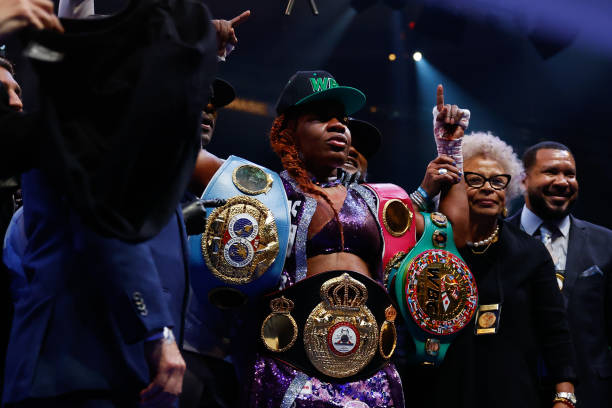 Mayer's American compatriot and friend Franchon Crews-Dezurn prepares for her own undisputed world title defence on enemy soil this summer, but also had her say.
[on a prospective Mayer vs. Taylor matchup] I've seen Mikaela develop into the technical fighter she is now and yeah, that would be a good fight. She's got the height advantage, can fill out at the weight class, Katie has pedigree but been in a lot of wars so it'd be a situation where damage and age catch up.
I love Katie, she was an idol of mine coming up [the ranks], I'll never say she's getting too old but are you getting smarter, making the right adjustments?
I was ringside for the Serrano fight, Amanda came up in weight – Chantelle is a big girl – everyone saw what she did to Jessica McCaskill, so I don't know… wouldn't want to count either one out. I can't wait to see it though!"
---
Savannah Marshall, Peter Fury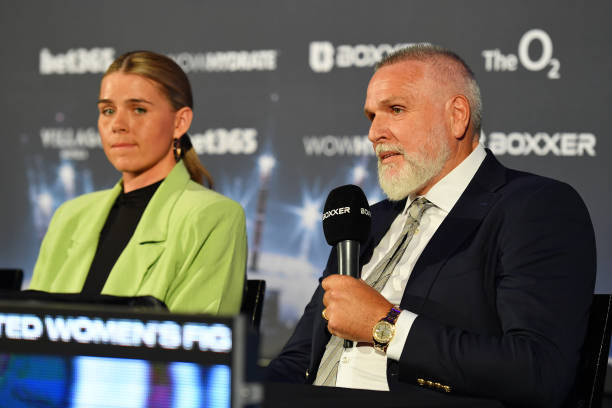 After hearing the previous two speak at length, I asked Savannah Marshall what might happen in a prospective Mayer-Taylor bout. Set to face Mayer's friend Crews-Dezurn in five weeks' time, this sharp-but-honest response shouldn't be surprising:
"I don't think that fight will happen, because Chantelle Cameron will beat Katie Taylor. Cameron beats Mayer too. If there was any time she could beat Katie, it's now – you've seen glimpses of how she can be, by both Serrano and Persoon.
Chantelle isn't like those two: a fully fledged light-welterweight, I think she gives Taylor nightmares late on."
As for her head trainer, Peter Fury, he leaned the same way when it was put to him.
"Cameron has a terrific trainer in Jamie Moore, it's a hell of a fight and I'm looking forward to it. Taylor is the favourite but anything can happen, Chantelle has a good chance of pulling it off."
---
Ben Shalom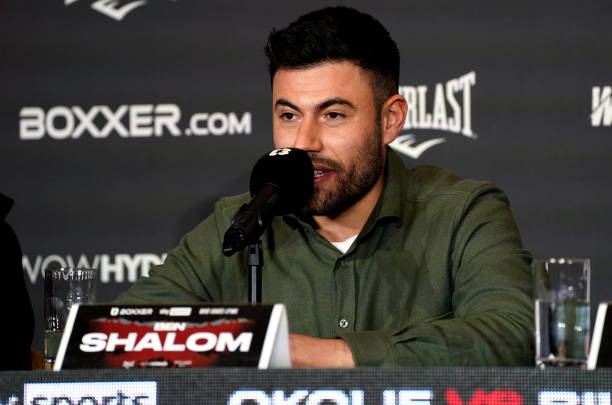 Cameron knew as soon as she signed, for an impromptu and legacy-building night, she'd be overlooked by many. Much like Savannah Marshall, BOXXER promoter Ben Shalom isn't one – but will the Dublin backdrop have an impact?
"It's a fantastic fight, another big one and so many are being made right now. Women's boxing is really holding down the forte right now, the way the women's sport is coming along.. just brilliant.
Chantelle, I've met her a couple of times – I'm rooting for her – she seems like a special personality, massive underdog but you can't argue with that.
I'd be happily surprised if she could [win it], but Katie is an absolute legend and back home in Ireland, I don't think she'll lose."
---
Caroline Dubois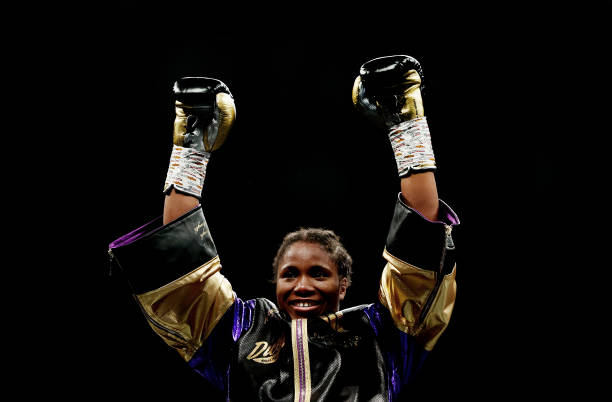 Lightweight prospect Caroline Dubois looked at things from both sides of the coin, saying:
"I think I've been asked this question about ten times now, I'm very on the fence! It's a tough, very hard fight – Taylor knows how to win and she'll be in her backyard, surrounded by her people, if it's close – like Persoon and Serrano – they won't give it to Cameron, that's just being straight.
It's a tough ask for Chantelle, to win she must have the mentality that these are my belts and nothing will stop me [from defending them], show no respect… right now, it's 50-50. How Chantelle looks, her body language and mindset during fight week will determine it for me."
Guess we'll have to wait and see.
---
Full card, is as follows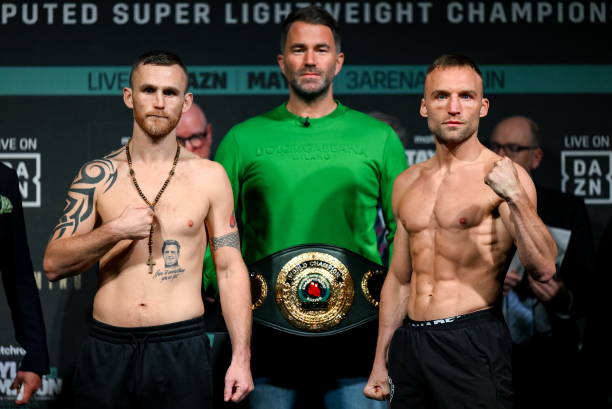 Main event, 10 x 2-minute rounds
Katie Taylor vs. Chantelle Cameron for Cameron's undisputed world 140lb titles
12 rounds
IBO world light-middleweight strap: Dennis Hogan (c) vs. James Metcalf
10 rounds
WBA world light-middleweight title, 10×2: Terri Harper (c) vs. Cecilia Braekhus
Lightweight: Gary Cully vs. Jose Felix
Middleweight: Caoimhin Agyarko vs. Grant Dennis
8 rounds
Boxing Union of Ireland Celtic heavyweight title: Thomas Carty vs. Jay McFarlane
Welterweight: Paddy Donovan vs. Sam O'maison
6 x 2
Maisey Rose Courtney vs. Kate Radomska

Picture source: Getty Images, all quotes procured during interviews by me