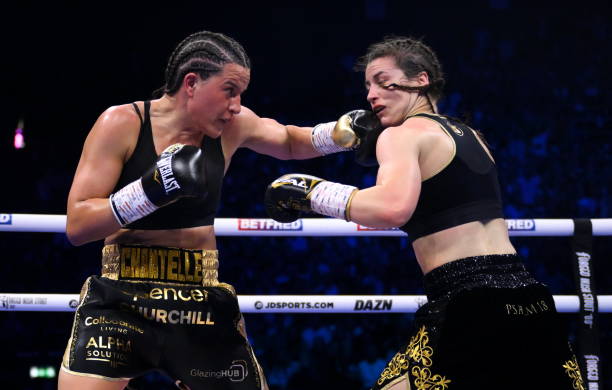 Her team described it as ambush mode. Chantelle Cameron played the spoiler role perfectly, en route to making the first defence of her undisputed light-welterweight titles with a majority decision victory against Katie Taylor in Dublin, inflicting the hometown star's first pro career defeat overnight.
Cameron completes another step on legacy-building ladder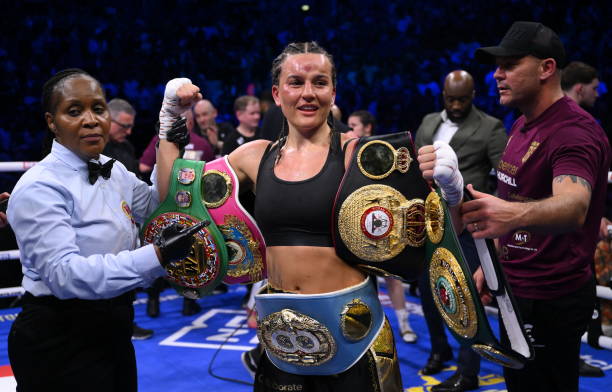 95-95, 96-94, 96-94: Chantelle Cameron (c) bt. Katie Taylor (c), retains her undisputed light-welterweight titles and improves to 18-0
Cameron (18-0, 8 KOs) becomes first woman to beat Taylor in Irishwoman's pro boxing career, hands her first loss since Olympic quarter-final against Mira Potkonen to avenge amateur loss, 12 years on
"I was petrified, seen it before in boxing, thought I wouldn't get the decision. Katie is a great fighter, putting the pressure on like that is my forte. My coaches hold me back sometimes because I get hit too much, but they let me off the leash," Cameron reflects after a career-best victory
Eddie Hearn and Taylor confirm desire to book rematch later this year, while Cameron says she wants it at Taylor's natural weight class – for her undisputed belts this time – after defending 140lb belts this time
Chantelle Cameron knew the size of the task ahead, answering those critics and potentially her own self-doubts along the way, to outbox and overwhelm Katie Taylor in Ireland during a rollercoaster night of emotions for the 3Arena crowd in Dublin.
Booed on her way to the ring, predictably jeered after the decision narrowly went in her favour and still those in charge found a way to refocus attention on their main attraction – Taylor and rematch talk – Cameron was aware this would happen.
Perhaps that's why she was petrified upon hearing the first scorecard, aware that other high-level opponents before her had got the short end of the stick against an Irish star whose shine hasn't faded after falling short in a bigger weight class here.
All the pomp and ceremony that came with Taylor's theatrical ringwalk almost seemed to inhibit her early on, as Cameron accelerated out of the blocks with pressure and established centre ring without any real resistance either.
Taylor's head trainer Ross Enamait told her as much after the first and third rounds, telling his charge to be more defensively astute with feints, bobbing and weaving, and smarter as far as punch selection was concerned – returning fire to the body.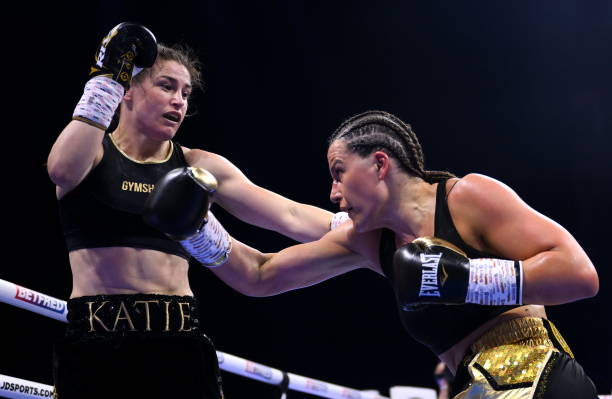 Cameron enjoyed repeated joy in that department, and Taylor's body language wasn't exactly positive as she absorbed a flurry of punishment there while trying to box off the back foot with mixed levels of success herself. Both were happy to trade.
That suited the naturally bigger woman in Cameron, whose declaration afterwards was telling: if I try and box with her, she'll box my ears off, but she can't outfight me.
"I'm so proud, shown my worth… people haven't had much respect for what I've done – Britain's first undisputed world champion – who knows me? A small [section of] people in Northampton, I don't get the credit I deserve.
Just beat the pound-for-pound best, put some respect on my name. Everyone's shouting my name but listen, I pick who I fight now."
---
What's next?
As evidenced by the quotes above, Cameron has a good headache to consider after a career-best win. She wants to challenge herself and make more history elsewhere, so moving down to lightweight in an attempt to claim Taylor's titles is appealing.
As far as her pedigree is concerned, this success is no accident.
She's boxed worldwide several times against reigning IBO world lightweight titlist Estelle Mossely, esteemed amateur Mira Potkonen and former light-middleweight champion Patricia Berghult during her six-year amateur stint, beating all three.
65 bouts in 16 countries spanning six years was her apprenticeship: four two-minute rounds as a formative youngster, but she's just turned 32 and firmly into her prime.
Much like WBA light-heavyweight champion Dmitry Bivol can attest in recent months with a possible Canelo Alvarez rematch, you don't always get what you want – especially when you were deemed the b-side beforehand, regardless of the result.
Eddie Hearn, who promotes both, has spoken about a return by October in Ireland and it makes sense to capitalise on the event's success, even if their two biggest attractions – Taylor and lightweight talent Gary Cully – suffered maiden defeats.
Taylor would presumably prefer to rematch at the same weight, eliminating potential caveats if she's successful a second time around. Cameron's team post-fight were confident it would be a repeat result regardless of the weight, and you can see why.
Taylor isn't as defensively astute as she once was and that's to her detriment, against a physically stronger opponent who was no match during their exchanges up close.
Cameron set the tone early, Taylor was backed to the ropes, couldn't match that high intensity and lacked ample punch power to keep her fellow champion at range.
It'll be interesting to see which direction they go but the Amanda Serrano rematch has fallen even further away from fruition after a high-risk, high-reward battle went against Taylor for once. Now, she must rebuild but does she have enough left?
Picture source: Getty Images, quotes via DAZN broadcast and Matchroom Boxing