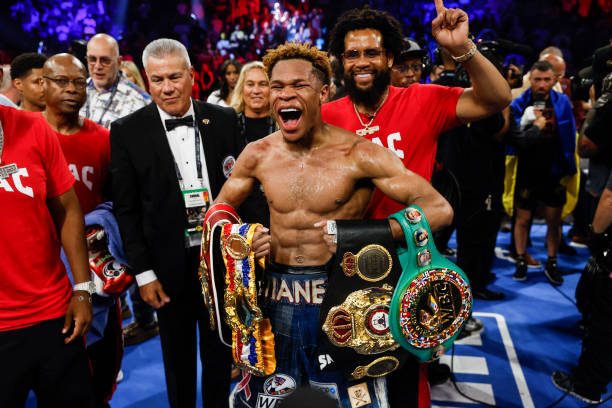 Most of the 14,436 fans in attendance at Las Vegas' MGM Grand fiercely disagreed with the verdict, but Devin Haney eked out a unanimous decision win over three-division world champion Vasiliy Lomachenko to stay unbeaten at 30-0 after a tactical battle which swung the Ukrainian's way in the latter rounds.

Haney survives late onslaught, Loma left empty-handed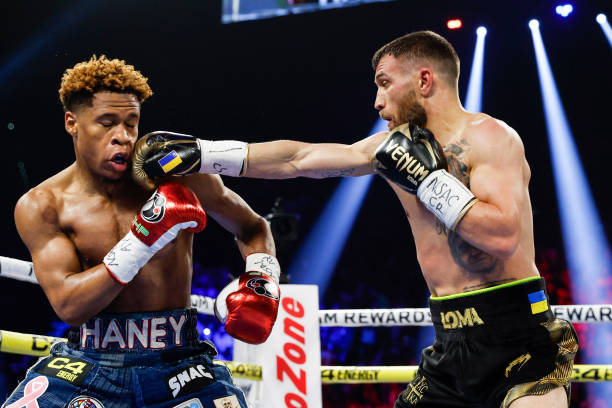 116-112, 115-113, 115-113: Devin Haney (c) bt. Vasiliy Lomachenko via UD, retains undisputed lightweight world titles
Haney improves to 30-0 and remains open to staying at 135lbs, provided "it makes sense" as far as prospective opponents are concerned, including former unified super-featherweight world champion Shakur Stevenson who sat ringside and made in-ring callout afterwards

Vasiliy Lomachenko suffers a third career loss, but 35-year-old's stock rises once more after proving his sharpness and world-class skills remain intact as questions were raised in wake of Teofimo Lopez UD12 defeat
"Christmas came in the summer for them, we're not going to let it go – guarantee we'll protest, appeal the decision because someone needs to end this injustice. Being robbed like that is not acceptable, there has to be justice," Lomachenko's manager Egis Klimas says in post-fight presser
Body punching worked a treat for Devin Haney, who responded well to Vasiliy Lomachenko's purposeful start and withstood some hairy moments late en route to a disputed decision win against the best opponent of his eight-year pro career.
The Dream didn't shy away from lavishing praise on a man 11 years his senior after the scorecards were read and lightweight titles still intact, but this was a back-and-forth encounter that easily could've gone the other way. Many felt it did.
"A future Hall of Famer, Loma's a great crafty fighter – turns it up in the championship rounds – I gotta take my hat off to him. It's all experience [for me], go back to the house and watch the fight, figure out what's next.
It's always tough [at the weight], this was my eighth title defence, there are a lot of great fighters at 135lbs so if it makes sense we'll be there… Shakur Stevenson, Gervonta Davis… this win puts me in the history books forever!"
Compubox showed 45% of Haney's total punches landed were to the body (50) against Lomachenko, who had few answers for that sustained attack and it naturally wore on the former champion. That didn't deter him from imposing his will, mind.
No slow start this time
Lomachenko tends to be a slow starter, something which hurt him on the scorecards during previous defeats by Orlando Salido (March 2014) and Lopez (October 2020).
There was no downloading of data this time around, as he began intensely and pressed from the first bell – forcing Haney to make early adjustments and finding his timing with three or four-punch combos whenever they exchanged in the pocket.
Haney landed a series of good body attacks in R2, though Lomachenko was connecting on the more impactful punches and snuck in a few scoring uppercuts whenever they were at close-range in the third.
The hand speed was on display for all to see, eliciting a big crowd response as he threw punches aplenty – not all of them landing – but nonetheless looking flashy for the judges, as Haney finally looked to box at long-range off his back foot.
It's not always the sexiest strategy but he was successful doing so in the fourth with a nice hook and some counterpunching the pick of his best shots.
Two digging body punches on the inside landed undetected for Haney, as Lomachenko's inability to defend it had become obvious by this stage early in R5.
The champion was booed shortly afterwards for holding, a few frantic punch exchanges later it was Haney connecting on the cleaner work.
Supporting that view were the timely CompuBox statistics through 15 minutes' action: Haney led 49-44 in punches landed, and had a 7% higher connect percentage too (27-20) at a stage of the fight that would pay dividends down the stretch.
Haney continued to go downstairs in the sixth, though it left him susceptible to Lomachenko's head-snapping jabs and counters as the 24-year-old was guilty of leaving his head exposed for too long.
Should a point have been deducted?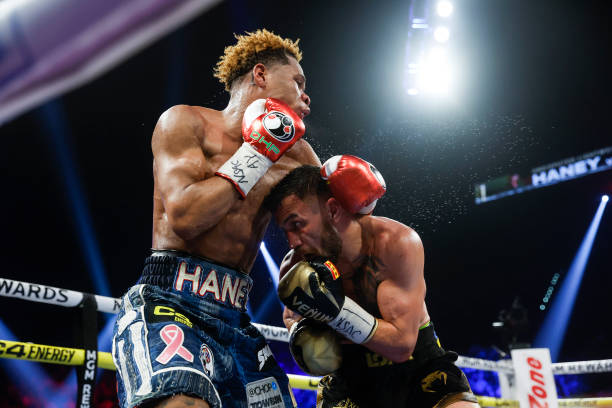 The referee Harvey Dock warned him again for clinching, before warning him in the corner before round seven not to hit behind the head.
ESPN's roving ringside reporter Bernardo Osuna said Dock gave him a final warning in the penultimate round, hinting that if his dirty boxing tactics continued, he would've been docked a point. In such a close fight, that could've proved costly.
Round seven was scrappy as both had periods of success, Haney catching Lomachenko clean with a perfectly-placed left hook late in another closely-contested round, which were increasingly difficult to score.
The graphic on screen read 70-62 punches landed in Haney's favour, with a 9% connect advantage that coincidentally wouldn't last much longer.
Former two-weight world champion Tim Bradley lamented Haney's inability to seize the initiative whenever Lomachenko was on his heels or backed up near the ropes.
Concentration lapses didn't help his case either, being caught flush with a number of single straight shots that he should've defended better.
Picking up the pace late on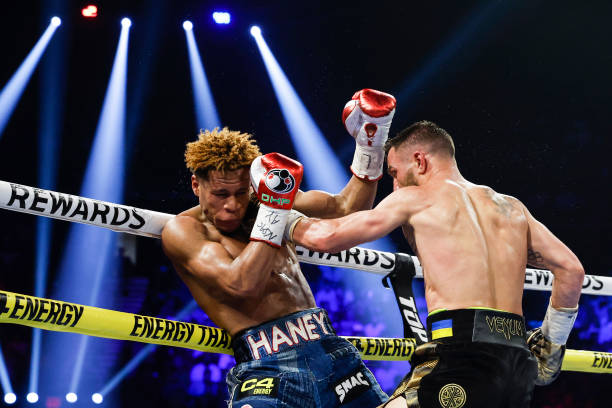 Speaking of, Lomachenko's left hand was starting to land at will in the ninth as the crowd noise swelled, Haney gamely firing back body shots to counter but no longer as assured as perhaps was becoming the case three rounds earlier.
Aware that the two-time Olympic champion was reading his attacks, "he's always going to the left," was the observation shared with dad Bill in-between rounds.
Things only intensified from there and Bill's corner instructions lessened as they could sense – consciously or not – their charge was dangerously wading through fire.
Loma landed big on the inside with power punches during the tenth, before asserting his own physicality midway through the eleven as he looked the fresher and more revitalised of the pair. Haney by contrast, was scrambling for respite.
Hall of Famer Andre Ward wasn't sure whether Haney was genuinely hurt or feeling the pace of some gruelling championship rounds on commentary, as he resembled little more than a standing target up against the ropes at certain points.
Lomachenko continued to throw fast combos, walking forward, snapping Haney's head backwards while the champion missed wildly on a handful of occasions across all angles – only emboldening the challenger to furiously empty the gas tank.
He landed 20 punches to Haney's two in that round and at that stage, I had it scored 6-5 in the challenger's favour before R12.
Haney needed to channel his inner Teofimo Lopez, that defiant display in the final round three years ago, to finish stronger and be confident of a hard-earned victory.
It wasn't quite as clear, but intermittent spells of good body work and clinching helped him reply much better than the previous round as Loma looked to counter his every move in close quarters. In a close fight like that, there can be no robbery.
Lomachenko would've been a worthy winner but as stressed in the very first paragraph, Haney's body punching did its job – plus he frequently landed scoring shots amongst the Loma frenzy as the legend proved there's still life in the old man.
That won't be any consolation to him after working tirelessly for another championship shot, at a stage of his career where nothing is promised and judging by team Haney's post-fight comments, a rematch won't be forthcoming either.
So then, what's next?
Shakur Stevenson was vocal about wanting to set up a Haney showdown after his successful lightweight debut last month, a R6 KO win over Japan's then-unbeaten contender Shuichiro Yoshino. It's high-risk, low-reward for the champion.
Haney, now a promotional free agent again, must think carefully with his team before making the next career move. Irrespective of your opinion on his championship credentials, he's done well up to now – but will recent success cloud judgment?
Gervonta Davis and Stevenson are both favoured to beat him for different reasons, and now is the time where he holds the most leverage. It won't be long before he moves up to light-welterweight, while the duo started at lighter weights themselves.
Whether that happens later this year or sometime in 2024, he's physically big for 135 and being tight at the weight only lasts so long before detrimental impacts begin to show – some subtle, others not so – in an environment separated by marginal gains.
Speaking of, it's not all doom and gloom for Lomachenko even if this defeat will sting for a long while yet. Returning to super-featherweight, six years after stopping Guillermo Rigondeaux in another world title defence, would be seen as a step down.
He too, has big decisions to consider. Lightweight is packed with young guns – the aforementioned duo deemed more dangerous than Haney – and Loma could foreseeably unify titles at 130lbs if given a chance in a more natural weight class.
Picture source: Getty Images, quotes via ESPN