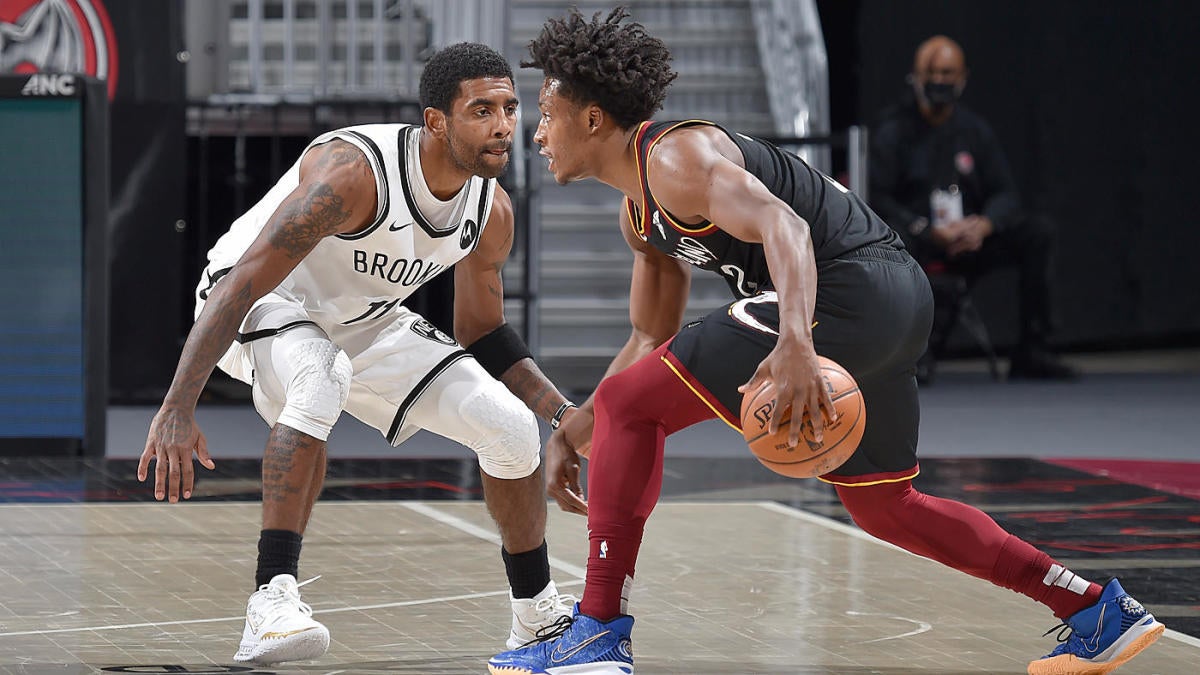 Kyrie Irving returned from an unexpected personal pause and scored 37 during his first game alongside Kevin Durant and James Harden, though Brooklyn's Big 3 couldn't contain an in-form Collin Sexton, who scored a career-high 42 as the Cleveland Cavaliers earned a 147-135 double-overtime win in the early hours on Thursday. Who will come out on top in the second meeting?
Sexton sHINEs to ruin Kyrie's return, BUT CAN NETS EXACT REVENGE?
Saturday, january 23 – Tip-off: 12.30am bst
Sexton made five three-pointers over the course of an eventful night's action and relished the challenge of going up against Irving, while scoring 15 of his 42 in the second OT alone.
How will the Nets respond, having been down 12 early in the fourth quarter, after doing well to recover but still ultimately losing against one of the league's surprise packages so far this term?
There are plenty of questions and storylines to follow in the second installment of this clash, which promises to be intriguing – even if not as exciting and unpredictable as their first.
Sexton, who missed the Cavs' last five games with an ankle sprain, returned in style. Teammate Cedi Osman, who had 25 points, seven rebounds and assists, described his play as amazing.
Irving couldn't help but be impressed either, admitting that he smiled when Sexton was making those shots. He looked unconscious at times with excellent shot-making, doing the utmost possible to cancel out the Durant-Harden-Irving trifecta.
Durant had 38, Harden added 21 and Brooklyn's superstar trio combined for 96 points in their first game together. They looked lost on defence at times but first-year head coach Steve Nash called for perspective during his post-game interview, considering the circumstances:
"Look, this is the first night. We seemed a little lost at times, a little flat and disjointed.
Taurean Prince, who was acquired in the four-team deal which brought Harden to Brooklyn, scored 17 with seven rebounds and four assists in 32 minutes from the bench during a memorable Cavaliers debut.
After his 33-pt, 23-reb explosion during their narrow win over New York last weekend, Andre Drummond was relatively quiet (13 pts, seven rebs).
Their 2020 no.5 draft pick Isaac Okoro got fouled out just before the end of 1OT, after a busy evening where he struggled from the floor (8 pts on 3-of-9 shooting, two turnovers).
Harden, Jeff Green and Sexton all had five personal fouls by the game's end but the latter's contribution proved decisive as the Cavaliers never lost heart after seeing their lead evaporate.
There's no doubting the Nets are a work in progress, but will they learn from their mistakes and avenge this defeat?
Sexton's backcourt partner Darius Garland (shoulder) could return in this matchup, having missed their last eight games. The 20-year-old second-year pro is averaging 17.2 points, 3.3 rebounds and 6.3 assists so far this term.
Who's more likely to win? The statistical breakdown

ESPN's Basketball Power Index has predictably gone with Brooklyn to avenge their 2OT loss (79.8%) – an unsurprising percentage because Sexton's brilliance dragged the Cavaliers into that situation to begin with, one they don't expect will happen as prominently again.
Brooklyn average more points (both scored and allowed), a higher FG% (49.1 to 44.9), more rebounds, assists, blocks per game than their hosts this weekend in what should be another entertaining encounter.
Cleveland have a chance if they keep it competitive, such is the Nets' suspect defence, but after Brooklyn's star trio played together for the first time, things should start to even themselves out.
Simply put, the likes of reserve guard Timothy Luwawu-Cabarrot (0-of-6 in 12 mins) and sharpshooting forward Joe Harris (2-of-10, 9 rebs, six pts) should shoot better as Steve Nash's men look to even themselves out on the road – they're currently 2-3 away from home.
Pictures source: USA Today, Getty — stats via ESPN