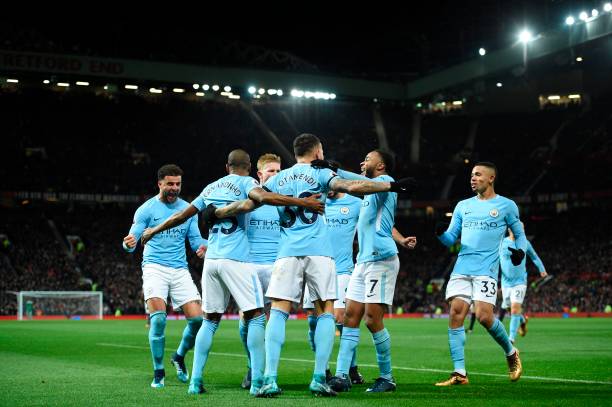 Goals from David Silva and Nicolas Otámendi were enough to seal all three points for Manchester City – who extend their lead as Premier League leaders to a whopping eleven points.
We're not even at Christmas yet and although it's obviously premature, many have already branded the Citizens this year's league champions.
They have been excellent at times and equally done well to grind out victories over opposition who've adopted a more defensive approach to frustrate them. Their only dropped points was against Everton back in August and Raheem Sterling's late equaliser avoided an early defeat for Pep Guardiola's men.
On this occasion, there was no need for late heroics to earn all three points. That being said, they did receive a stroke of fortune to break the deadlock just before the half-time interval.
A corner was whipped into the area and poorly dealt with by the United defenders. Lukaku inadvertently headed the ball backward, into the path of Silva – who reacted quickly and made no mistake from a few yards out to open the scoring.
United were frustrating with the manner in which they conceded, rightly so. So it was perhaps only fitting then, that Marcus Rashford responded with an instant reply after similar fortune helped the ball find its way to the 20-year-old.
Another delivery into the box, this time from an inswinging cross by Marcos Rojo, was not dealt with by Fabian Delph.
It was difficult to control and he attempted to do so with his chest or thigh, instead the ball bobbled awkwardly away from him and straight into Rashford's path a few yards across. He couldn't miss and didn't either.
United had barely threatened Ederson's goal and suddenly found themselves level at the break.
Though it wouldn't stay like this for much longer, surely?
No, it would not. Otámendi received an early Christmas present inside the United box and capitalised on another moment of misfortune for Lukaku, who found himself in the wrong place at the wrong time once again.
Silva's free-kick delivery evaded all but the Belgian at the back post. His attempted clearance was more of a botched shot which richocheted off the back of Chris Smalling and sat up nicely for Otamendi.
He – just like Silva – reacted quickly before slamming home with aplomb on the volley from close-range to score his fourth league goal of the season.
United felt hard done by but there was simply no time to feel sorry for themselves. They needed to make changes, create chances and get back into the contest.
Rashford and Lukaku in particular had chances to score before Ederson made a fantastic double save in the 84th minute to keep City ahead.
Lukaku's strike from point blank range smacked the Brazilian straight in the face, though he remained composed before standing strong to also thwart Juan Mata with a follow-up moments later.
If United were going to score, it simply had to be then.
City were dominant in possession as they usually have been this season, and managed to see out the rest of the match with a few time-wasting tactics to wind down the clock as time continued to tick over.
Final thoughts
The visitors prevailed and in fairness, not many non-United supporters would have expected any less.
With matches against Swansea, Tottenham and Bournemouth all to come before Christmas, they will expect to continue their impressive form too.
As for United, Mourinho's defensive gameplan failed to pay dividends on this occasion. Sure, they had chances to score but they were few and far between. Lukaku is undoubtedly going to be scapegoated for this defeat although he was unfortunate when indirectly involved in both City's goals.
In addition, Ederson's double save was an excellent one and praise should be credited towards the 24-year-old, who has settled well in Manchester, as opposed to attributing blame toward the Belgian forward.
He has only scored once in the league since their 4-0 win over Crystal Palace at the end of September but requires more service and equally, more support – especially in the system that Mourinho has deployed, where they tend to only create attacks on the counter.
Despite all of the big pre-match comments from United players, they probably know subconsciously that their title hopes are virtually over.
It's a long season and the Premier League is unpredictable at the best of times, but it's naive to suggest City would drop so many points while all of their title rivals go on winning streaks between now and May.
This was another example of a fixture in which Guardiola tactically outclassed Mourinho. The 4-3-3 formation was important in helping to pack the midfield while preventing United from building attacks on the flanks, where they have often been at their most dangerous.
Without Paul Pogba, there is no creator-in-chief. Jesse Lingard tried to play the role somewhat and despite performing fairly well, cannot be compared in the same vein as Pogba – they are different types of player.
United have lacked creativity and purpose at times this season but their high-scoring matches often mask this, as lesser opposition tire towards the last 30 minutes and make more mistakes.
There's definitely much to learn from this match, which was always going to be like a game of intense chess between two fierce rivals. City did not play particularly well, but stuck to the task at hand and did what Pep asked them to do: win at all costs.
It was not a vintage performance, nor their best win of the campaign but the composure and swagger shown against their arch-rivals, not least at Old Trafford, says something about their spirit.
They know they're the league's best and are playing with confidence – games like these are a perfect example of this.