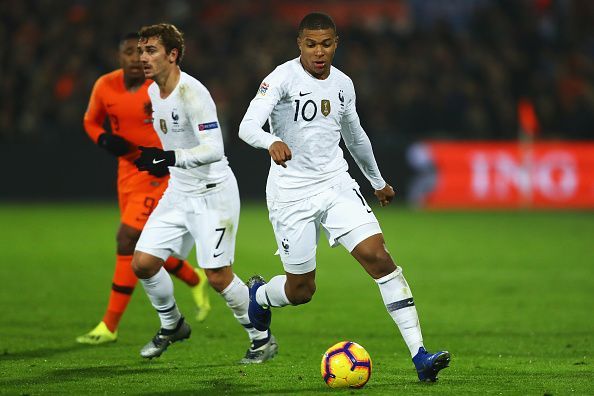 Despite Paris Saint-Germain's public statement playing down recent speculation suggesting they might have to sell either Kylian Mbappe or Neymar in future, Serie A champions Juventus are keeping their eye on the situation. 
What's the rumour?
That's according to a recent report by Calciomercato, who revealed the Italian giants are deciding whether to launch an audacious move for the France international in one of the upcoming transfer windows.
In case you didn't know…
Mbappe has scored 14 goals and created eight assists in 16 appearances across all competitions for PSG this term.
Since France's World Cup triumph this past summer, the 19-year-old has scored twice and created another assist in six international caps.
He has combined well alongside Neymar once again this season under new management with Thomas Tuchel at the helm and last month, the German revealed Kylian still has plenty of room for improvement in future.
The heart of the matter
PSG's financial situation remains uncertain, after UEFA reopened a Financial Fair Play investigation into their finances back in September. Last month, they revealed PSG's alleged flaunting of their rules would await a ruling by the Court of Arbitration for Sport.
In the latest revelation from Football Leaks, French sports daily L'Equipe said UEFA were considering ordering the club to amend its accounts to drastically re-assess the value of its sponsorship contract with the Qatar Tourism Authority (QTA). The Qatari-owned club originally declared the contract to be worth €100m during the financial years of 2013-15.
L'Equipe said UEFA's financial oversight body was now insisting that sum be reduced to €58m. The effect of this change would plunge the French champions heavily into deficit, meaning they could fall foul of UEFA's FFP rules.
This would leave PSG facing UEFA penalties, including a possible Champions League ban – similar to Manchester City's proposed one – as well as other European competitions. Under FFP rules, clubs cannot spend more than they earn in any given season and deficits must fall within a €30m-euro limit over three seasons.
Rumour rating/probability: 6/10
The fact that PSG had to come out with an official statement doesn't bode well from their perspective, as their immediate reaction would be to deny or disagree with the negative PR being thrown their way.
After all, they're near the midway point of an important season where they're focusing across all fronts and cannot afford anything like this having a negative impact on player performance. The various sources mentioned in this story, as well as others which continue to emerge, mean there is some truth to the speculation though.
Video
What's next?
Kylian Mbappé is ultimately happy at PSG, why would he not be? An environment where he continues to develop alongside world-class players and is enjoying his football, he's not going to ask for a transfer just because the club are being investigated.
However, should UEFA actually ban them from European competition for breaching FFP rules, things could drastically change. Juventus have been linked with the teenager's signature in the past and it wouldn't be surprising if they made a formal approach for his services.
This is a delicate situation and naturally, one that has to be treated with caution – but we'll follow the story as it progresses.