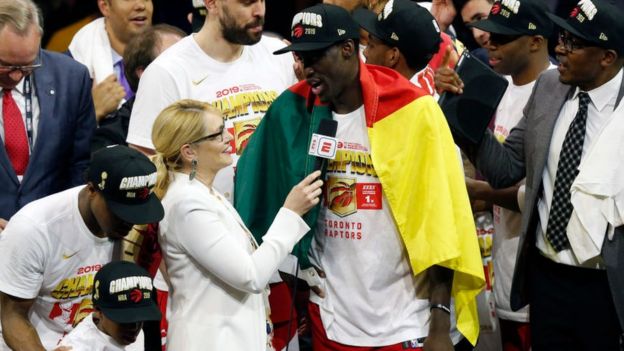 Ahead of tomorrow's extension deadline, Toronto Raptors power forward Pascal Siakam has put pen-to-paper on a four-year, $130m max contract extension – months after enjoying a breakout season, where he played a pivotal role in securing the Raptors' maiden NBA title.

ESPN's Adrian Wojnarowski broke the news yesterday, while The Athletic's Shams Charania confirmed the 24-year-old's deal doesn't include a player nor team option.
ESPN's Bobby Marks provided a yearly breakdown of the deal, paying Siakam a total of $129.9 million starting next summer:
20/21: $29m
21/22: $31.32m
22/23: $33.64m
23/24: $35.96m
A first-round pick in 2016, the 19/20 is the final year of his rookie contract. He emerged as one of the league's breakout stars, after an excellent 2018/19 campaign backed up by an even better postseason which saw him help the Raptors to their first-ever NBA title.
Named the league's Most Improved Player in June, he averaged a career-high 16.9 points and 6.9 rebounds per game last season. As good as he was during the regular season, he upped his game further to prove pivotal in helping the Raptors win their first-ever championship.
Recording 19 points and 7.1 rebs per game during their postseason run, this deal represents a significant leap of faith from the organisation in a player they believe can deliver as their franchise star in the years to come.
ANALYSIS
It's remarkable to think that just eight years ago, Siakam wasn't even playing basketball.
Discovered abroad during a Basketball Beyond Borders training camp, he transformed from a surprise late first-round pick into an unpredictable yet brilliant NBA champion, is the league's reigning Most Improved Player and who can truly predict where his ceiling is?
There's no reason why he can't spearhead the Raptors back towards championship contention in future, though you'd be naive to expect a repeat of last season's heroics – not least with increased competition and directly after Finals MVP Kawhi Leonard's departure.
Nonetheless, this contract will fuel Pascal to work harder and silence more doubters, with MVP Giannis a model example that he'll look to emulate. Better than the streaky-but-effective Kyle Lowry and more ever-present in comparison to Fred VanVleet, he was the Raptors' second best player with elite defence accompanying his improved scoring averages.