If you had told even the most optimistic Miami Heat supporter that they would be 48 minutes away from a second-round sweep of the Milwaukee Bucks, they probably would have laughed at you incredulously. But after a stunning series so far, that's where we are in one half of a compelling Eastern Conference semi-finals this summer.
Miami Heat vs Milwaukee Bucks: Win or go home for East's top seed
Tip-off time: 9pm GMT on Sunday, 4pm EST, 1pm PST
Milwaukee were up 12 at the start of an eventful fourth quarter, yet found themselves outscored by 27 – the worst points differential in a final quarter of a playoff game in the shot clock era (since 1955).
That statistic in isolation is remarkable, but made even worse by the high stakes at play here: now down 0-3, no team has overcome such a deficit in a seven-game series, so their days in Orlando feel outnumbered after another disappointing display in the clutch moments.
Can Miami continue their red-hot form by completing the sweep against this year's top seed in the East? Or will Budenholzer's Bucks delay further embarrassment in a must-win game here?
Giannis Antetokounmpo had 21 points (7-of-21 shooting), 16 rebounds and nine assists with two blocks and a steal in 35 minutes. His free-throws were slightly down from Game 2 (7-of-12) and the reigning MVP's shooting was skewed by an insistence on letting fly from deep, where he struggled massively (0-of-7 from three-point range).
He didn't want to make excuses post-match, but was playing injured with a tweaked angle and regularly grimaced whenever he skipped past a handful of Heat defenders into the paint.
Yet despite his three-point woes, suffering an injury and not looking his dominant self for more than a few flashes, he was still the Bucks' second-leading scorer.
That perhaps speaks volumes for a team that looks lost whenever he's not on top form. All-Star teammate Khris Middleton had 18 points on 7-of-16 shooting – yet was frustratingly quiet after half-time – he had 14 before the break.
Brook Lopez (22 pts, six rebounds, two blocks, one steal) led by example but even he couldn't stop their fourth quarter bleeding against a Heat side that started slowly but relished clutch time and Jimmy Butler took over.
He had 17 points of his 30 and two assists in the last ten minutes alone, outscoring them by himself while showcasing his facilitating skills, composure and relished pressure against a Bucks team that capitulated before our eyes.
Key players to watch out for
Heat: Jae Crowder
After a respectable regular-season, the 30-year-old has really stepped up to be counted in Orlando and hasn't shied away from his responsibilities since the postseason began.
Game 3, he had 17 points on 5-of-11 shooting – all three-pointers – and has shown he's not someone to disrespect from deep, something Milwaukee are being punished for doing. He also had five assists, four rebounds and delivered an impressive defensive display too without the stats to support his hustle and off-the-ball nous.
It's important that he builds on that performance in Game 4, as Miami look to wrap up the series sooner rather than later.
Bucks: Khris Middleton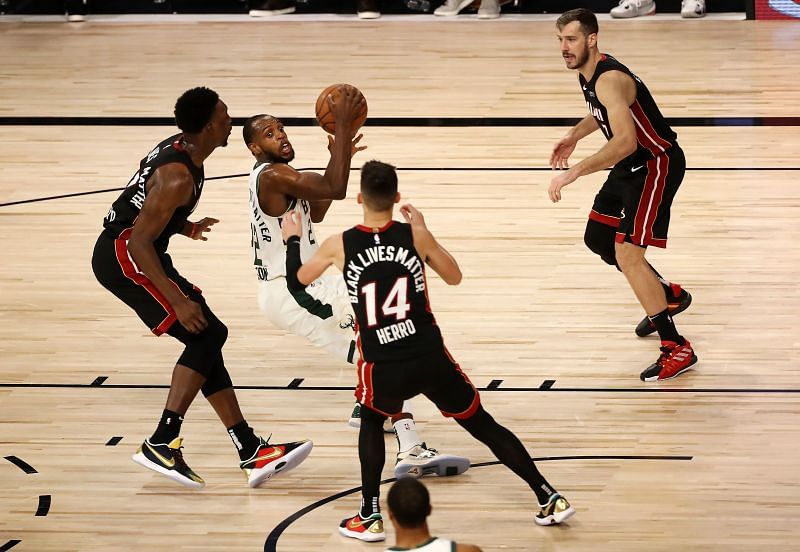 As mentioned earlier, Middleton went cold in the second-half and it really showed as Giannis could only do so much by himself.
Although he had seven assists, two steals, one block and no turnovers, this was precisely the match where the small forward needed to take over as Miami began to get back into proceedings. Instead, he continued taking difficult shots and effectively weaned when Milwaukee needed him most – they were all good in the first-half!
He's struggled from distance (27.8%) in this series, needs to make smarter decisions over shot selection and be continually aggressive, not just in bursts, if the Bucks are to avoid a series sweep here.
Who is more likely to win here? The breakdown
Milwaukee were the better team for three quarters, but crucially faltered when it mattered most in Game 3. They could be 2-1 up, yet find themselves 0-3 and edging closer to a shock exit without much of a fight to boot.
ESPN's Basketball Power Index are again expecting the Bucks to respond (65.6%) and backing them to prevail. FiveThirtyEight's statistics however, feel differently and are expecting Miami (58%) to edge Game 4 too.
Miami haven't been at their best but delivered in clutch moments and are full value for their advantage. Milwaukee have failed to make the necessary adjustments and it wouldn't be surprising to see their season end in tatters here.
Pictures' source: Getty Images, Miami Herald