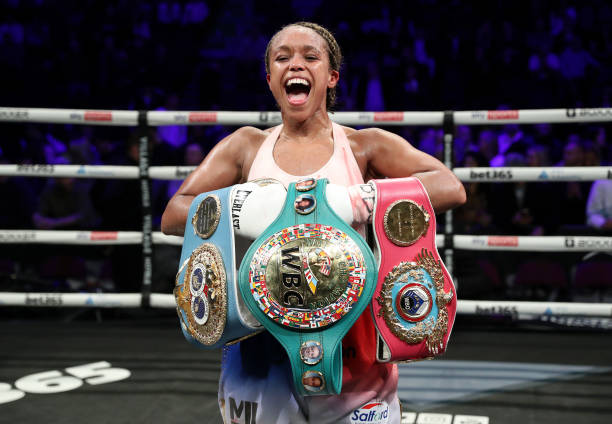 2023 promises to be compelling for Natasha Jonas as she now holds three super-welterweight world titles, after proving too much for Marie Eve Dicaire in their competitive main event at Manchester's AO Arena on Saturday night. Elsewhere, there were contrasting wins for cruiserweight prospect Viddal Riley and Olympic bronze medallist Frazer Clarke, while two domestic title fights delivered as promised: an entertaining evening's action in the North West.
Jonas adds IBF title to collection at 154lbs vs. Dicaire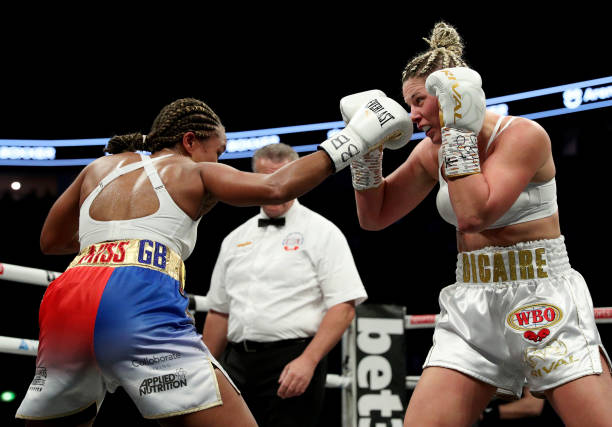 100-90, 98-92, 97-93: Jonas bt. Dicaire via unanimous decision, defending her WBC and WBO titles while also becoming IBF super-welterweight champion
"I fought with all my heart, did all I could. A hell of a night, everyone should copy this model – having the arena on fire like that – people cheering for us, it gave me an extra mile," an emotional Dicaire reserves praise for event, atmosphere in post-fight presser
"It's hard to put into words. Every round was competitive, had to stay focused… boxing is constant physical chess. It was no. 1 vs. no. 2, [women's boxing] got the athletes and now the platform, we want to do it," Jonas reflects after another impressive showing
"Two world titles in 10 weeks, three in 10 months, what a story," unified champion's trainer Joe Gallagher admits he initially pushed back on quick turnaround – Jonas beat Patricia Berghult for the WBC belt on Sept. 3 – before being talked around on the idea
38-year-old keeping options open for 2023, with undisputed middleweight champion Claressa Shields and welterweight titlist Jessica McCaskill among potential opponents
Pre-fight, Natasha Jonas knew she needed to deliver, strengthening multiple options for 2023 and astutely went about her work against tricky, overtly physical opposition in Marie Eve Dicaire who carried a threat throughout – despite the judges' wide scorecards suggesting otherwise.
It didn't go all Jonas' own way, something she reaffirmed in the post-fight interview afterwards, but this was refreshing to witness: an intriguing matchup between the two best at 154lbs.
The home favourite got the biggest cheer for her early work, though Dicaire closed the distance well and landed some clubbing shots in the pocket.
A significant step-up in opposition, they said. So it proved early, as the Canadian's timing appeared better in the opening stanza – Jonas needed to be cautious when coming in close.
Dicaire tried to physically wear on the smaller of the two champions, using her long arms to flick scoring punches at range, but Jonas responded well.
She stumbled the Canadian backwards as both connected shots in the pocket, taking the next three rounds by getting her attacks off quicker, countering when necessary and landing a series of three-punch combos which quickly marked Dicaire's face.
Dicaire did her best work in the clinch, but didn't react quickly enough to dodge Jonas' counters. No-one could question her purpose and aggression, though she was a step slow in comparison.
That's to be expected as the bigger, rangier woman, but she utilised those gifts in R5 by stifling Jonas with more clinch work, throwing punches in bunches and making her presence felt.
R6 was tough to score, as Dicaire began it aggressively.
The referee ticked her off for leading with her head – not the first time – but she was going to ignore him if it kept Jonas from fighting the way her team set out to achieve. They exchanged big shots up against the ropes to finish a back-and-forth round, worthy of a 10-10.
Jonas was landing the cleaner work through seven rounds, though Dicaire's short shots were also connecting. Did you prefer volume or accuracy?
R8 was back-and-forth again, Jonas landing a big right to start the round and a few sneaky uppercuts – though Dicaire's punch flurries saw her finish it the better of the pair.
The crowd was hushed into silence at the end of R9, as Dicaire came out aggressively and immediately had her reward. Backing the two-belt titlist up against the ropes, Jonas found herself drawn into clinch exchanges again before being unloaded upon against the ropes.
Jonas responded like the champion she is in the tenth. Starting on the front foot, she didn't allow a bloodied and increasingly exhausted Dicaire much opportunity to do her best work again until it was too late.
After landing a pair of hooks, the Canadian threw haymakers which wizzed into the air in the final few seconds. If there was any doubt – there wasn't – Natasha finished strong.
97-93 felt the closest scorecard, but she was a deserved victor and all her hard work in camp with trainer Joe Gallagher paid dividends during the second-half. What's next remains to be seen, but she's put herself in the best position possible to continue getting main event spots.
---
Smith turns it on late to defend his domestic strap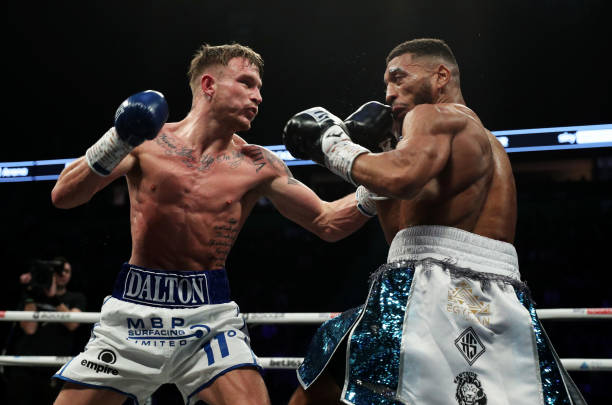 115-114, 116-113, 117-112: Dalton Smith bt. Kaisee Benjamin via UD in first title defence
In the night's co-main event, Dalton Smith rallied from an indifferent start to overwhelm Kaisee Benjamin during a competitive clash for British super-lightweight gold.
Benjamin, buoyed by some vociferous travelling fans from Birmingham scattered across the crowd, began as the pressure fighter and landed good clinch work up against the ropes.
Smith appeared too reactive and tentative in the early going – one flurry aside – not doing enough to liven up a partisan crowd in his favour.
Rounds were ticking by quickly before long and Benjamin continued to remain defensively responsible while landing the bigger punches through four rounds.
His demonstrative celebrate to cap the fourth felt a bit hasty, but he was understandably oozing self-confidence after an assertive start to proceedings.
That appeared to whip Smith into shape as he improved in the fifth and sixth. Benjamin's output was starting to slow, as he telegraphed his entries a lot more and was greeted with swinging shots in the pocket as a consequence.
The seventh was nip-and-tuck with good work by both in stages and tough to separate them, so I went with a 10-10 round on my scorecard.
The action became increasingly sloppy and stop-start – though Benjamin wasn't connecting enough on his punches to be taunting nor bouncing up and down with such vigour.
Wasting energy in that manner, even if it looks good from a judge's perspective, often ages poorly. The same could be said on this occasion, though not immediately.
In the ninth, Smith was getting caught clean with short sharp counterpunching as Benjamin was quicker and briefly backed him up against the ropes.
An inability to close off angles, rather than chasing his target, gave the Yorkshire man more opportunity to catch his breath and trade punches in the pocket.
They exchanged furiously to start R10, as Smith succeeded with some head-snapping punches and a right cross as Benjamin was visibly tiring after being the early pacesetter.
Smith's pressure intensified in R11, as Benjamin was getting countered more easily and leaving his head wide open whenever they were up close. You could sense the tide turning as the 27-year-old's fans were getting increasingly restless and their rallying cries turned to urgency.
Smith was unquestionably the busier of the pair in R12 and landed one-two combos through the high guard too, as Benjamin was again guilty of chasing rather than closing the angles.
That made it easier to block his incoming attacks. While the 115-114 scorecard felt the most fair in Dalton's favour, the right man won and whether it was his cardio management, execution down the stretch or ring generalship, Benjamin will have regrets when he looks back at the film.
---
Wasn't always pretty, but Clarke passes Sokolowski test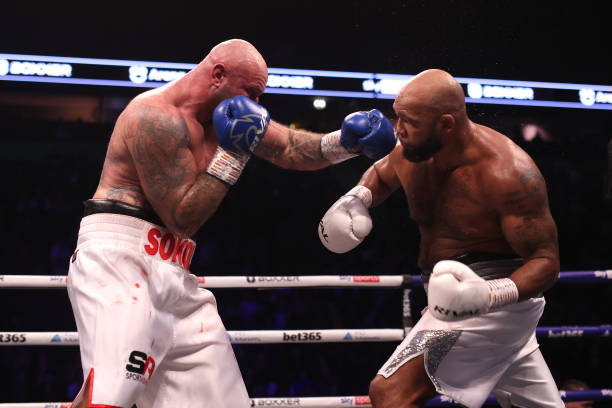 A real slog as expected with some hard rounds – unbeaten record intact – Olympic bronze medallist Frazer Clarke went the distance in a 60-54 win over Kamil Sokolowski in six rounds.
Clarke landed a few fast combos early, featuring uppercuts in what was a promising start with some resistance back his way too.
Sokolowski connected on a few sneaky shots, as they clinched and allowed the Pole a chance to establish his own body attacks. Clarke got caught coming in and to finish R2, it was clear he needed to stay at range and unload his jab.
In R3, Sokolowski was the one pawing but not accurate enough as they fought in close and Clarke looked increasingly agitated things weren't all his own way. They never were going to be.
Clarke started the fourth aggressively, but Sokolowski absorbed the shots and swivelled as if to say, is that all? Both were warned for low blows in R4, though Clarke probably edged it with his work at the end of another competitive round.
He intensified his work to start R5 but got caught clean with a left hook, leaving his head open whenever they were in close, as Clarke's pace slowed. He applied more force to his punches as a consequence, almost Joe Joyce-esque, in another round for the Olympic medallist.
R6 began with Sokolowski applying forward pressure. They traded blows in the pocket and clinched once more, Clarke getting hit too much for comfort, as Sokolowski landed a sneaky uppercut and finished strong. 60-54 felt a bit high, but the right man won.
He'll have to be more defensively responsible against better opposition though.
"Not a bad step in the right direction, a 4-0 pro, still working."
---
Denny dents, overwhelms Rea despite frantic finish
95-94, 95-94, 97-92: Tyler Denny bt. Bradley Rea via unanimous decision
Rea took charge early with point-scoring punches and was the busier of the two, but things swiftly changed midway through R2 when he was cautioned for a low blow.
That appeared to spur Denny into action, as he came back firing and landed a series of lethal left-hands, popping that head back as the crowd shouted for more head movement.
Denny was landing the more impactful shots to start the third, both were willingly exchanging in the pocket but the champion's body attacks would later pay dividends.
Rea was headhunting but outworked Denny in the fourth to keep things equal after four rounds on my scorecard.
Then, Denny won four successive rounds with a variety of slick punch combos snapping Rea's head back while repeatedly digging to the body and showcasing improved reaction speed.
Brawling in the pocket, he unloaded a punch flurry to get his fans – outnumbered as they may be – to their feet. Rea got warned in the next round for leading with his head, shortly after testing Denny's chin with a powerful combo up in the corner.
The champion appeared a step faster to react during their exchanges though, finishing the round pinning him up against the ropes.
Rea again didn't move his head fast enough to stay defensively responsible in the seventh, as rounds became increasingly one-sided and the crowd got restless.
Rea needed a big punch to establish that respect once more. After some brief clinch success, he was again being baited into the wrong fighting style and smothered his work.
However in the ninth, he hurt Denny with a body shot before the champion had a point deducted for excessive holding.
They exchanged big swings to finish a frantic sequence, but Rea rose again. Ultimately, he didn't do enough during a tense final round to edge what would've been a split decision in his favour.
Denny fired back counters after being peppered with small scoring shots, and the better man eventually reigned supreme during an entertaining contest which both can take credit from.
---
Riley reels off another highlight reel finish
R3, 2:27 – Viddal Riley bt. Ross McGuigan via KO
"I know what power, skill, IQ I have, really starting to find out how I can use it – all coming together, glad it wasn't a quick knockout, you got to see more, I had to think. No injuries, wanna be out in December and titles next year – anyone who's in the way, I don't care who, if it fits I'll train hard and beat them."
Explosive cruiserweight up-and-comer Viddal Riley improved to 7-0 with a one-punch knockout of Ross McGuigan, but was prompted to think and problem-solve his way through an encounter that was messy in parts and not faultless.
Right and left hands hurt McGuigan almost immediately, as his face was quickly a cherry red and he was slow to engage. Nothing screams ill-prepared like a fighter leaving their hair band in.
McGuigan was firmly second best from the off as Riley quickly closed the distance – forcing him to survive an onslaught up against the ropes to finish R1. Already, there was an inevitable feel about how this one would end. When, rather than if, was the question about a possible KO.
Less haymakers were thrown in the second, as Viddal took his time more and was consciously picking punches better with a series of stiff jabs evidence of that.
A big start to the third foreshadowed what was coming. They brawled up against the ropes, McGuigan landed a few uppercuts on the backfoot as Riley was guilty of loading up, before Riley flattened him with a pinpoint overhand right as the referee swiftly waved off the contest.
There were a handful of moments where you could tell it was a question of when, not if, Riley would get the finish. He agreed post-fight, while revealing a desire for one more fight next month to finish off 2022 before hunting for titles – Southern area and English level – in the new year.
---
Undercard results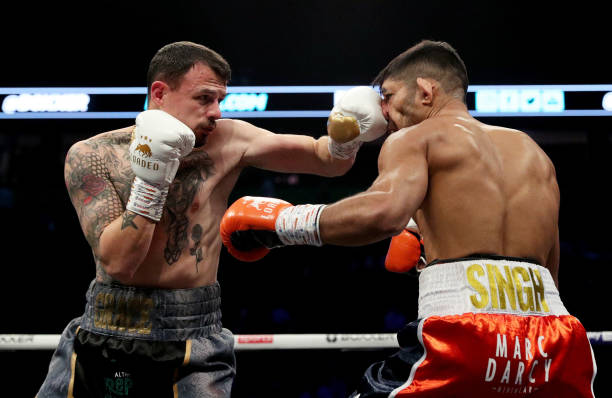 There was a stunned silence as lightweight prospect Dylan Cheema relinquished his unbeaten 7-0 record against Jordan Ellison (13-44-3) with 39-38 on Steve Gray's scorecard, as Cheema's family and friends were bemused in the floor seats ringside during the final non-televised bout.
Warned for some dirty boxing in R3 and hit too much for comfort, this was a competitive fight and when you're not convincingly outboxing your opponent – journeyman or not – there can't really be any complaints about the result especially with only four rounds in which to work.
This eventuality should happen more often, but doesn't, to protect prospects' records.
By contrast at welterweight, Clarke Smith remained unbeaten with a shutout victory (40-36) over four rounds against Dale Arrowsmith and never looked threatened.
In the night's opener, middleweight Jack Kilgannon found himself involved in a competitive six-round affair against Tanzanian Meshack Mwankemwa, but landed the better punches late and applied ample pressure en route to a 58-56 decision win – improving to 12-1 as a professional.
Picture source: Getty Images