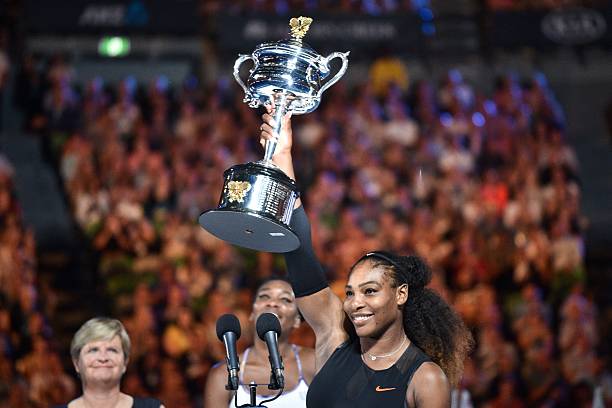 It's a tough question to ask, and one that is increasingly harder to answer as time passes. Serena Williams' 36th birthday was earlier this week and in a few months, she'll make the long-awaited return to professional tennis after having had her first child.
Garbiñe Muguruza, Elina Svitolina, Jelena Ostapenko, Madison Keys and US Open champion Sloane Stephens are just a few of the women who represent the current generation of tennis – all mentioned here are under 25.
Muguruza is the current number one and it's not particularly surprising, either. She's one of the best players on tour and performances against tough opponents rarely faze her.
Despite the vast array of talent within the women's game, consistency remains the main barrier to success for a large portion of competitors at the top level. Far too often have we seen players win a Grand Slam or perform well and finish in the latter stages but struggle to sustain that level on a regular basis.
Champions like Ana Ivanovic (recently retired), Caroline Wozniacki and Angelique Kerber have all seen dips in form after career highs, while Eugenie Bouchard – still only 23 – is another example of how a talented youngster's stock can fall quite dramatically after continued spells of poor displays.
With the current crop of players in competition, you can never be sure as to who will prevail when it counts: Grand Slams and tournaments which carry significant ranking points. Anyone can beat anyone regardless of ranking, making things all the more unpredictable. It's fair to say that Serena has well and truly taken the mantel for the women's side of tennis, for almost two decades. Who will succeed her once she eventually retires?
The fact that she managed to win the Australian Open while being two months' pregnant, without dropping a set, is remarkable. Testament to her attitude and quality unmatched by competitors, it's hard to imagine she'd be worried about her eventual return to fight off the chasing pack once more.
If so, for how long?
Since Ana Ivanovic's reign as number one came to an end in September 2008, there have been 10 different women atop the rankings at different stages. Serena herself has held the top spot for 262 weeks since that month too.
In comparison since Andy Roddick's 13-week stint as number one ended in February 2004, there have only been four men on the ATP tour that established themselves as the top-ranked player. It highlights a significant divide with regards to dominance between the two – ATP have had a 'big four' for over a decade now and despite injuries often halting progression, consistency is considerably higher than within the WTA.
This will not be the first time that Serena has returned from a lengthy absence, so it'll be intriguing to see how she copes with everything. Persistent injuries (ankle, knee) as well as, previous issues with depression meant she was an easy target for criticism from analysts.
Little did they know, their comments only fuelled her desire to prove them wrong and perform well under pressure. There have been plenty of instances where Serena has managed to recover from a poor showing and come out on top, which was seen as surprising especially when she looked out-of-sorts at times.
Often perceived to be overweight and lacking match fitness, she's often stopped critics in their tracks while dismantling opponents without being 100%, which makes her all the more admirable too.
One of her big weapons is power, something that many opponents struggle to effectively deal with. As she continues to age, it's natural that she will weaken over time. Aggressive and able to manoeuvre well across the court, her shot defence is good and she's able to often prevail during tight situations in matches, like rallies.
Maria Sharapova, Simona Halep and the aforementioned Muguruza are the only top players who can be classed as hard-hitters currently. Between the trio, they've won 5 in 30 meetings with the American. When you break it down like that, it's almost hard to see where the next contender will emerge from. Serena though will be eager to end on a high especially having already surpassed (23, currently) Steffi Graf's record of 22 for the most Grand Slam titles won.
With that being said though, it felt very much to me as if Muguruza's win over Serena at the French Open last year was symbolic – perhaps becoming the successor to her throne? She has stumbled since then, though an impressive Wimbledon victory over Serena's sister Venus provided her second Grand Slam triumph back in July.
Close friend Wozniacki said earlier this week that she was focused on making her comeback. Whether or not her motivation levels are still as high in a year or two's time, given she has recently given birth, is another question entirely.
Perhaps things may have been different if this was the case a few years ago, but at 36, she's likely to dominate for another year or so before retiring in style as the sport's best female athlete.