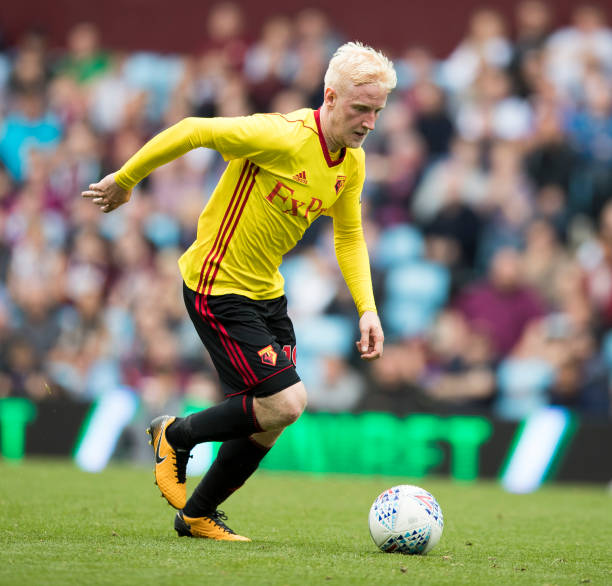 Nathaniel Chalobah has been one of Watford's best performers this season, but a freak knee injury in training has him sidelined until the start of 2018. Now's the time for fellow summer signing, Will Hughes to step up and prove he's ready for the Premier League challenge ahead.
Chalobah is set to undergo surgery to repair the damage he suffered in training last week. Having made a brave decision to reject Chelsea's offer of a new contract and seek first-team opportunities elsewhere, it had initially been beneficial for the 22-year-old.
His impressive performances from a central midfield role had convinced Gareth Southgate that he was worthy of a place in the England senior squad. This was a first for the player, who made just under 100 appearances across youth levels with the Three Lions.
Although he didn't feature for England against Malta or Slovakia, it would've been a useful experience nonetheless and one that he'd hope to stand him in good stead for the future. Chalobah has been honest about aspirations of earning a place on the plane to Russia ahead of next summer's World Cup. Now, he'll have to work even harder to get a midfield spot after this latest setback.
It's not good news for Watford either, who currently sit in sixth place in the Premier League, with 11 points from their opening six matches. Richarlison has been the driving force in the final third, an exciting addition – but other than that? There aren't many within the Hornets squad that have played well consistently since the new season began.
Chalobah is an exception here. He has played every match when available for selection under Marco Silva and alongside Abdoulaye Doucouré, has combined to create a fearsome midfield pairing who balance defensive responsibilities with venturing further forward. Able to express himself more than he was granted in west London, it's an untimely blow for someone who still has potential to fulfil in future.
What about Will Hughes?
Speaking of potential to fulfil, it seems as though Will Hughes has been around forever. Also 22, the creative-minded midfielder was outstanding during his breakthrough campaign at Derby County, almost five years ago now.
Courted by some of the Premier League's best, while Barcelona were among those interested from afar, he admirably chose to remain with the Rams as he felt his first-team chances were greater if he stayed where he was. Unfortunate with a ruptured cruciate ligament injury himself, it halted his development but thankfully didn't end it completely. Hughes finally made a long-awaited move to England's top flight this past summer.
He's very much a player who bases his game around the Xavi and Iniesta mould: someone who loves the ball to feet, tries to create chances frequently and keen to pull the strings in midfield. Deceptively agile and a strong dribbler, you can see where the comparisons come from, as well as why he was so highly-rated in his teenage years.
As the midfielder has matured, he has also benefited from experiences against overtly physical opponents – it would be naive to suggest he'd struggle when given an opportunity in the top flight. Hughes made his Watford debut during their 3-2 defeat by Bristol City in the Carabao Cup last week and despite a slow start, created an assist and got more involved as the match progressed.
It's not a surprise and nor should it be a criticism of Hughes or his quality that it takes time to acclimatise to a new set-up. Andre Gray is a perfect example of a summer acquisition who is still settling in, so patience must be afforded in the same manner here.
It's important that Watford boss, Marco Silva shows faith in Hughes and deploys him in a favoured role as a number ten, or at least closer to the front-line like he would do with Roberto Pereyra. Tom Cleverley and Ben Watson are both players that he should replace within the matchday squad, and it would make sense that Etienne Capoue features alongside Doucouré as Chalobah's replacement.
Although it's never nice or convenient for team-mates to sustain injuries, now is the perfect time for Will Hughes to assert his credentials as a first-team regular under new management.