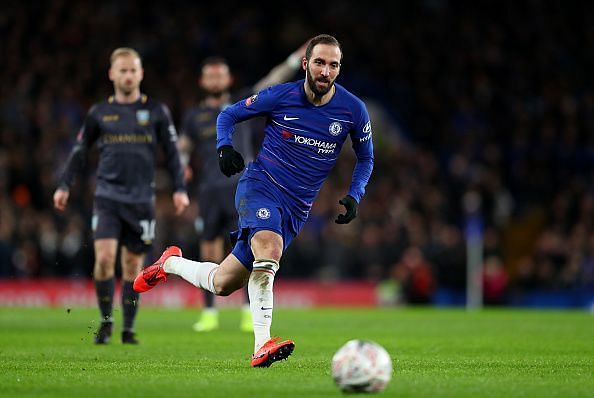 Here's an in-depth look at five winners and losers from an intriguing loan deal completed last week, which saw Juventus striker Gonzalo Higuain terminate his existing contract at Milan to join Chelsea until the season's end…
Gonzalo Higuain completed his Chelsea move last Wednesday, in time to watch his new teammates beat London rivals Tottenham on penalties the following night – before making his debut in their 3-0 FA Cup win over Sheffield Wednesday on Sunday.
It was an unspectacular showing from the 31-year-old Argentine, whose arrival has divided opinion in west London. Especially considering his well-documented struggles on-loan at AC Milan, this signing very much feels like a short-term fix for a Blues side in need of a morale boost to power their Champions League hopes from now to the season's end.
Whether Higuain will be at the club beyond the summer months remains to be seen, as there is an option to extend his six-month deal (€18m) or buy him outright (€36m) from parent club Juventus.
With all of that in mind, here's a look at five winners and losers from Higuain's latest move:
#5 Winner: Maurizio Sarri
Maurizio Sarri made clear his intentions to sign Higuain and although this deal is only initially a loan, he's got his man. Just like with £60m midfielder Jorginho, he now has two former players under his wing in west London that are essentially guaranteed starters.
Perhaps it's also a sign that Sarri himself will remain in charge longer than most critics have suggested recently, particularly after his comments following their 2-0 defeat by Arsenal earlier this month.
Higuain enjoyed his best goal-scoring spell with Sarri as his manager in 2015/16, topping the charts with a whopping 36 goals and three assists in 35 league games for Napoli. It was a record-equaling number in a season of all-time alongside Gino Rossetti – who achieved the feat with Torino back in 1928/29.
Loans like these are becoming increasingly common because the ability to try-before-you-buy, even with someone as experienced as Higuain, could work in his favour this summer. After all, his comments on the Argentine suggest he wants to continue working with him beyond the end of this season.
Sarri said: "He's a striker with great experience, who has scored a lot of goals for some of Europe's biggest clubs and also contributes a lot to the team. I know very well what he is capable of, having worked with him before – he's one of the best strikers I have coached."
#4 Loser: Olivier Giroud
Higuain's arrival in west London has left another striker pondering his future, for the second time in as many years.
Olivier Giroud finds himself in a similar situation which forced him to leave London rivals Arsenal after five-and-a-half seasons there twelve months ago. After all, he was agitating for regular minutes and Arsene Wenger could no longer guarantee him that, not least with Alexandre Lacazette before Pierre-Emerick Aubameyang's arrival that month.
He has since joined Chelsea and failed to complete what he set out to: play regularly, flourish and silence his critics. Not the most convincing finisher, his overall contribution and value to a team is much more than solely goals. We saw that first-hand as France won last summer's World Cup with Giroud leading the line – without scoring a goal throughout the tournament.
His link-up play, aerial ability, underrated passing range and defensive contribution among other attributes are all things that Chelsea can tap into. Instead, he made a counter-productive move for his progression, joining a team as unforgiving as Chelsea are: especially with their strikers.
They haven't got time for patience and it's not as if Giroud doesn't score goals either. His lowest tally in a top-flight season for the Gunners was 11, during his debut campaign in England.
Can he do it more often though? If he has one or two chances in a game, can he take them? Unfortunately, it looks like he's not the man they've tasked with that responsibility going forward – opting for a foreign import rather than someone with his invaluable experience.
#3 Winner: Gonzalo Higuain
For someone of his reputation and quality, it's been a poor season – to say the least – for Gonzalo Higuain. With eight goals and three assists in 22 appearances (all comps) for Milan, it's makes for grim reading once you delve deeper into the statistics themselves.
Only two of his league goals came against teams in the top-half (Sampdoria and Atalanta). His two Europa League strikes were both netted before matchday three, where they lost their first group stage fixture against Real Betis.
Higuain's impact was minimal after that, Milan failed to qualify for the last-32 and lost the decider on matchday six against Olympiakos which saw them out on goal difference. Before his winner against SPAL on December 29, Higuain had gone 10 games (all comps) without a goal.
Exactly. So you could understand the surprise when a potential loan move to England was being reported, not least with Chelsea eager to bolster their attacking options. To have been seemingly rewarded after some worrying attitude problems and general behavioural issues during a fractious spell in Milan, he can count himself very fortunate given the circumstances.
Lucky the Milan deal was a loan with option to buy and this the same, very few strikers in a similar position would have been granted a second chance somewhere else in the same season.
Chelsea are better than Milan and even with their issues this term, offer improved options for Higuain to combine with. Hazard, Mateo Kovacic, Willian, Pedro, Jorginho et al – he cannot afford to start slowly with scrutiny and multiple TV cameras focused on him in England.
Whether he likes it or not, Sarri's right: Higuain cannot afford to rest on his laurels in England if he wants to earn a permanent deal. Otherwise, both Chelsea and selling club Juventus could find themselves with an attacking dilemma to ponder this summer.
#2 Loser: Gennaro Gattuso and Milan
Ultimately, Milan's faith in Higuain was well and truly shattered. The move was bold, though it was only going to be a masterstroke acquisition or a flop that massively backfired. It has.
Krzysztof Piatek joined for a reported €35m (£30.5m) earlier this month from Genoa and already netted a brace on his full Milan debut during their Coppa Italia win vs. Napoli last night. The Polish forward, 23, has plenty of upside and is enjoying a breakthrough campaign in Italy's top-flight, but the Higuain deal was a serious investment, even temporarily, for a striker with pedigree in the division.
Not as though they were taking a gamble on a youngster with no experience nor someone who had yet to acclimatise to the league, Higuain has been there for five years!
He didn't want to be there to begin with though, his behaviour and attitude were poor which had an adverse effect on the club, his teammates and it's clear they'll be more cautious with riskier deals like this one.
Despite flashes of progression, the team aren't yet good enough to get into the Champions League and players like Higuain prove an unnecessary hindrance. Gattuso hasn't had to deal with this type of personality before during his managerial career to date, while it's unclear whether he even privately approved of the deal.
It's poor and frustrating for a team seemingly on the up, who are slowly but surely aiming to return to their glory days. Luckily for them, Piatek is flourishing and they have a young core of players hungry to prove themselves. Higuain was the precise opposite.
#1 Winner: Eden Hazard
Last but not least, Higuain's move means Hazard is a winner too.
Chelsea's most important player, the 28-year-old winger has regularly voiced his desire to play alongside a striker that compliments the way he plays. While Giroud's link-up is good and the pair have combined well at times, Sarri opting for Álvaro Morata meant the Frenchman's minutes were limited at best.
With the Spaniard now on-loan at Atletico Madrid and Giroud still resigned to the bench, in comes Higuain – a bonafide goalscorer who, despite his patchy form of late, can arguably help Hazard more than Olivier could. Now, instead of playing in the false nine role, Hazard can revert back to his preferred position on the flank, cutting in from the left-hand side and creating chances aplenty.
He has 10 goals and 10 assists in 22 top-flight appearances this term, but the production had gradually dried up in recent weeks. His position change into the centre-forward role coincides with this goal contribution decline, so having Higuain lead the line will prove a welcome sight going forward.
Higuain's arrival hints at future plans
The real question that remains is: Can Gonzalo's presence convince him into committing his long-term future at Stamford Bridge, ignoring Real Madrid's advances once and for all?
Only time will tell, although the club are being forced to look towards the future – signing Christian Pulisic for £60m earlier this month. He arrives in the summer, while they're also doing their utmost to appease their best young talents into staying and fighting for regular minutes – Ruben Loftus-Cheek, Ethan Ampadu, Mason Mount (on-loan at Derby).
I haven't even mentioned winger Callum Hudson-Odoi, who still looks destined for a big-money Bayern Munich switch despite the club rejecting his transfer request this week. Ultimately, the team still needs a lot of work though this news is encouraging from Hazard's perspective as he has made clear his intentions to play with a bonafide striker.
As good as he is, Hazard's inconsistencies in-front of goal mean he's better placed to creating rather than having to do a combination of both. It needlessly adds more responsibility and pressure on his ability to perform, when he should be granted the freedom to roam in the final third where he's at his best.