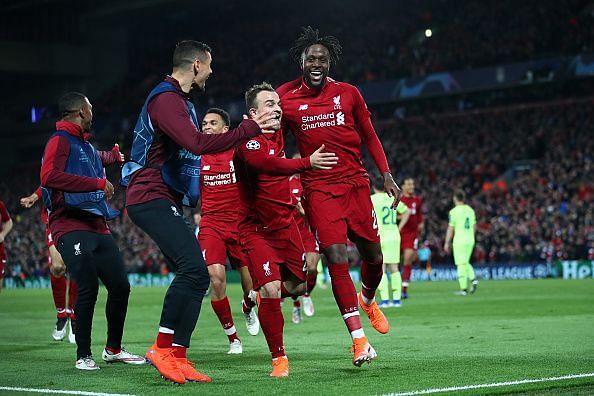 Liverpool recovered a 3-0 aggregate deficit with an incredible 4-0 win over Barcelona, to earn their second successive Champions League Final place in the process. What were five talking points from an Anfield classic?
Liverpool recovered a 3-0 first leg deficit in incredible circumstances, sealing their second successive Champions League Final berth at Barcelona's expense. Divock Origi's opener after seven minutes lit the proverbial touch paper as Jurgen Klopp's men rallied hard against a nervy Barca display – outworked and overpowered at nearly every turn.
Despite a flurry of chances being created before the break, the score remained a slender Liverpool lead at half-time. It wouldn't last long though, as a quick-fire brace from inspired substitute Georginio Wjnaldum shifted the game dramatically after 55 minutes.
Origi completed his brace in style after a clever corner caught the visitors off-guard, as the retreating defenders were made to pay for falling asleep as Trent Alexander-Arnold fizzed a low cross goalwards with the grateful Belgian on hand to convert from close-range.
Philippe Coutinho, Luis Suarez, Jordi Alba and talisman Lionel Messi all had promising opportunities for the visitors, who fell apart with a favourable advantage away from home for the second consecutive year after their collapse against Roma twelve months ago. Without further ado, here's a look at five talking points from en enthralling second leg clash at a raucous Anfield:
#5 Origi's early goal sets tone in frenetic start
In what proved a crazy game, Origi broke the deadlock. It was far from a vintage finish but didn't need to be – Liverpool were clearly hungry for an early goal and needed one quickly, if they were to utilise the momentum over 90 minutes.
It can feel like an age, particularly if you're behind and chasing the game. Alba's mistake in possession saw Sadio Mane and Jordan Henderson combine and despite ter Stegen's save, he could only parry the effort into Origi's path, who was alert and on hand to score after seven minutes.
Their high press tactic, adopted during the first-half last week, was clearly working. They knew Barca, for all their quality, were there for the taking and by taking the game to them with a ruthless approach, the Belgian's goal gave them all the confidence they needed to push harder than before.
Coutinho and Messi both had early chances saved by Alisson soon afterwards and who knows what would've happened, had the sides went into half-time still goalless? Origi's first goal ultimately proved pivotal as the drastic shift was there for all to see.
#4 Vidal vs Henderson in midfield battle
Arturo Vidal was comfortably Barcelona's best player, other than Messi. His passing was poor but that comes with the territory when you're as risky as him in possession. Nonetheless, the defensive side of his game and tenacity with which he played saw him outshine the rest in a nervy display duly punished by a fearsome Liverpool side.
He won a game-high seven tackles, nine of 13 duels contested, two interceptions and a block too. Constantly frustrating the hosts, imposing his presence out of possession and forcing them into mistakes, it was a shame none of his teammates could really follow the Chilean's example off-the-ball.
Clever, he won a number of fouls in dangerous areas when Mane and Origi allowed to break in attack, while breaking up play and throwing himself in the way of shots, breaking up play where possible.
His disappointment at being replaced was also telling: in the first leg, Sergio Busquets should have been replaced. This time, it was again him or a more creative-minded Ivan Rakitic who should have been relinquished, as Valverde needed the 31-year-old's experience and guile to set the tone – even with the hosts continuing to probe for more goals. You could sense the nerves and he was one of very few not overwhelmed by the occasion, yet he found himself on the losing side and misses a potential first Champions League triumph in his career.
—
As for Henderson, he has another chance later this month. With criticism aplenty of inconsistent displays, whether he plays too safe or just isn't reliable enough and makes needless mistakes, these last few months have been a joy to behold for the 28-year-old. An important midfield spearhead for Liverpool, that's testament to his character and will to win – the desire to be that presence they long for in midfield.
It was fitting that Steven Gerrard, the man he replaced as club captain, was in the stands to watch his beloved Liverpool as they fought back heroically against all the odds. Fabinho did well too, but Henderson led by example and was better.
Playing with a knee injury for over an hour, he refused to complain and instead set the tone with his tenacity and relentless pressing which forced Barca into even more mistakes, gifting the hosts more welcome encouragement.
His passing, just like Vidal, wasn't the best – but he was adventurous and looked to get teammates involved. It was his marauding dribble which created the first goal moments after Alba's mistake and although he should have done better to score himself there, he delivered another impressive defensive shift on a memorable Anfield night. Four tackles, one clearance and five of 10 duels won, it was a real captain's display from someone who doesn't get the credit he deserves when it's warranted.
#3 Jordi Alba's defensive weaknesses exposed
Alba was exposed. Not for the first time either: this had shades of the Juventus defeat two seasons ago, where they were constantly getting joy down his side and he could seemingly do nothing to isolate them nor reduce their success, leaving him for dead where possible, highlighting him as Barca's weak link.
The same was the case here. In the first leg, he played an excellent into Suarez for their opener, but ultimately he was the chief culprit as they relinquished another excellent aggregate lead. Not confident with his one-on-one defending, his positioning was poor and he made two individual mistakes which gifted them two goals.
The first was a header he inexcusably headed back towards his own goal with Mane lurking behind him, the second another mistake in possession. You cannot afford to give the ball away in your own half and within a few seconds, Wijnaldum was wheeling away as Anfield roared once more.
With three interceptions, four clearances, one foul and two mistakes leading to goals, it just wasn't good enough. At 30, he's not getting any better. His shield from criticism is that going forward, he's such a creative force in the final third. However, he didn't create many chances on this occasion. The one he did, he panicked and picked the wrong option, passing back to Messi rather than shooting with four players in the Liverpool box.
When it matters most and you need to defend properly, where was he for that? Nelson Semedo did well in the first leg when called upon, yet didn't feature until it was too late and the damage had already been done.
This insistence on using players given their high-standing reputation doesn't always prove beneficial and yet again, Alba has been caught out in one of the biggest games of Barcelona's season. They'd just recovered from the demise in Rome too.
#2 Alisson keeps Liverpool in it as Barca waste chances
Last week, it was Marc-Andre ter Stegen. This time around, it was Alisson's turn to be a superhero. Pulling off a string of important saves to keep his clean sheet intact, the Brazilian certainly needed to given Barca's away goal permutations and the effect it would have had for their tie.
Coutinho, Alba, Messi and Suarez in particular all had efforts saved. Yes, they were wasteful and should have done better. But ultimately he still had to make those saves and if not for his interventions, the Reds would have crashed out despite a spirited display.
Repaying his teammates' faith in him once more, it'll be a familiar feeling for him after being in goal for Roma during their remarkable comeback last season in the quarter-finals. He needed to because despite a dominant display, they were under the cosh at times: evidenced by the cacophony of jeers reverberating around the ground as Barca threatened upon occasion.
#1 Wijnaldum's inspired display, Origi the matchwinner
In last week's first leg, I highlighted Wijnaldum was poor. He certainly was, sticking out like a sore thumb – but you shouldn't be surprised. Playing in a false nine role isn't his position, but it's perhaps poetic justice that he proved the man to power Liverpool into the Champions League Final.
Having been benched for this game, being told to prepare when Henderson was down with an injury scare, eventually coming on for Andy Robertson at the break, he was presented a chance to write his wrongs and have his name in Liverpool folklore. That's precisely what he did.
Has he been inconsistent? Yes, but it didn't matter. For the first goal, Alba's mistake gifted the Dutchman an opportunity and he made no mistake, firing low and hard, despite ter Stegen's best efforts, ricocheting in. As for the second? He leaped above Gerard Pique as if he wasn't even there. Angling his header into the top corner, ter Stegen could do nothing to stop that finish.
Origi has played 577 minutes across all competitions this term and just like on Saturday, he turned matchwinner once again. Mohamed Salah and Roberto Firmino watching on from the stands, injured. Daniel Sturridge on the bench – he stepped up with two big goals and an important display in-front of goal.
The first is a real striker's finish, reacting quickest to slot home from close-range after Henderson's initial effort was parried. The second is poor on Barcelona's part, but ultimately he needed to be alert again and kept his eye on Trent Alexander-Arnold as the youngster fizzed in a low corner delivery as the visitors completely switched off.
A fast-thinking pass, fizzed in at speed, saw him attack it and angle it neatly into the far corner. 4-0 and Liverpool have made their second successive Champions League Final: after heartbreak in Kiev last time around, can they finally right their wrongs in Madrid?