Kevin Durant was expected to miss the entire 2019-20 season after an injury in last year's Finals, but Brooklyn Nets GM Sean Marks said the pandemic may have boosted his recovery timeline in time for a return, should this campaign resume.
Although Durant's business manager Rich Kleiman has continuously stressed how it's unrealistic to expect him to return at some stage this season, there is renewed hope.
The 2013-14 MVP signed a four-year $164.26m contract last summer with Golden State as part of a sign-and-trade deal to join the Brooklyn Nets, playing alongside Kyrie Irving.
There is plenty of risk involved in a premature return, which is precisely why Marks revealed they didn't plan on playing him at all this season – in comments last September.
READ: NBA unwilling to separate players from families, if 19-20 season resumes 
However, the season's suspension continues and while there is a collective eagerness to complete the 19-20 campaign at some stage this year, the unprecedented circumstances are allowing injured players an opportunity to get healthy without missing out on action.
Durant's torn Achilles was expected to see him sidelined for a full year during his prime years and although the intensity of playoff basketball cannot be understated, Marks refuses to close the door to a potential return.
When asked about the possibility by Newshub's Grant Chapman in New Zealand, he said:
"That's a $100m question. In all seriousness, we've tried not to talk about his timeline a lot – he knows his body better than anybody. Our performance team and training staff have done a tremendous job getting him to this point, but I just don't know how coming Rout of this pandemic will affect anybody, let alone Kevin."
READ: Reports – Ex-Cavs head coach Tyronn Lue interested in Brooklyn Nets job
He revealed they're keen not to push him too quickly, but there are encouraging signs:
"When you've got enough invested in a player like Kevin, we're never going to push him to come back. When the timing is right, he'll be 100% when he gets on the court. I can tell you this though: before the pandemic, he looked like Kevin Durant and that's a good thing." 
Durant averaged 26 points, 6.4 rebounds and 5.9 assists on 52.1% shooting from the field during 34 minutes per game in the 2018-19 season, his final year as a Warrior.
What's next?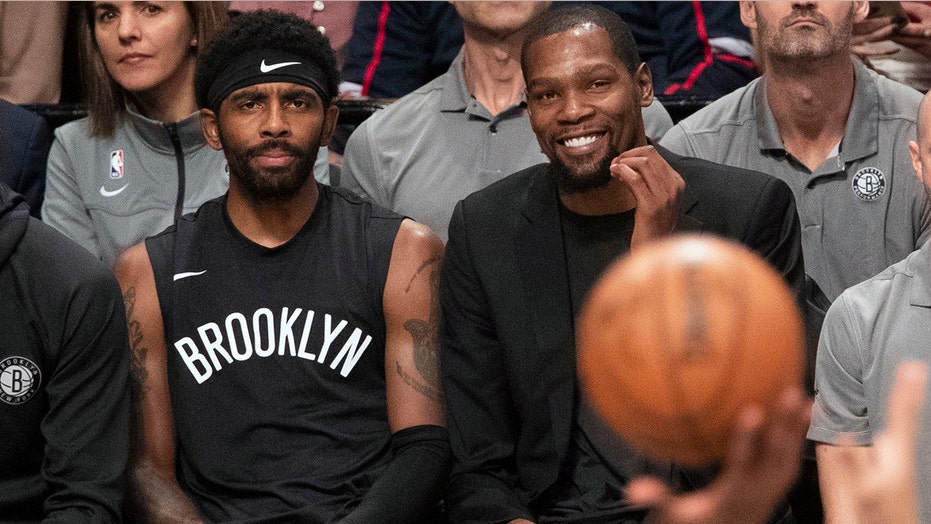 Naturally, it makes sense not to get supporters' hopes up that KD does return this season, should things resume as planned post-pandemic. Rushing back too quickly only aggravated his injury during last year's NBA Finals against Toronto and when consulting with specialists, he'd be justified in showing more caution than he's done before.
Brooklyn (30-34) held the Eastern Conference's seventh seed before the suspension of play and were widely expected to make the playoffs with 18 games remaining.
Last month, Marks said that Kyrie Irving (shoulder) "isn't a safe bet" to returnto court even if the season resumed later in the summer, so perhaps KD waits it out too? Only time will tell, but there's plenty that needs resolving before we get to that point.
Vince Carter reveals openness to playing without fans
Elsewhere in the league, 22-year NBA veteran Vince Carter has revealed his openness to finishing this current season in empty stadiums. He's previously confirmed this will be his last in the league, having agreed a one-year extension with the Atlanta Hawks (20-47).
As quoted by nesn.com, the 43-year-old said: "I don't have a problem with playing in an empty arena. I know the initial thing is, 'Oh, it's hard to find the energy'. But we're basketball players and we've adjusted to all the difficulties and changes ever made."
While having no fans in attendance will certain impact games, Carter also revealed players should look at the bigger picture and not let the circumstances affect them.
"When you toss that ball up, competition starts and you're in battle, how often do you worry about the fans? Yes, you hear them cheering when things are going right, and when they're booing you try not to hear them, I get that. But you're in competition – you should be focused on the guy in front of you or the task at hand.
"Let's play. I'm good, I want to play more so than I'm worried about who's in the stands, because I'm telling my young guys, 'Hey, don't worry about the people in the stands, we have a game to win."