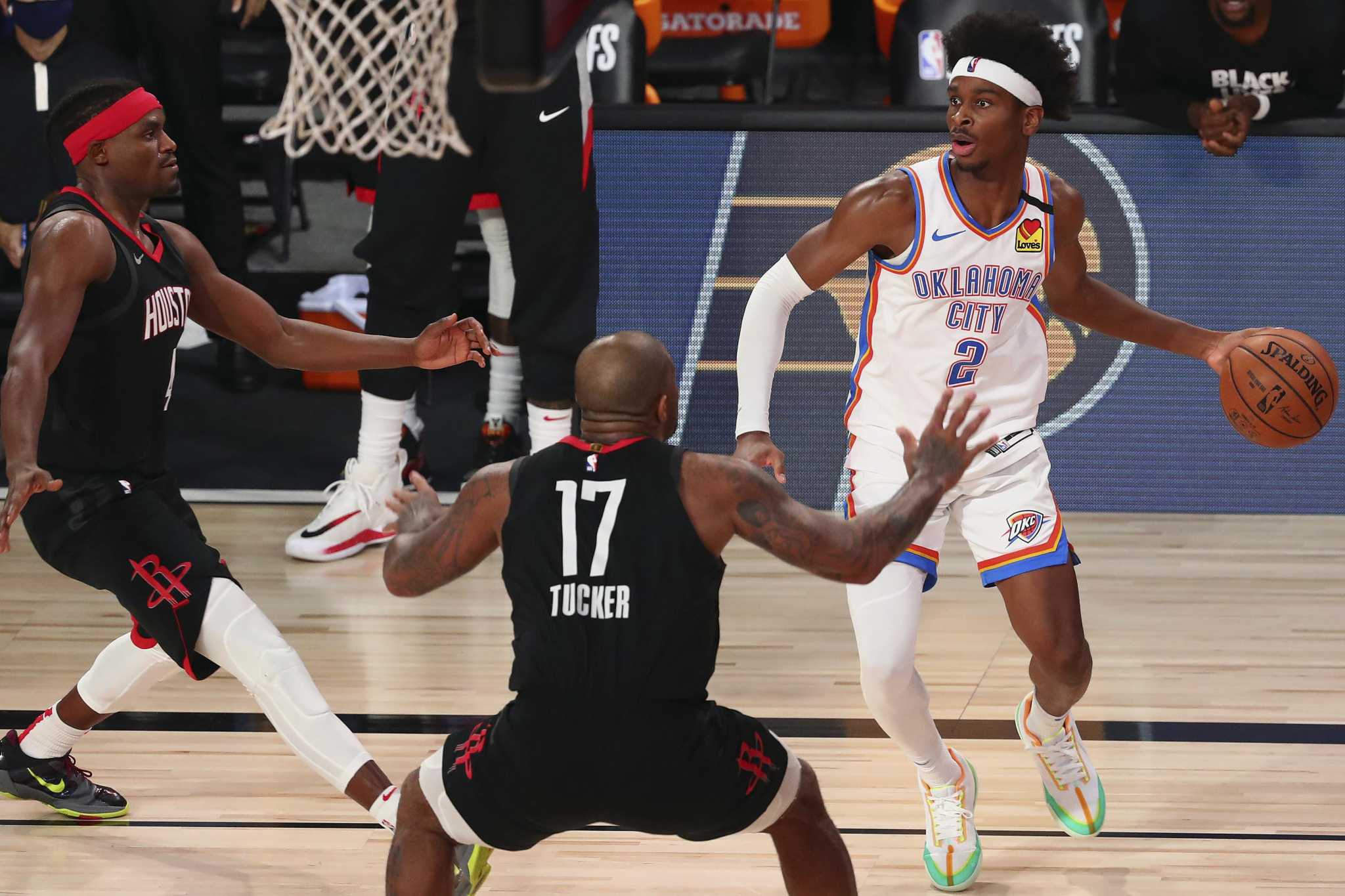 After a whirlwind month which saw his mentor Chris Paul depart for Phoenix, a new head coach appointed, multiple teammates leaving in trades or free agency, it's become increasingly clear that the Oklahoma City Thunder are both prepared and willing to build their team around Shai Gilgeous-Alexander going forward – a belief echoed by GM Sam Presti earlier this weekend.
There were initial murmurs last season, after franchise star Russell Westbrook and multiple-time All-Star forward Paul George both departed in big trades to Western Conference rivals.
Beloved center Steven Adams' departure to New Orleans – after seven years in Oklahoma – was perhaps the most significant move cementing OKC's new status as a rebuilding team.
Paul, also linked with the exit door last season, was traded to another Western Conference team himself in the deceptively improving Phoenix Suns where he'll play alongside Devin Booker.
Booker averaged 26.6 points, 6.5 assists, 4.2 rebounds and a career-high 48.9% FG overall en route to his first All-Star appearance in 2019-20.
Realistically, there's no reason why SGA can't earn similar honours in 2021 – with many suggesting he will be in the running for MIP recognition.
Shai averaged 19 points, 5.9 rebounds, 3.3 assists, 1.1 steals and 47.1% FG on less shots and settled quickly in OKC alongside multiple players capable of scoring 20-a-night themselves.
You can't really compare them, as they're two different players, but Shai has already shown enough improvements from his rookie season with the Los Angeles Clippers for critics to highlight his potential as a future All-Star guard for many years to come.
It's why this rebuild needs to happen sooner rather than later and with a young core all developing together, it's not difficult to envisage OKC returning to contention in a few years.
Who has left, joined and what's next for okc moving forward?
Dennis Schroder was traded to the champion Lakers, Gallinari joined Atlanta in a sign-and-trade and ahead of the December 22 restart, they have a true mix of experience and youth here.
Trevor Ariza and George Hill are useful veterans with contrasting skills, while Luguentz Dort's profile rose exponentially as the season continued and Darius Bazley (20) looks promising.
They have plenty of players with a point to prove: Hamidou Diallo, most known for winning last year's Slam Dunk Contest, and Justin Jackson on his third team since being drafted in 2017.
Presti's search for multiple future draft picks has accelerated their future prospects and while they won't exceed expectations like last year's run to the fifth seed, low expectations are good.
It allows the aforementioned players an opportunity to shine without the additional pressure of needing to make a playoff push – especially in a shortened season – and they'll learn from it too.
They were two minutes and a few better executed plays away from overcoming the odds – and a two-game series deficit – to beat the Houston Rockets during their seven-game thriller in August.
This has become Shai's team and one they're building around him, as the young Canadian guard continues learning on the job while embracing more responsibility on both ends.
Paul's experience and backcourt expertise helped them bond a lot last year and now, it's his time to blossom on his own.
Pictures' source: Reuters