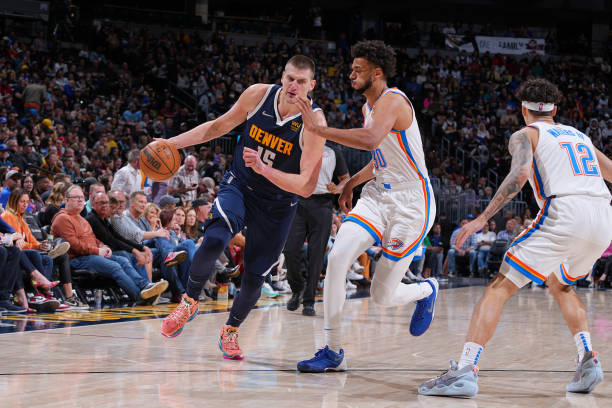 On another evening decided by slim margins, reigning MVP Nikola Jokic produced a masterful showing and played through an intricate eye injury late on to help a depleted Denver overcome the tenacious Thunder without their two best players. With seven regular season games left, it makes you wonder: how will they manage in the playoffs?
Jokic is doing it all, but what's their current ceiling?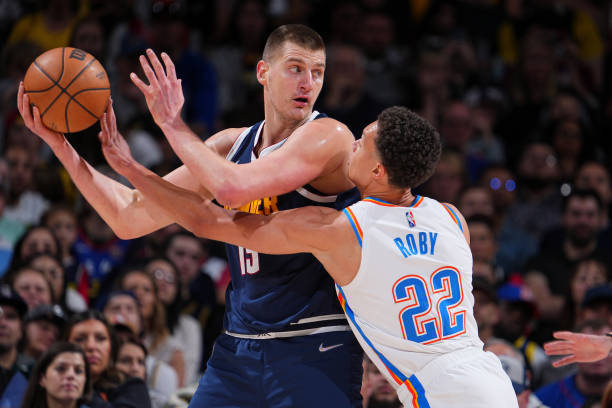 Nikola Jokic is the only player leaguewide to be in the top 10 for points, assists, rebounds and FG% per game.
He and Aaron Gordon are the only Nuggets players in the league's top 50 for minutes played, with Will Barton not that far behind.
It shows in their on-court chemistry, as well as the box score here, though the latter two are supplementary pieces in a Jokic-shaped puzzle still without the big man's two connectors in Murray (ACL) and MPJ (back surgery).
Jokic: 35 pts on 13/15 shooting, 12 rebs, eight ast, two stl and blk
Gordon: 20pts, nine rebs
Barton: 18pts, six rebs, seven ast, two stl, one blk
Last time these sides met in Denver, OKC benefited from triple-teaming Jokic where possible and stifled the production of everyone else. As he said post-game on court, the Serbian was motivated to avoid a repeat and so it proved.
Before tipoff, head coach Michael Malone said:
"Teams are basically saying somebody else has to beat us. OKC beat us here the last time, they double-teamed Nikola every time in the post – we did not handle it well."
That said, it'd be disingenuous to ignore the Thunder's own notable absences. Shai Gilgeous-Alexander (ankle) was held out, while rookie guard Josh Giddey (hip soreness) has been shut down for the rest of the season. In a largely youthful roster, that backcourt pairing form OKC's two best players by a considerable distance.
SGA is averaging career-highs in points (24.5), steals (1.3) and AST% (31.4, 5.8 ppg) while Giddey has produced a commendable rookie year with 12.5 / 7.8 / 6.4 splits (PTS/REB/AST) this term.
In fairness, you can justifiably argue SF/SG Luguentz Dort is better than Giddey right now and the third-year man hasn't played for six weeks either with a shoulder injury.
All things considered, it shouldn't have taken some Monte Morris-powered defensive stops in crunch time to thwart Mark Daigneault's men.
They struggled from deep in the first-half, shooting just 5-of-19 as a team, but still surged ahead and almost blew a 16-point first-half advantage.
With the unpredictable Charlotte Hornets next on Monday, Denver need to sustain some winning momentum and quickly between now and Apr. 10, which features fixtures against the Grizzlies, two vs. the Lakers and a matchup with Minnesota chasing their tail in seventh out West.
Picture source: Getty Images — quotes via AP