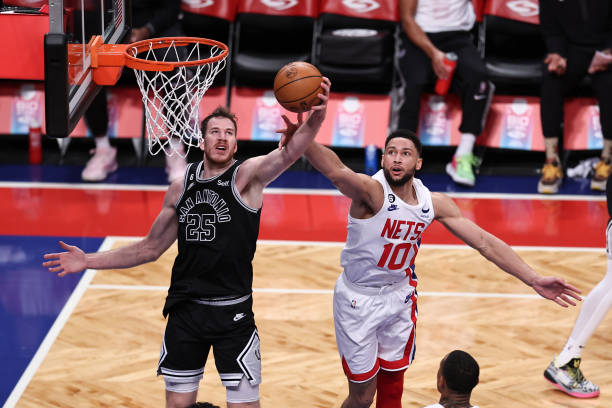 Jakob Poeltl. The 27-year-old Austrian big man is averaging 11.9 points, 9.5 rebounds and 2.9 assists per game on 62.4 FG% for a rebuilding San Antonio Spurs ball club primed to battle other strugglers in hopes they get the number one draft pick this coming summer. Should they sell high while they have a chance before the deadline, or hold off with bigger plans in mind? 

Poeltl attracting interest aplenty as clubs target centers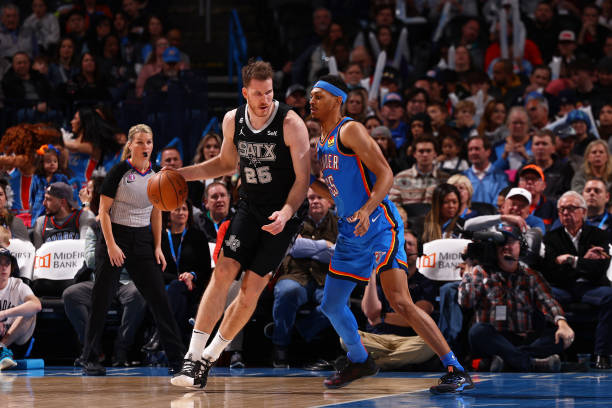 Spurs' 27-year-old big man Jakob Poeltl is receiving plenty of trade market interest as multiple teams keen to strengthen themselves in that position, per ESPN sources
San Antonio pondering their stance on the Austrian, who has spent five seasons with them after being drafted #9 by the Toronto Raptors back in 2016
Front office, coaching staff like him a lot and are intrigued by possibility of pairing him with Victor Wembanyama, should they be lucky enough to get the first draft pick
Upon reading the sentence Poeltl had been identified as one of the real "pivotal players" of this season's trade deadline, I checked his regular season stats so far. Has he truly been that good, and no-one – at least from the content I consume – has really taken much notice? Not quite.
As I wrote last week, centers are getting some love again. 11-year veteran DeMarcus Cousins is getting a workout, after not being signed to any of the 30-team rosters over the offseason. Meyers Leonard is back from the cold too, almost two years after his antisemitic slur on a livestream.
Leaguewide, there are currently six centers averaging better statlines than Poeltl's 11.9/9.5/2.9 (pts, rebs, ast) numbers so far this term. A few others might have more points, or assist more, but you can see from their individual stats the following players are superior across the board.
One is the reigning MVP in Nikola Jokic, perennial frontrunner Joel Embiid is another, while Bam Adebayo and Domantas Sabonis are virtually untouchable to their respective franchises.
The other two? Jusuf Nurkic, who signed a four-year, $70m extension this past offseason to remain in Portland… and Nikola Vucevic, who Chicago paid over the odds for, around this time two years ago – despite declining this term, they would expect a big trade piece in return.
So, it's not that surprising to hear San Antonio (13-30) will receive some real significant offers for their starting center on or before next month's February 9 deadline. ESPN's Adrian Wojnarowski suggested they view him as an ideal fit at center alongside Wembanyama, slotting in at the four.
Even if they finish with the league's worst record, currently held by the Houston Rockets (10-32), they won't have more than a 14% chance at securing the top pick in this summer's draft lottery.
---
Spurs' young core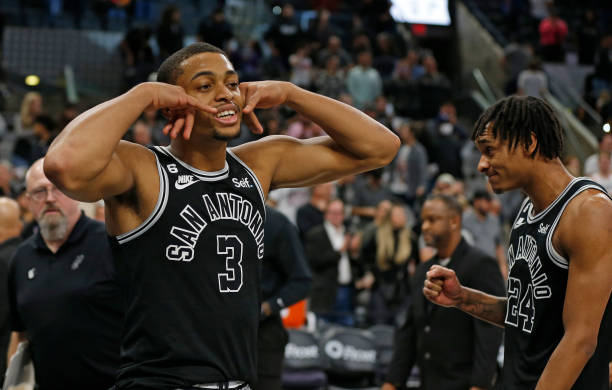 Point guard Tre Jones, who turned 23 last week, is having a sneaky third season after reduced minutes in his first two. Although currently sidelined by arthoscopic surgery, another third-year player in Devin Vassell is averaging 19.4 points and 40.4% from three-point range this term.
Keldon Johnson's shooting efficiency numbers remain inconsistent, though the small forward continues to improve in Year 4.
Jeremy Sochan's free-throw woes – and his long-distance shooting – are well-documented, but the rookie power forward has shown enough already to suggest he could be a Spurs mainstay.
There are more besides…
---
Poeltl might be extension-eligible, but his comparatively low salary this term – just shy of $9.4m – means the amount he can earn during an in-season deal is severely limited, around $58m over four years. Given the price for his services will only increase, he can get more in the open market.
So, do they take the best offer on the table or hold firm, hoping that some goodwill helps them get the big man to re-sign or recoup some value in a sign-and-trade deal with a willing ball club?
Picture source: Getty Images, stats via basketballreference.com