Game 1 of this season's Eastern Conference Finals gets underway tonight, as the Boston Celtics face the Miami Heat at the start of a intriguing series. After squeezing past Toronto in the semi-finals, Boston target another impressive start to proceedings against Miami – who made the top seeded Milwaukee Bucks look ordinary in a five-game series which finished early last week.
Boston Celtics vs Miami Heat: Both aim to lay down early marker
Tip-off time: 11.45pm BST
The big question is: After a week's rest between postseason matches, will the Heat spring back into action against more difficult opposition here?
Miami had the pleasure of watching from the sidelines as Celtics-Raptors unfolded in a pulsating matchup that went down to the wire.
Erik Spoelstra's team were actually pictured practicing during a brilliant Game 7, which rather speaks volumes for their eagerness to continue punishing those underestimating them.
In that finale, Jayson Tatum recorded a game-high 29 points and 12 rebounds, while Jaylen Brown (21 pts, eight rebs) and Marcus Smart delivered big plays down the stretch too.
It'll be interesting to see how they fare against a Miami defence that held MVP Giannis Antetokounmpo to 21.8 points in four games (he averaged 29.5 ppg in the regular season).
Key players to watch out for
Celtics: Jayson Tatum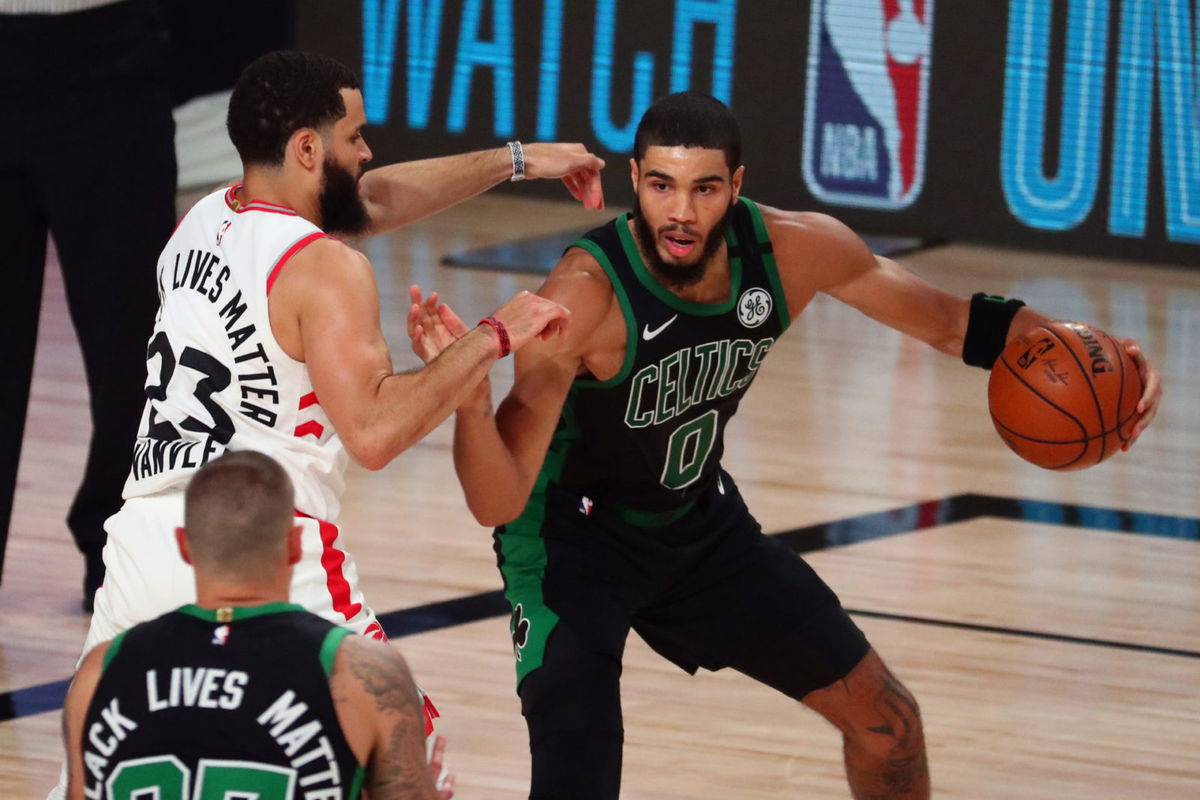 As mentioned earlier, Tatum delivered a decisive double-double in Game 7 while showing the world why he's a blossoming star.
It's important that he continues in that vein of form against Miami, who have lost just once during their postseason run to date and will be bullish about stifling Boston's offense too.
Kemba Walker has been ice-cold in their last two games, Brown remains streaky and Gordon Hayward (ankle) still rehabbing after a sprain last month.
The onus is firmly on him to deliver and if his shot isn't falling, he needs to facilitate for others in a game that could easily come down to efficiency from deep.
Heat: Tyler Herro
Herro produced a display that left social media on fire early last week: 14 points, 8 rebounds, six assists, one block and steal – all from the bench in 37 minutes.
No-one played more for Spoelstra's men, reiterating their faith in the rookie guard, who continues playing fearlessly and to devastating effect on both ends of the floor.
The question was surrounding whether he'd sustain his impressive displays in the postseason and he's yet to waver.
This season, he's struggled both from three (26.7%) and in general (29% FG) during three regular season games against Boston. Will that change when it matters most?
Who's more likely to win? The breakdown
Boston are slight favourites to emerge victorious in this series and after sufficient rest themselves, it's unsurprising ESPN's Basketball Power Index expect them to win Game 1 (59.1%).
FiveThirtyEight's win probability statistics are slightly more in Boston's favour (62%), but it's this same belief that Miami quickly shunned during the Bucks series. They'd love to do so again.
They'll need a big collective effort – both from their starters and bench unit – but they've done it before. Whether they can shoot at a consistent clip while defending Boston's multiple scoring threats, who are more versatile than Milwaukee were, remains to be seen.
Predicted line-ups
Celtics: Kemba Walker, Jaylen Brown, Marcus Smart, Jayson Tatum, Daniel Theis
Heat: Goran Dragic, Duncan Robinson, Jimmy Butler, Jae Crowder, Bam Adebayo
Pictures' source: Kim Klement/USA Today