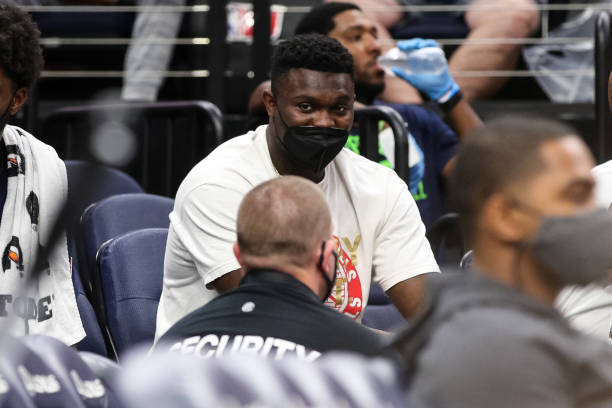 As he continues rehabbing his foot injury, New Orleans Pelicans' All-Star forward Zion Williamson is out for another 2-3 weeks after head coach Willie Green told reporters that he's progressing in his recovery. His NOLA teammates (1-6) need him back sooner rather than later.
Pelicans hoping Zion makes his season debut later this month
After whispers over his status intensified before their season-opener at home to the Philadephia 76ers, New Orleans Pelicans' head coach Willie Green has confirmed Zion Williamson will remain sidelined for at least 2-3 more weeks as he continues recovering from a fractured foot.
Earlier today, he told reporters that doctors were encouraged by Zion's latest set of scans and that the 21-year-old All-Star forward has been cleared to do 5-on-0 work but no contact just yet.
As quoted by ESPN's Andrew Lopez, Green said:
"He's cutting, doing explosive work, running, getting closer and closer. It's just one of those injuries where we want to be really diligent, especially with the foot, being careful when we put him back on the floor at full go.

I think he has to go through some of that [5-on-5 work] to see where he is, feel the real grind and bump of playing against competitors.

That's the part he hasn't done yet. We just want for him to continue progressing in the right direction without any setbacks."
Cause for concern? 
Williamson's injury was announced during their media day in September and although initially suggesting he'd be fit to feature against the 76ers, that information proved untrue. This is the second of his three seasons where he hasn't started the campaign, being delayed by injury.
During his rookie year, where he was the top pick in 2019, a torn meniscus saw the long-awaited debut shelved until the month after Christmas that season – a 13-week wait.
JJ Redick, who played 1.5 seasons with the Pelicans alongside Zion, earlier today said something many have been hinting at: his former teammate needs to get in better shape.
Although he's allowed to participate in practice if the team are going through plays or walk-throughs in their upcoming four-game road trip, Zion is needed on the floor.
Under new management, the Pels have endured a rough 1-6 start so far this season and need vast improvement quickly. Offseason acquisition Jonas Valanciunas echoed that belief, saying:
"It's going to be a different look for our team, but he's a huge piece for us – we need him back, then we'll see how everything is going to look."
Brandon Ingram, the Pelicans' other All-Star player on their existing roster, has led them in scoring with 25 points so far this term.
However, he missed Saturday's 123-117 defeat by the New York Knicks with a sore right hip and is listed as questionable ahead of their televised TNT fixture in Phoenix on Tuesday evening.
Additional games Zion is now expected to miss
Phoenix – Nov 3
Sacramento – Nov 4
Golden State – Nov 6
Dallas Mavericks – Nov 9
Oklahoma City – Nov 11
Brooklyn – Nov 13
Memphis – Nov 14
Washington – Nov 16, then Nov 25
Miami – Nov 18
LA Clippers – Nov 20
Indiana – Nov 21
Minnesota – Nov 23
If he returns before the end of November, he could face Utah Jazz in one of their scheduled back-to-back slate (Nov. 27, Nov. 28) or the Kawhi Leonard-less LA Clippers on Nov. 30. It's likely he'd have a minutes restriction similar to the one imposed on him during the Orlando bubble, too.
Picture source: Getty Images