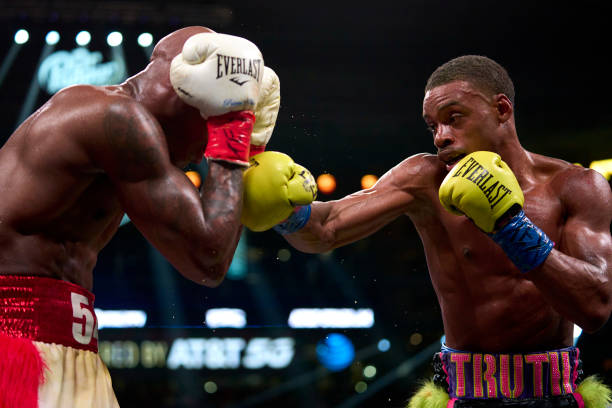 Errol Spence Jr endured an iffy start but made subtle adjustments on-the-fly and produced a tenth-round stoppage win over Manny Pacquiao's conqueror Yordenis Ugas, unifying three of the sport's four welterweight titles. At long last, surely a highly-anticipated clash against WBO champion Terence Crawford to see one true titlist reign supreme cannot be avoided any longer.
it's Strap season indeed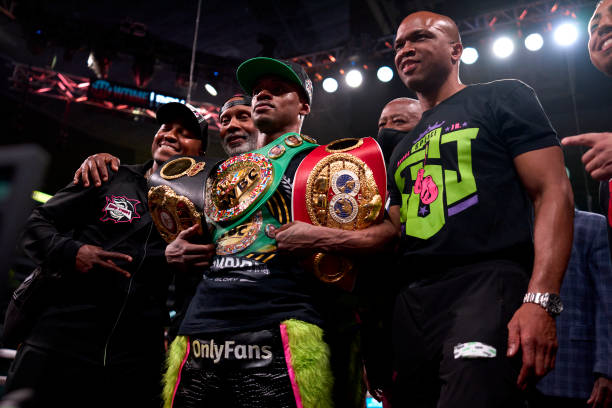 R10 TKO: Spence bt. Ugas (doctor stoppage), retains WBC and IBF titles – now WBA champ
"Everyone know who I want now, Terence Crawford next. It's strap season, said I was gonna get this belt then take the other one," Spence doubles down on his stance
"I feel sad, trained really hard for this fight, but congratulations to him and his team," Ugas reflects after a fight that really should've been stopped three rounds earlier
Promotional free agent Crawford (38-0, 29 KOs) live-tweeted his round-by-round scores as the fight unfolded before issuing a put-up-or-shut-up warning for Spence on Twitter
After a 17-month layoff, there were understandably a lot of questions and doubts posed. Was this the same champion? Would he come out passively post-eye injury? Had he lost a step?
Errol Spence Jr was defiant with his response during the post-fight presser, insisting those murmurs didn't impact him and instead the 32-year-old let his boxing do the talking as usual.
"I believed in myself 100%, knew I was gonna come with the win, didn't want a tune-up – Ugas brought the best out of me. You go through trials and tribulations, got tested and passed due to my upbringing.

Why would I quit now when I can still be at my best, just train hard, stay focused and out of [harm's] way."
Armed with a new conditioning coach and nutritionist, he thanked them afterwards, having lost the weight properly "like he's supposed to", something that has often proven a struggle and added fuel to the fire on speculation hinting at a future move up to light-middleweight.
Firmly in his peak years, Manny Pacquiao's conqueror Yordenis Ugas found out the hard way that exchanging in the pocket with Spence may appear inviting, but only has one outcome.
---
Ugas starts well, but it doesn't last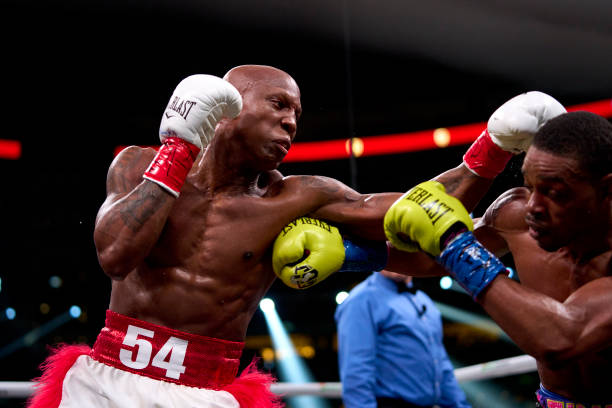 It's easy to say in hindsight though, because to the average viewer you could be forgiven for thinking this matchup would unfold differently after a competitive start in the early going.
Ugas wasn't overawed by the moment and landed sharp counter-punching early, unafraid to exchange – refreshing for the neutral given Spence entered this as an overwhelming favourite.
Spence targeted the body well and often (70 of his 216 punches), but R1 was the only one Ugas edged in terms of striking accuracy. From there, you could sense the commentators' frustration.
The Cuban's high guard isn't something coaches teach young fighters, because it opens up other areas that can be exploited and leaves you very hittable especially when fighting up close.
With that in mind, R2 saw a more concerted effort from Spence to target the body, using slick disguises and varying his shot selection so Ugas didn't always block his attacks.
Ugas had to weather a ferocious storm in R3, as that guard was gradually being broken down by some vicious hooks. He fired back defiantly and connected well, landing a series of right-hand punches clean of his own. I'm here, he forcefully gestured at Spence, as the round was ending.
While encouraging at the time, that machismo didn't age well. You could hear the crowd stir periodically as it felt like they almost couldn't believe they were seeing Spence absorb clean punches, but he happily fired back with more of his own in response during a back-and-forth R4.
Not for the first time, referee Lawrence Cole warned him for a low-blow but more on the passive official shortly. You could see Spence's shots began wearing on Ugas by the fifth, as he unloaded combos aplenty while commentators were bemoaning Yordenis' decision to trade in the pocket.
Failing to revert back to his jab, which worked well in the early exchanges, the 35-year-old was acquitting himself well but absorbing too much damage for comfort.
---
Defend yourself at all times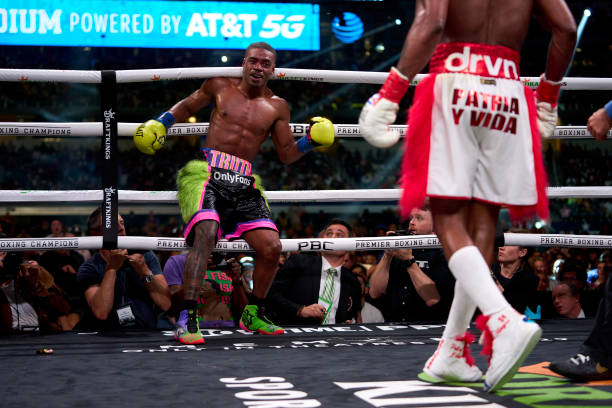 All too happy breaking opponents down with precision, Ugas looked set to become another name on his resume, besides a shaky minute in round six.
The strange sequence began after Ugas knocked Spence's mouthpiece out with a well-timed right uppercut. Cole was too slow to step in, as Spence looked at him and gestured he'd be given the opportunity to pick it up from the canvas himself unbothered, lowering his hands.
Abandoning his defensive principles momentarily, Ugas took advantage to land a big right hand which rocked him to the ropes. He grinned madly, steadied himself and eventually responded with resistance – all because the referee wasn't assertive enough to step in on time.
"Felt a little off but knew I was gonna catch on later in the rounds, kept throwing punches and was super excited to get in the ring – tried pushing the pace when I shouldn't have – I thought the ref said stop, that's my fault, a rookie mistake, got to protect yourself at all times."
If you thought the tide was turning, Spence began the seventh like he had somewhere else to be. Uppercuts and looping left hands made Ugas sink into his shell-like guard, as the two-belt titlist circled like a shark and knew a stoppage was coming if he continued with a relentless pace.
Ugas landed a good combo late in the round but Spence had seized the initiative, with R6 only firing him up further to dispel any lingering doubts. The doctor checked Ugas' right eye between rounds, which was almost shut by this stage, but somehow deemed him okay to continue.
---
Ugas' right eye almost swollen shut, somehow they continue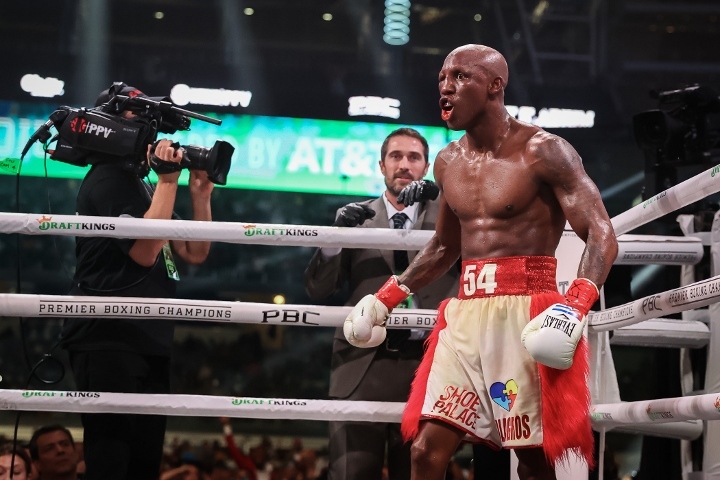 As he went through the gears, Spence was again admonished for a low blow in R8 but it didn't throw him off rhythm. Instead, he kept changing punch variance — uppercut, hook, overhand, body, rights and lefts — while Ugas wasn't offering much in the way of defence by this stage.
Another doctor assessment, this time mid-round, was met with boos by the now-restless crowd as they could sense an anti-climactic end coming. Somehow they continued, though Ugas' vision was worsening and allowing him to continue felt grossly irresponsible, valiant or not.
Clubbing right hooks and more power punches were Spence's food of choice as there wasn't much he could do, besides continue outworking Ugas and soon they'd compassionately stop it.
Cole kept stopping the pair for low blows and rough-housing in the pocket, but didn't issue more than a half-hearted warning, so his authority – especially after the R6 incident – was undermined.
It didn't matter anymore by R10, as nasty uppercuts were snapping Ugas' head back and finally the doctor deemed it sufficient punishment to stop it. Reports confirmed what was first feared, Ugas suffered a fractured orbital bone. All things considered, the officials just prolonged his pain.
While he vowed to come back stronger, the way boxing is, he'll be quickly dismissed as nothing more than an elite-level gatekepeer for the hungry young contenders keen to assert themselves as genuine world title material. As for Spence, you heard him afterwards, Crawford must be next.
Picture source: Getty Images, Amanda Westcott