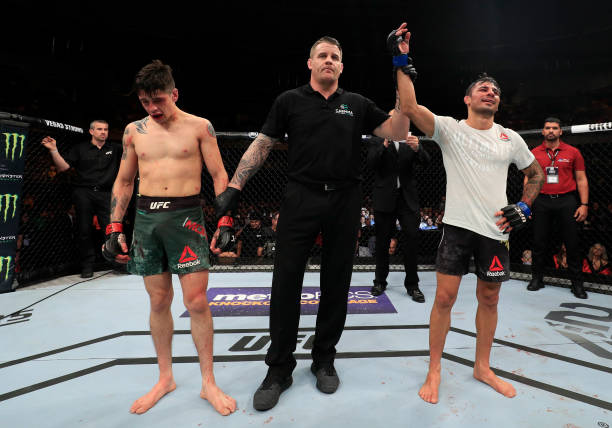 39 months after earning his second win over the new UFC flyweight champion on the Maia-Usman Fight Night prelims in Chile, Alexandre Pantoja (#3) hopes to skip the queue and will boost his chances of that with a highlight reel showing this weekend vs. Brandon Royval (#6).
Pantoja hoping Royval is the first of two more 2021 fights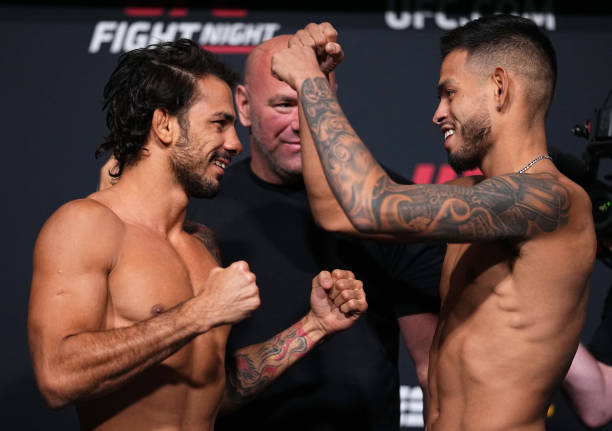 Fresh off surgery which saw him scratched from a scheduled bout against Alex Perez last month, Askar Askarov (#2) wants his rematch vs. Moreno after fighting to a split draw in September 2019.
The 28-year-old Russian might have to wait, if the UFC have other ideas. Deiveson Figueiredo was handily beaten and lost his 125-lb title at UFC 263, but stressed an eagerness for a trilogy.
Askarov wouldn't have been impressed by the Brazilian's comments and understandably so, but will also be watching this weekend's event with a vested interest as two other contenders clash.
Pantoja (#3) and Royval (#6) have both suffered UFC defeats post-lockdown, but such is the nature of this business that recency bias can often weigh heavy in matchmakers' favour at times.
You only have to look as far as Julianna Pena's bantamweight title shot, now rescheduled for a date TBC, to see that meritocracy isn't always paramount when it comes to title opportunities.
Figueiredo's loss and Moreno's subsequent admission that he doesn't see a definitive number one contender means Pantoja has a chance to sneak into contention this weekend – even if he suffered unanimous decision defeats to Askarov last July and Figueiredo the year before).
"I want to fight three times this year, this is my second and I think if I win, maybe I can get the title shot – maybe 2021 is a good year for me, but first I have a good challenger on Saturday.

Brandon is an exciting fighter, and when the UFC gave me this fight, I really appreciated it because he fights like me, it's a good style. He comes to fight, not just to score, I think him and I will make a big, big show."
Askarov hasn't fought for five months (and counting), having dominated his way to a decision win over a diminishing Joseph Benavidez on the UFC 259 prelims. As far as the promotion is concerned, there's an increasing rhetorical question: what have you [fighter x] done for me lately?
Askarov overwhelms his opponents but isn't clinical: after starting his MMA career 11-0, he's had four UFC fights and all went to the judges' scorecards. Royval is exciting but relatively evergreen, while Pantoja has more finishes (16) than decision wins (7) in a 28-fight career to date (23-5).
Should he win well this weekend, the Cannibal presents a real selection dilemma for Moreno's first title defence: especially after beating the Mexican twice before (August 2016, May 2018).
Picture source: Getty Images