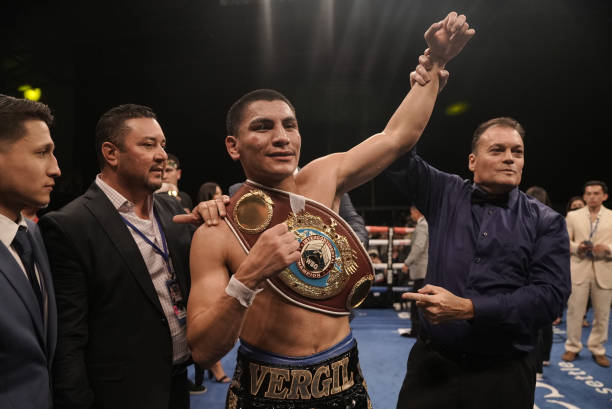 Last weekend, #1 WBO welterweight Vergil Ortiz Jr's star rose another notch as he passed the toughest assignment of his blossoming career with aplomb, all but ending Egidijus Kavaliauskas' pursuit to get back to the top table and challenge for world gold at 147lbs again.

Ortiz does it again, but not without adversity
Armed with a one-inch height advantage and ten years Kavaliauskas' junior, the 23-year-old continued his admirable record of never hearing the final bell as a professional – now 18-0 with 18 stoppage victories. This was his toughest yet.
ALSO READ: Vergil Ortiz Jr's justified confidence needs to be championed, not rubbished
Kavaliauskas said, one way or another, this fight would be fireworks and regardless of the result, wouldn't go the distance. From the early exchanges, you saw why as the pair looked to assert themselves with power punches in the pocket.
Ortiz fights with a high guard stance so when he gets hit clean, it's rather pronounced and looks ominous, hence the criticism over his defensive weaknesses.
As time ticked down deep into round two, Mean Machine caught him beautifully with a looping left, then a right uppercut just as Ortiz swung to connect himself.
He was suddenly on wobbly legs and engaged in survival mode, as they exchanged big blows and the Lithuanian would've felt a sense of deja vu when the referee didn't rule a knockdown in his favour, just like against Terence Crawford two years ago.
If that furious 40-second explosion wasn't enough to gain Ortiz's respect, nothing would. But he welcomed that fire, responding with more of his own and refused to play it safe, waving the one-time title challenger forward into closer quarters.
Just as it seemed like R3 was another in the 33-year-old's favour, Ortiz scored an unmistakable knockdown with a left-handed power jab that sat him down.
After an eight-count, the referee waved them on and soon enough, Kavaliauskas was being scolded by his corner as Ortiz adopted a more methodical approach with his punch output during the middle rounds.
Repeated body punches, slipping and jabbing well at range while maintaining that power, he threw combos but without the reckless abandon many feel could prove his Achilles heel against the world's best.
Those power jabs worked a treat for Ortiz, who was importantly disciplined enough to largely keep his distance while Kavaliauskas enjoyed fleeting moments of counter-punching success as he landed big enough shots to undoubtedly provide himself timely psychological boosts.
After threatening a stoppage late in round seven, the finish came in the eighth: Ortiz taking control as they exchanged punches on the inside, he dropped him with a body shot and multiple combo-scoring knockdowns – four in two minutes – to add an exclamation mark to his work.
"I think I did alright, got the win, could've looked a little prettier doing it but hey, I'm happy with my performance and we'll only get better from here.

[Were you knocked down?] Not at all, he caught me with a good shot but I took it well, recovered from it. It's boxing, I'm used to it [absorbing barrages], I wasn't as hurt as you think I was, felt good and right now I'm not even tired.

There's so much shit going on in boxing, I don't know what I need to do anymore. I'm ready to fight anybody, I don't care if it's Crawford/Spence/Pacquiao, you name it, I'll fight anyone."

Ortiz Jr's post-fight in-ring interview with DAZN's Chris Mannix
Picture source: Getty Images