With six more promotional events to round out an eventful year after tonight's card from Abu Dhabi, the fanfare surrounding future matchups should not detract from an overseas event featuring a compelling title fight without the unsavoury trash talk at 205lbs, alongside a rightful interim belt and more intriguing bouts that promise to move the needle ahead of 2022.
Time flies but it also waits for no man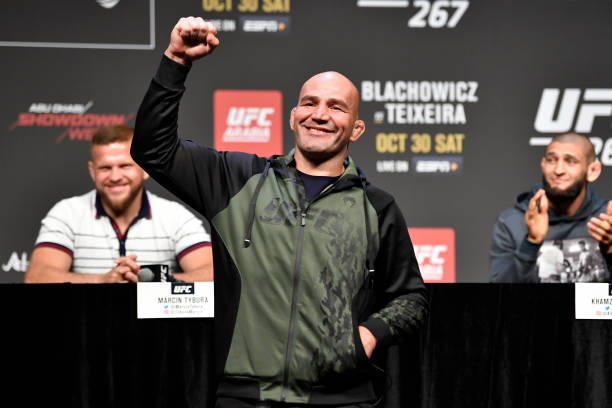 If you had told me, shortly after UFC 202 in August 2016, that Glover Teixeira would one day fight for the light-heavyweight belt, I would've dismissed you rather incredulously.
He was viciously KO'd after 13 seconds by Anthony Johnson that night in a blistering explosion I'll always remember. Eight months later, Rumble fought for gold once more but again fell short against former two-division champion Daniel Cormier and Glover's chance had evaporated.
It was two-and-a-half years before the evergreen Brazilian began building a win streak, starting from scratch to one half of Saturday's main event against bullish champion Jan Blachowicz. Having inflicted Israel Adesanya's first pro loss in March, a different test awaits him next.
Armed with a five-fight winning run, including contrasting victories against former title challengers Anthony Smith (#4) and Thiago Santos (#5) last year, Teixeira celebrated his 42nd birthday during this fight week. All things considered, how is he still at the top of his game?
"Passion for this sport. Lately more discipline about it, focus on what I have to do to become a champion. It didn't work before, so I was doing something wrong.

When I fought [Alexander] Gustafsson, Johnson, I was knocking at the door but couldn't get there. [I was] looking for knowledge – (UFC) PI, my coaches, discipline and putting it on myself. Like, how much do I want this? Back then, I was just a wild fighter, just going and fight – always train like a maniac, a dog."
Statistic: Teixeira is the only fighter in UFC history to hold a five-fight winning streak at age 40 or older. Should he beat Blachowicz, he'll become the oldest first-time champion in history too.
Blachowicz has respect for a fellow elder statesman, but believes while deserving of this opportunity, that's as far as his run will go.
"He's a great opponent with great skills, a lot of experience – longer than me in this sport, so we are friends, no bad blood between us but that doesn't change anything. When we go inside the octagon, the fight will start and I have to knock him out – I will do it." 
We'll have to wait and see if Blachowicz can make the second defence of his light-heavyweight title, or whether Teixeira can finally get the gold his hard work and dedication has deserved.
All fighter quotes via MMAjunkie