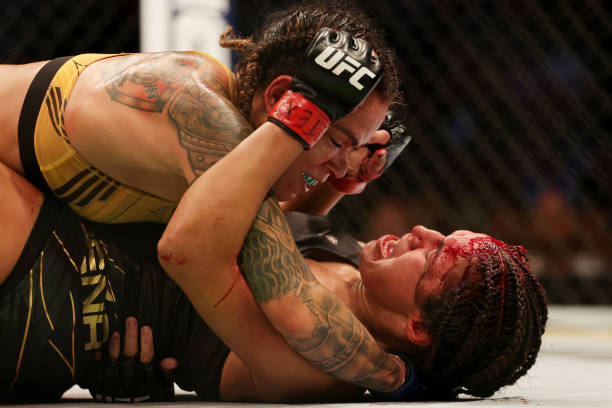 Amanda Nunes regained her double champion status with a one-sided decision victory over Julianna Pena in a bloody, exhausting, frenetic rematch after Brandon Moreno's brilliant third-round liver kick against Kai Kara-France secured his status as new interim flyweight champion. Elsewhere, there were big wins for Alexandre Pantoja, Magomed Ankalaev and more besides.

Lioness sets the traps, catches her persistent prey
50-45, 50-44, 50-43: Amanda Nunes bt. Julianna Pena via UD, regains women's BW title
"I need a little rest, haven't been back home [to Brazil] for three years… let the Lioness rest, but I'll be back soon," she vows after winning her tenth championship fight
Nunes surpasses compatriot Jessica Andrade for most wins in women's UFC history (15)
Pena falls short in first title defence, but gains plaudits after spirited showing with submission manoevures aplenty – especially after suffering multiple knockdowns
After a tale of two rounds in their first fight, perhaps it was inevitable the pair would take a more measured approach in this rematch.
Nunes started southpaw here, to the commentators' confusion, but that baited Pena into closing the distance and engaging in the pocket like she did with surprising success last time around.
This time though, there was to be no shocking repeat result. Every time she ventured within striking range, Nunes clipped her with a right hook and had the champion on wobbly legs. Despite showing more resistance in the last half-minute, this was a clear 10-9 for Amanda.
She scored two sharp knockdowns early in R2, ushering Pena back to her feet both times, and as both were wearing damage, it was quickly clear a firefight was inbound for as long as this lasted.
Another knockdown arrived, with a sharp left hand, Nunes' switching stances and striking variance proving too much for Pena to combat. The champion showcased her gritty toughness in R3, after being swept to the mat and absorbing nasty ground-and-pound strikes.
Many have waved the white flag under such powerful duress against Nunes, but Pena frequently reversed the position into submission manoevures from the bottom from R3 onwards.
It was a very good idea, but only served to further anger an opponent who needed to be defensively aware at all times.
She got close with an armbar, twice, and could've secured a triangle choke if she wasn't so slippery with her blood continuing to pour everywhere.
R5 and Pena needed a finish. She threatened an omoplata lock, before Nunes continued where she left off with more completed takedowns and countless control time (11:49).
Pena fended off a late rear-naked choke, but the Lioness danced with Pena on her back in a defensive position as the final seconds ticked by. Regaining her 135lb title, like she promised.
---
Moreno bests Kara-France, calls for Dec. fight vs. Figueiredo
R3, 4:34 – Brandon Moreno [1] bt. Kai Kara-France [2] via TKO (liver kick, punches) to become interim flyweight champion
With a new head voice in his corner – fighter-turned-coach James Krause – Brandon Moreno was insistent on making a statement in this rematch. It wasn't perfect, but he eventually did just that.
The pair both had moments of success in R1, Moreno landing leg kicks and applying forward pressure, while Kara-France showed the sting in his punches with a big looping right hand landing clean. Those rounds are often difficult to score, and that was again the case here:
You could start to see the championship experience differential between them in R2, as Moreno seized upon opportunities to capitalise on Kara-France's mistakes while making him miss.
Kai started the third in much better rhythm, landing his attacks and completing a leg sweep to temporarily ground the former champion.
Having been cut open by a hard elbow, Moreno's machismo was on full display as he frantically tried to counter every shot that landed clean on him with an even more powerful one of his own.
Undoubtedly sensing danger from the blood under his right eye, he was moving recklessly while maintaining a suffocating forward pace, leaving himself open to Kara-France's offensive skills.
Without warning though, just as you'd thought the Kiwi had snatched the round, Moreno threw a nasty liver kick and Kara-France winced as he crumbled to the mat. Raining down with more than ten unanswered hammer blows, the fight – just getting compelling – was suddenly all over.
"Ooof, what precision. I love that kick, I've been working that [throughout camp], and today I can grab this [title] again, it's amazing."
Figueiredo – met by boos aplenty – praised him in the Octagon afterwards, as they shared an embrace and verbally agreed for a December unification bout, in what will be their fourth fight.
---
Pavlovich pips Lewis, in controversial early stoppage
R1, 0:55 – Sergei Pavlovich [11] def. Derrick Lewis [5] via TKO (punches)
After all the pre-fight talk about former title challenger Derrick Lewis' renewed positivity, changes to his camp and corner, how he was relaxed and walked out to a hero's welcome in hs hometown of Texas, it was all over for the promotion's KO artist after merely 55 seconds.
Pavlovich didn't need a second invitation to start whizzing heavy-handed punches, while Lewis was slow in trying to match him. That proved costly, as referee Dan Miragliotta deemed the punishment excessive, while Lewis was returning to his feet.
The crowd erupted into boos, Lewis looked dumbfounded while trying to argue his case while Pavlovich – unsurprisingly – ignored the discontent as he savoured his biggest win, against a history-maker and top-five opponent. It'll be interesting to see how they handle this though.
---
Pantoja promises to be next flyweight champion
R1, 1:31 – Alexandre Pantoja [4] bt. Alex Perez [6] via submission (rear-naked choke)
With flyweight champion Deiveson Figueiredo among the interested audience, as well as two fighters he's previously beaten contesting the interim strap at 125lbs later in the evening, you could excuse Alexandre Pantoja for wanting to get his work done quickly.
Not only did the 32-year-old do that, but it was an emphatic R1 submission win, needing just 91 seconds to submit former title challenger Alex Perez after they let leather fly in the early seconds.
He snatched a hold of Perez's back against the fence and worked his way into a chokehold, squeezing hard over the jaw – without needing to fully get an arm under the chin – before a tap was imminent.
---
Ankalaev ascends to another big win
R2, 3:09 – Magomed Ankalaev [4] bt. Anthony Smith [5] via TKO (punches)
Anthony Smith's journey back atop light-heavyweight prominence has been well-documented, but this matchup was always going to be the ultimate acid test for a former world title challenger who found himself in an unenviable title eliminator of sorts here.
After a tentative start packed with leg kicks aplenty, Smith ended R1 on his back playing possum for 30 seconds before limping to the corner with an ankle issue. Ice wasn't going to mask that.
He began R2 aggressively, winging shots and with bad intentions, but that approach – as well as a takedown attempt – was shrewdly snuffed by the Russian, who seemingly wasn't aware his opponent was physically compromised. It didn't matter.
Ankalaev had him pinned up against the fence, landing big pounding strikes, and referee Jacob Montalvo's calls for resistance from the 34-year-old fell on deaf ears as he was immobilised.
Although he was predictably serenaded with boos by the crowd, Ankalaev's finish here means he extends an impressive current win streak to nine at light-heavyweight, with only former champion Jon Jones (13) racking up more in succession across promotional history.
"Of course this was very important, he [Smith] wanted to see a fight and we showed him one. Who do you think broke his leg? How many fights do I have to win, to fight for the championship?!"
As for what's next, a no. 1 contender matchup against Jan Blachowicz next makes sense – assuming they book Prochazka-Teixeira 2 after an epic title fight between the pair last month.
---
Prelim, early prelim results
Welterweight: Alex Morono bt. Matthew Semelsberger via UD (29-28, 29-28, 30-27)
Lightweight: Drew Dober bt. Rafael Alves via R3 KO (body punch)
Heavyweight: Hamdy Abdelwahab bt. Don'Tale Mayes via split decision (29-28, 28-29, 29-28)
Lightweight: Drakkar Klose def. Rafa Garcia via UD (29-28, 29-28, 29-28)
Welterweight: Michael Morales bt. Adam Fugitt via R3 TKO (punches)
Women's bantamweight: Joselyne Edwards bt. Ji Yeon Kim via split decision (28-29, 29-28, 30-27)
Light-heavyweight: Nicolae Negumereanu def. Ihor Potieria via R2 TKO (punches, knees)
Welterweight: Orion Cosce def. Mike Mathetha via UD (29-28, 29-28, 29-28)
More analysis to follow shortly…
Picture source: Getty Images