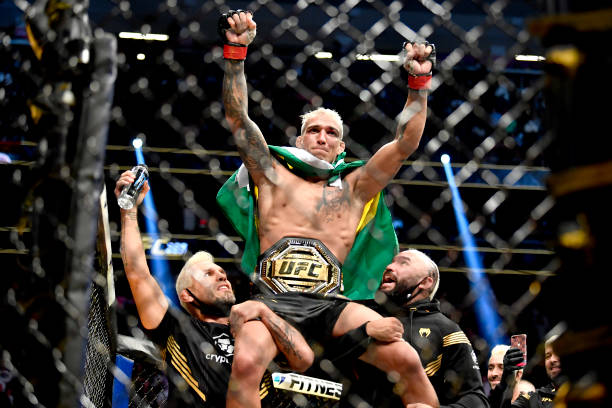 The final UFC PPV event of 2021 certainly lived up to the billing, as Charles Oliveira rallied from a frenetic first-round to make the first defence of his lightweight strap against Dustin Poirier. Prior, his compatriot Amanda Nunes was stunned by a fierce Julianna Pena display – who similarly recovered from a slow start to shock the world with a round two rear-naked choke.
oliveira: They can hit me a lot, but I walk forward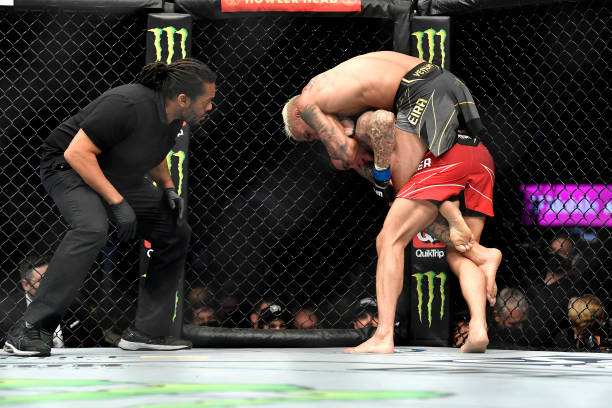 R3, 1:02 – Charles Oliveira beats Dustin Poirier with rear-naked choke, retains LW title
"They talk, but I do. They can hit me a lot, but I walk forward," Oliveira insists in post-fight interview after absorbing damage aplenty in a crazy first-round but prevails
"I can go on another streak and get another shot but do I want to go down that road again? That answer will come in the next few weeks," Poirier reveals afterwards
Islam Makhachev, Michael Chandler among ranked lightweights who respond to result on social media, #2 ranked contender Justin Gaethje meets him afterwards in the back
Oliveira began with an acrobatic kick and that rather set the tone for what proved a crazy pace through five minutes. Poirier's punch power was accentuated almost every time they exchanged in the pocket, stumbling the champion and scoring a knockdown with a looping right hook.
Dustin was accredited with 56 head strikes in round one alone and while Oliveira's knees to the body were proving problematic, the Brazilian needed to be tighter with his stand-up defence.
Getting caught clean and often, there was a sense of inevitabilty if they continued in close.
Thankfully for him, that didn't happen.
He secured an early takedown in R2 – which Poirier briefly reversed – but the commentators highlighted an illegal glove grab as Oliveira established a favourable position on top, landing sustained elbows, grinding all over Poirier and unloading with some nasty ground and pound.
With more than three minutes' control time, Do Bronx had certainly established himself and wasn't done there. Poirier's corner stressed the need for him to make it harder for Oliveira as far as his grappling was concerned — instead the inverse happened, starting early in round three.
He quickly secured Dustin's back near the fence and went to work with a grappling showcase, submitting the former interim champion via a standing rear-naked choke rather quickly.
---
Pena overcomes slow start, submits Nunes in all-time upset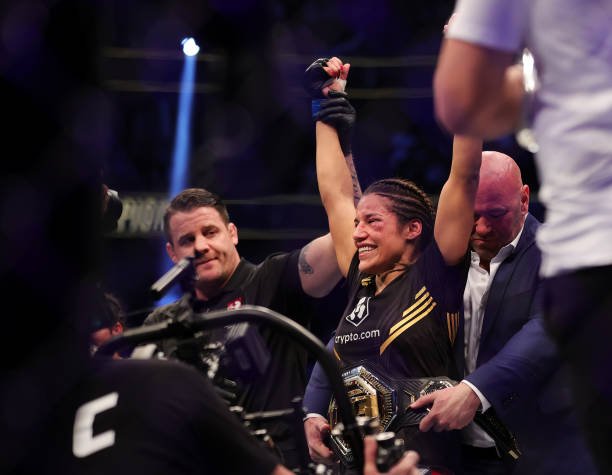 R2, 3:26 – Julianna Pena (#3) beats Amanda Nunes (c), new women's bantamweight champ
"I'm not surprised motherfuckers! I told you, don't ever doubt me again: willpower, strength and determination will take you places. The world is my oyster, you can do whatever you want in this life, I just proved that tonight," Pena stresses afterwards
Amanda Nunes says she just "shut down," reaffirming desire to return stronger in 2022
"Everyone was sleeping on me, I shook up the world," Pena details Nunes' hesitancy over bout, keen to rematch Shevchenko and De Randamie — hoping to avenge losses
In the night's co-main event, Julianna Pena (#3) did what she said she would – stun the world – earning a second-round submission win over dominant two-weight champion Amanda Nunes.
What makes the result even more surprising, is the ominous feel early in round one for the challenger, but whatever doubts she had were effectively put to rest as the waters muddied.
A petrified look etched across her face, she slipped before falling to the mat after absorbing a leg kick and the 32-year-old's boxing looked amateurish as she wildly looped shots.
Knocked down with a straight jab, her single-leg takedown was stuffed as Nunes went to work on the ground with Pena's neck in her arms. She earned some brief respite with a late-round kimura submission attempt which caused Nunes duress, but R1 was clearly one for the champ.
So how did she overcome adversity to stun the world in the second? After being reassured the plan was working by her corner, she went to work with repeated jabs that were landing clean on Nunes' chin as they exchanged punches in the pocket.
The T-Mobile Arena crowd could sense something in the air as Nunes, frustrated, started loading up on her punches while Pena's gameplan was working well. Make it dirty and rough she certainly did, absorbing big punches but refusing to wilt – instead walking forward regardless.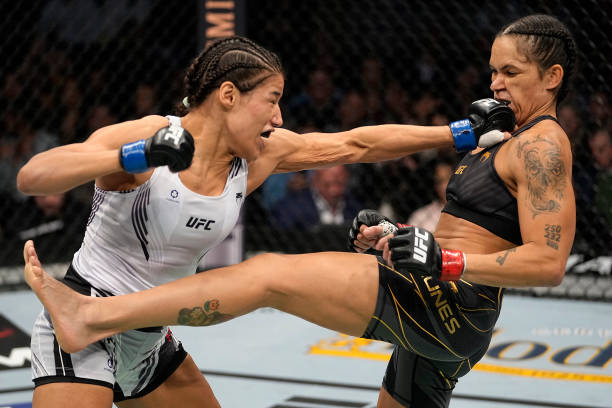 Nunes was on unsteady legs, swinging wildly and wasting energy aplenty as they edged towards the fence. There, she completed a takedown before racing for a rear-naked choke on top.
Without getting hooks in, Pena was swiftly pushed off by referee Marc Goddard as she soaked in her surroundings, stone-faced with no reaction. Nunes tapped before she had hooks in to secure the choke. She had just done the unthinkable. First to beat Amanda for seven years. Remarkable.
---
Rest of the main card, as o'Malley and more shine
Neal defends his ranking in back-and-forth welterweight duel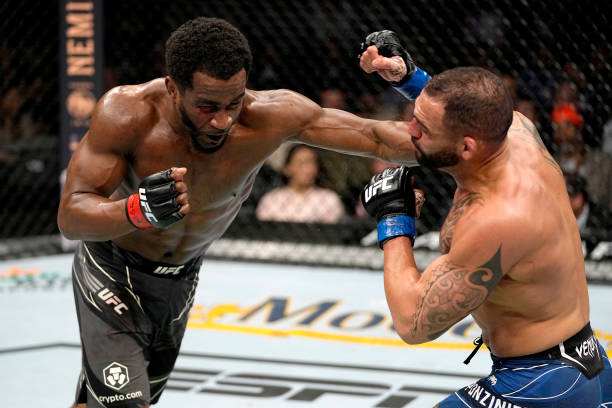 28-29, 30-27, 29-28: Geoff Neal (#12) beats Santiago Ponzinibbio (#14) via split decision
After successive losses, Neal warned one of he and Ponzinibbio would find themselves out of the welterweight's top-15 rankings after this weekend before promising it wouldn't be him.
The Contender Series graduate (#12) did precisely that against a gamely Argentine (#14), but not without some trouble and a whole lot of pain – which saw his head coach Sayif Saud produce a passionate intervention in the corner urging him to provide more firepower before round three.
Referee Mark Smith had a busy night's work, repeatedly warning both about outstretched fingers – before pausing the bout as Neal threw an inavertent kick to the groin deep in round one.
The first stanza was encouraging from Handz of Steel who blocked most of Ponzinibbio's power punches while applying measured pressure to outpoint him. However, Santiago started the second quickly and worked hard to score a takedown too.
While Neal returned to the feet quickly, he was suddenly being outstruck and Ponzinibbio's success with inside leg kicks only served to spur him on further. As such, Neal's corner stressed more activity – sensing this could've gone either way given their competitive exchanges.
Neal stung him with overhand right hooks to start the third round before taking advantage with sharp boxing as Ponzinibbio's hands were lowering.
While continuing to throw leg kicks, Santiago's head movement wasn't sharp and Neal showcased his slick boxing — punch-perfect strikes, stumbling him with a straight right, combinations and keeping the Argentine off-balance.
Although he didn't check those pesky low kicks, Neal eventually edged out a split decision win and is looking forward to hopefully building up momentum again after a much-needed result:
"It was a good fight, I really needed that – took me back-and-forth for three rounds. Exactly what I expected, threw him off with my movement which worked well, got the W. Honestly, I'm not in the position to call the shots… happy to finally get a ranked win and can't wait [for the new year]."
---
Title eliminator next? Kara-France's warning proves prophetic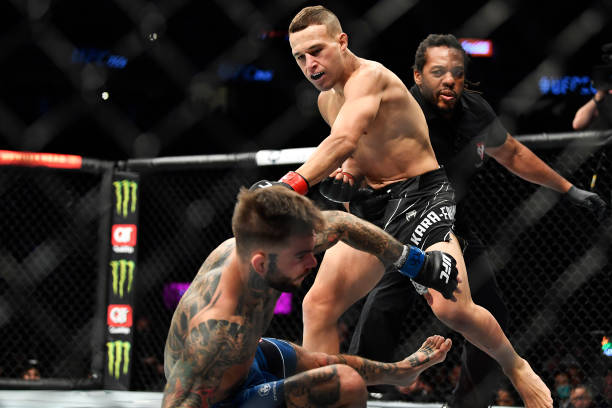 R1, 3:21 – Kai Kara-France (#6) beats Cody Garbrandt via TKO (punches)
Despite the heat between them in Friday's weigh-ins, Kai Kara-France and Cody Garbrandt had what felt like an elongated feeling out process as both were aware of one another's strengths.
Soon enough, the former bantamweight champion would experience first-hand why the Kiwi warned him with such conviction earlier this week:
Kara-France pressed Garbrandt backwards and took centre ring, landing a vicious knockdown with a straight right – before Cody did his best poker face, trying desperately to evade.
He landed his jab perfectly, scoring another knockdown as the 28-year-old applied the finishing touches to a beautiful showing before screaming "where you at Moreno," as he climbed up on the cage afterwards, basking in a highlight reel finish against a former bantamweight champion.
An overhand right, sharp uppercut and more unanswered punches landed flush as he quickly crumbled Cody – who clearly kicked the hornets nest on an unsuccessful flyweight debut.
Regardless of where the rankings place him next week, Kai believes this showing should see him skip the proverbial queue as far as 125lb title contenders are concerned. He'll be watching Brandon Moreno defend his belt vs. Deiveson Figueiredo in their trilogy series on January 22:
"I told you, I'd answer a lot of questions tonight, I'm the best in the world… taking on a former champion puts me right in line for a title shot.

I want the winner of Figgy/Moreno 3, I'll be watching that fight, there'll be a new champion in 2022."
---
Even with pre-existing rib injury, O'Malley shines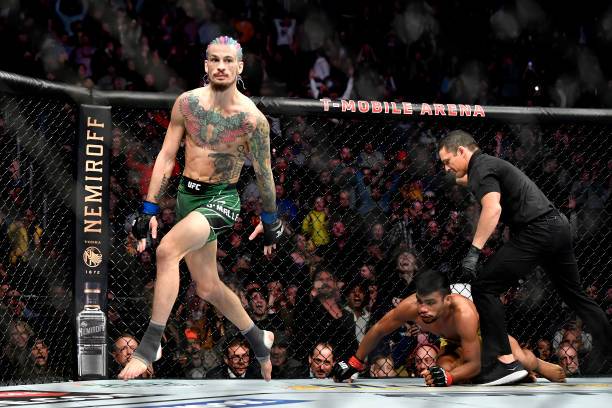 R1, 4:42 – Sean O'Malley defeats Raulian Paiva via TKO (punches)
Sean O'Malley already had sights set on bigger fish to fry in 2022 but first needed a showcase display against Raulian Paiva. He certainly delivered, before commentator Joe Rogan confirmed that his trainer Tim Welch confirmed Suga Sean had sustained a rib injury in training camp.
"One of the toughest I have fought, but when I land those big shots I'm gonna take you out … that's what happened. I haven't grappled or sparred for three weeks, was 99% sure I was gonna pull out but knew how many people were gonna come out here and watch me fight, so I couldn't [withdraw]."
Having repeatedly stung the Brazilian with sharp jabs and right-hand punches in a first stanza briefly paused by an inadvertent low blow, O'Malley could smell blood after hitting him clean on the chin with a right hook that forced him back against the fence.
Unloading with multiple shots as the punch barrage continued, referee Jason Herzog stepped in to stop an onslaught that intensified rather quickly:
Afterwards in the post-fight press conference, Dana White admitted they'd have to think about paying O'Malley more to fight tougher opposition – it seems like he'll be in the top-15 next week.
---
Prelims, early prelim results
Josh Emmett (#7) edged past Dan Ige (#9) in a competitive featherweight duel that could've gone either way, and easily might've headlined a UFC Fight Night card elsewhere this year.
O'Malley said Cruz-Munhoz wouldn't sell as many PPVs, hence why that bantamweight matchup wasn't on the main card, but the former two-time 135lb titlist showed his championship spirit — rallying from two R1 knockdowns to outlast Pedro Munhoz via decision.
Heavyweight fan favourite Tai Tuivasa tallied his fourth win post-lockdown after blasting Brazil's Augusto Sakai (#11) into submission with a highlight second-round knockout.
Bruno Silva inflicted Jordan Wright's second knockout defeat in 13 months, needing just less than 90 seconds to end his evening with no warning – raining down with a punch barrage:
Having beaten Darren Stewart at light-heavyweight in June, Eryk Anders returned to middleweight but looked lost at sea on the ground against Andre Muniz – who produced another first-round armbar submission victory after snapping Jacare Souza earlier this year.
Speaking of dominance on the ground, a new prospect at women's flyweight has been cemented after Erin Blanchfield's shutout decision win vs. Miranda Maverick. The 22-year-old, who beat Sarah Alpar on her debut in September, could've also secured a submission win.
After suffering a rather sudden first-round knockout by featherweight prospect Ilia Topuria in July, Ryan Hall scored his first win since July 2019 with a UD win over Darrick Minner.
Randy Costa gave it his all against Adrian Yanez last time out, but suffered successive second-round defeats here after this furious ground-and-pound sequence:
To start the night's action, Gillian Robertson returned to winning ways in a catchweight bout (129lbs) vs. Priscila Cachoeira – who has since been heavily criticised for an eye-gouge move.
Picture source: Getty Images — quotes via UFC broadcast