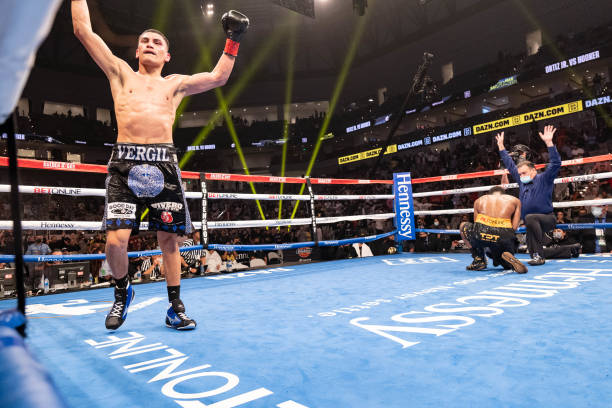 In the toughest test of his career so far, Vergil Ortiz Jr came through unscathed last weekend with a seventh-round TKO victory against former light welterweight title-holder Maurice Hooker before calling out WBO champion Terence Crawford ringside. Still only 22-years-old with a perfect 17-0 record, his flaws are being scrutinised – rather than his willingness to fight the best.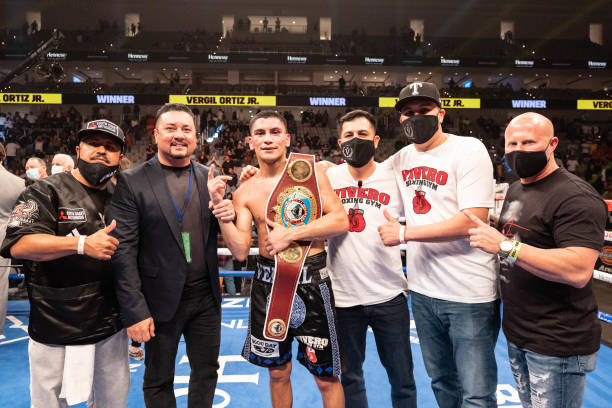 "This win gives me more confidence. I believe in myself more that I'm ready for a title shot. I would love that opportunity [against Crawford], he's possibly the no. 1 pound-for-pound boxer in the world, definitely top two.

I'm looking at you Bud, more than happy to do this. I don't care if I'm ready or not, I want that fight." – Ortiz Jr during his post-fight interview
Type Vergil Ortiz Jr into Google and the first three top stories rather typify a narrative that writes itself in a sport which promises plenty but doesn't deliver often enough at the highest level.
Comparing him to fellow Golden Boy Promotions star Ryan Garcia in a post-Canelo Alvarez era seems trivial, especially when one has been insistent on fighting Manny Pacquiao and others.
We're almost in April and seemingly no closer to finding out who Garcia fights next, so perhaps he should take a page out of mentor Canelo's book and leave social media posturing to others.
READ: January 2 – Garcia survives knockdown, stops Luke Campbell with R7 body shot
Terence Crawford, armed with a record featuring more than twice the fights Ortiz Jr has (37-0, 28 KOs), was among the esteemed company watching ringside as his stablemate took a knee, grimacing with a broken hand early in round seven to seal the youngster's biggest win to date.
Crawford himself was quoted as saying:
"He [Ortiz Jr] really don't want [to fight] me, that's just the thing to do, call for the fighters that's at the top. 

It was a good fight, Mo broke his hand but both did good. Vergil was slowing down, Mo got caught with a couple of good body shots slowing him down too.

He's doing his thing, what he's supposed to do. I got nothing negative to say about the dude."
Considering it's been more than 48 hours post-fight, reporting that Hooker suffered a broken right hand in the stoppage loss makes sense, throwing a shot which hit the top of Ortiz's head.
After all, he hadn't been in the ring since a first-round TKO win over Mexico's Uriel Perez (December 2019) and is now bracing himself for another lengthy layoff on the sidelines:
But what that injury, as well as Hooker's post-fight comments do, is give him a reasonable out to say things like this:
"It was a good fight. I have been out for a year but Vergil is a good fighter, I take my hat off. I had to get through the storm of the first three rounds, started getting my rhythm but he is a good fighter."
"[Ortiz] is young, up-and-coming but there is levels to this. I have been in with the best, he good but not ready for a Crawford.

Just being honest, he's just not ready. He just needs to take fights, build himself up – he's going to be a world champion one day."
There's an unwritten rule about the public respect you show your stablemates so it's not exactly surprising Hooker deployed this approach when discussing Ortiz's chances against an undefeated fighter rarely in danger of losing his streak during a successful career to date.
But if everyone was to adopt the same stance when assessing the top crop of their respective divisions, we wouldn't have had Lithuania's Egidijus Kavaliauskas come close in December 2019.
Kell Brook wouldn't have dared to be great against Errol Spence Jr in May 2017 – just eight months after a fifth-round stoppage defeat by Gennady Golovkin – the list goes on.
Ortiz's youthful exuberance and potential makes that bout a high-risk, low-reward fight but nonetheless creates intrigue where other fights simply haven't.
Brook's chin is shot and even still, he made things more competitive than most were expecting through three rounds. As we know, it ultimately didn't last much longer after that. Amir Khan the same, the aforementioned Mean Machine display and more besides.
"A lot of people thought [it was too big a step for] Teofimo Lopez with Lomachenko, and he beat him. Anything is possible and more than that, I think I'm very capable of beating Crawford." – Ortiz during an interview this month
Ortiz has enough defensive holes to fix and develop with experience, but his offensive repertoire makes a possible matchup more compelling than many of Crawford's previous opponents could boast – at a time where his prime years (33 years, six months old) are being wasted.
Assessing champions, contenders in the welterweight division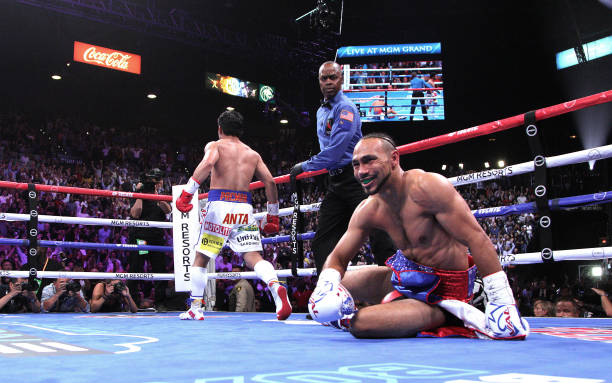 Since losing his undefeated streak against Pacquiao in July 2019, is it a coincidence we've almost gone two years without seeing former unified welterweight world champion Keith Thurman?
Spence eased past a noticeably smaller Mikey Garcia four months earlier that year, who now appears intent on agreeing a matchup against Pacquiao but is keeping his options open.
Shawn Porter hasn't had a stoppage victory in four years now, but made his in-ring return by beating Germany's Sebastian Formella last August to win the WBC's silver welterweight title. He remains keen for a Crawford matchup too, with time of the essence considering his timeline too.
Yordenis Ugas was upgraded to the WBA's super welterweight champion after Pacquiao was stripped for inactivity, and appears tailor-made for a unification bout against Spence per reports.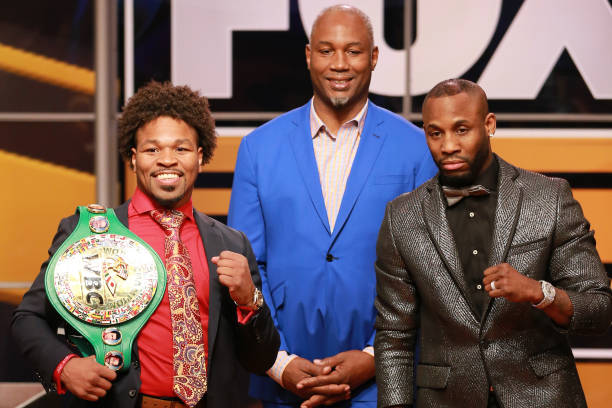 Porter beat Ugas via unanimous decision the week before Spence-Garcia two years ago and in his blossoming role as a fight analyst, didn't mince words with a prediction. The fight everyone wants to see, Crawford-Spence, doesn't look likely anymore after the former's recent comments.
Russia's David Avanesyan (#3 IBO, #5 WBC and IBF, #7 WBA) earned a TKO win over Britain's Josh Kelly last month to retain his European strap but hasn't looked convincing at world level.
23-year-old American talent Jaron Ennis (26-0, 1 NC) faces Kazakhstan's Sergey Lipinets (#3 IBF, former light-welterweight world champion) on April 10 in his biggest test yet but the most part, possible bouts remain speculation in a division where mediocre matchups appear all-too-often.
Picture source: Getty Images