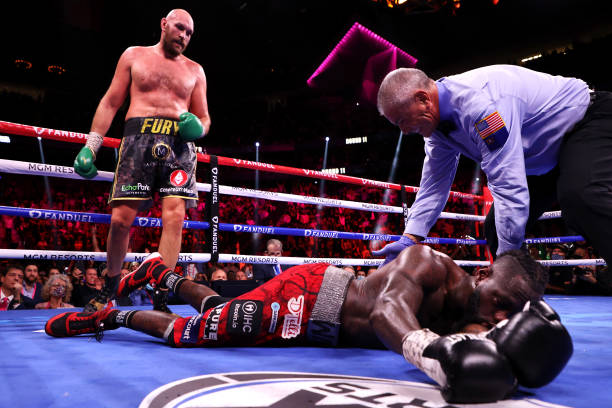 In a trilogy bout with dramatic momentum shifts, Tyson Fury survived two fourth round knockdowns to defend his WBC strap, building up a plethora of sustained punishment before knocking out former champion Deontay Wilder with a looping right flattening him in R11.
Wilder starts well, but fury responds and establishes rhythm
R11, 1:10 – Tyson Fury (c) retains WBC title with knockout win over Deontay Wilder
Wilder tried wrestling back control, at least psychologically, by delaying his ring walk and ensuring he went out to the ring when he was ready – everyone would just have to wait.
He began aggressively here, unlike the rematch 20 months prior, with better workrate while jabbing to the body effectively as Fury was caught off-guard. Perhaps, this was a new Deontay.
Then, just before the first three minutes ended, Fury hit him flush with a beautiful one-two combination – the right hand connecting clean, and you couldn't help but cast your mind back pre-pandemic to the image of a decimated Wilder trying desperately to fight through adversity.
SugarHill Steward, Fury's trainer, pinpointed that combo immediately once his fighter got back to the corner, stressing that Wilder was now tired and he just needed to do more of the same.
Hearing your corner's instructions between rounds is one thing, but continuing to apply them while making adjustments is entirely different – as Nigerian heavyweight Efe Ajagba found out first-hand earlier on the main card, losing his 15-0 unbeaten record against Frank Sanchez.
Referee Russell Mora had a busy night of work ahead of him, as Fury persisted in subtle attempts to wear on Wilder and make him deviate from the gameplan. Excessive clinching, putting him in a headlock, making their exchanges scrappy and physical, he knew exactly what he was doing.
Wilder was being comfortably outstruck as Fury found his rhythm, but still had that devastating power-punching threat whenever he charged forward looking to connect with the right hand.
For all the talk about his improvements, the old sloppy habits reared their head in round three as Fury caught him with a right hand. Lazy head movement, or lack thereof, saw a follow-up uppercut drop Wilder to the mat and it seemed as though the writing was on the wall. Already?
Fury, for all his ferocious forward bursts and fancy footwork, smothered his work when he had Wilder hurt – almost like he wanted to extend this beating. As Wilder has proven both against the Brit and others before him, that's a dangerous game to play even considering their skill gap.
Fury was caught for being sloppy himself in round four, as Wilder unloaded with a thunderous right and scored two knockdowns – turning the fight on its head with a 10-7 round on all three scorecards. The first felt potentially pivotal, the second was more of a fleeting moment.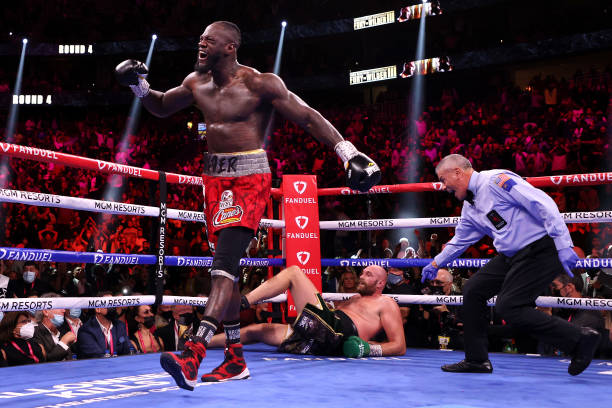 Round five felt tough to score as their tense exchanges continued, though Fury had regained his bearings and Wilder rather let him. Perhaps he had already emptied the tank or wanted to conserve energy, but either way, there was an opening he should've pushed harder to finish.
That was evidenced on the judges' scorecards too: one gave R5 to Fury, two saw it a Wilder round. Either way, that 10-7 in the previous stanza meant the Bronze Bomber was up 47-45 on all three cards and needed to continue where he left off, because he wasn't going to outbox Fury.
Predictably though, he didn't win another round for the rest of the evening. Wilder looked and boxed with tired tendencies, having been knocked down earlier and constantly trying to fight Fury off him in the clinch. It was the bullish away fighter who connected on the cleaner work too.
Fury invested to the body in round seven, as Wilder's old habits returned once more – throwing with reckless abandon, swinging big and missing, then not being savvy enough defensively to dodge the oncoming onslaught.
Explosive punch combinations backed him up into the corner, though he showed ample ringcraft to survive and tie Fury up before Mora separated them. Round eight saw more of the same in fairness, as Fury continued hitting him clean and was now walking him down intently.
The early mystique had been beaten out of the former champion, whose puzzled looks were greeted with a chorus of boos by the Las Vegas crowd to start round nine as the doctor gave him an assessment and the commentators suggested he had a hand injury of sorts.
In fairness to him, he was doing just enough to stay dangerous but still absorbing damage aplenty and resembled a zombie by this stage.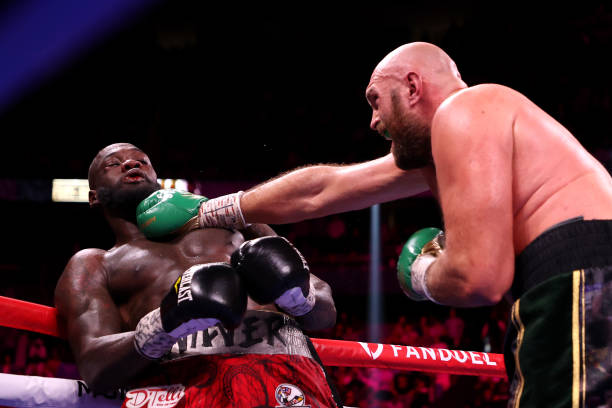 Both looked tired but as they repeatedly clinched more, Fury scored another knockdown in round ten. After a body shot combo, he whipped a right hand of his own and Wilder looked lost.
He survived, knowing there would be no towel thrown in this time to save him for another day, as R11 saw nasty uppercuts and vicious right hands cut across his face with alarming frequency.
It felt inevitable this would be stopped before the final bell and truthfully, Wilder did well to last as long as he did. It's never reassuring to hear the word heart as many times as was present here.
Fury blasted him to the mat with a looping right hand and just by the way he fell to the mat in a heap, Mora knew it was all over. Wilder's return ending in a heartbreaking second career loss.
---
Analysis, what's next as Fury finally defends his title
In an era where most of the top-level boxers are afraid to lose their unbeaten record and engage in risky fights, it'll be interesting to see what Wilder does after this, as there are still plenty of big fights out there available for him – first assuming he wants to continue at the highest level.
Taken to hospital as a precautionary measure after looking worse for wear, it's not surprising to have seen him leave without any show of sportsmanship with Fury in the ring afterwards.
They don't like each other, Wilder probably believed he would win on this occasion too – especially after the R4 knockdowns – only serving to make this defeat even worse than the first.
https://twitter.com/kronksugarhill/status/1447067862439538692
"He gave me a real run for my money tonight, he's got no love for me and it's because I've beaten him three times, I'll pray for him. It'll go down as a great fight in history I hope, if it wasn't for Sugarhill Steward, I would've lost."

Fury's post-fight comments ringside after another win Stateside
Although he stressed it wasn't forthcoming just yet, Wilder has hinted at retirement before.
Having endured so much punishment against the same man, thrice in three years, you have to wonder how his motivations would change when paired in different matchups. Anthony Joshua, who has activated the rematch clause vs. Oleksandr Usyk, remains a compelling example.
But unless he seriously revamps his conditioning or can sustain what he did in the first-round here for multiple rounds against elite competition, it's difficult to see why he would continue.
What happens when someone else can roll with his hardest-hitting punches and keep moving forward, even if knocked down, like Fury did?
As for Fury, the Dillian Whyte vs Otto Wallin winner (Oct. 30) awaits – either a long-awaited domestic duel that heavily favours him on paper or a surprise rematch for the Swede.
For someone continually heralded as the world's best heavyweight, Fury's inactivity has been frustrating and a hindrance during his prime years, among those who pick holes at his resume.
Wilder is, harshly or not, largely classed as a one-trick pony. Isolate his knockout power and he lacks the fundamentals to worry any decent contenders, let alone the division's elite names.
However, the heavyweight landscape is always changing.
Oleksandr Usyk removed his unified cruiserweight crown, moved up in weight and beautifully silenced all those critics who rubbished his physical disadvantages.
Whyte remains determined in his pursuit of a world title shot, Joe Joyce is still unbeaten while former champions Andy Ruiz and Fury's close friend Joseph Parker are on the comeback trail.
You can only hope electric nights like these and the one in north London a fortnight ago serve as a timely reminder that we need to see the best battling the best more often.
Picture source: Getty Images