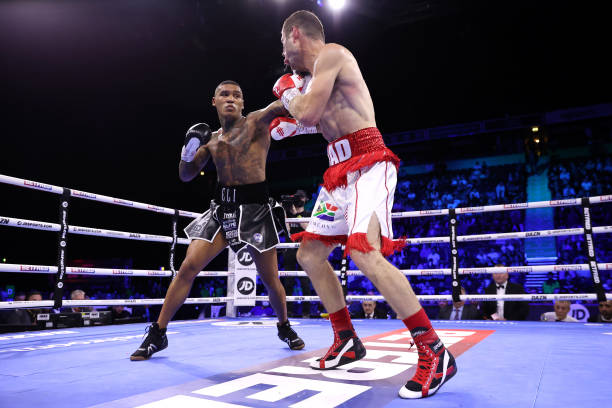 An emotional, angry fighter? More like calculated with spiteful bite. Chris van Heerden experienced that first-hand as Conor Benn started aggressively and made the south African pay with some blistering punch combinations, scoring a second-round knockout in Manchester's main event tonight to make the seventh defence of his WBA Continental welterweight belt.
Another short night's work: Benn blasts van Heerden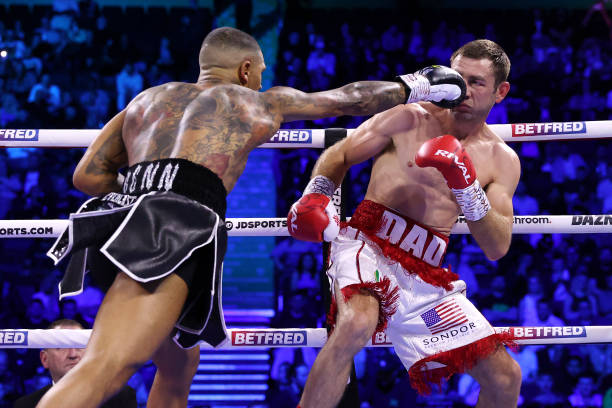 As Sweet Caroline blared and fans across the stadium sang in unison, the noise was unmistakable inside Manchester Arena and as former WBC cruiserweight champion Tony Bellew said once again on the DAZN broadcast, the crowd wanted to see a brutal knockout of sorts.
Conor Benn (21-0, 14 KOs) happily indulged them that and from the opening bell here, wasted no time in securing another early evening's work against a seemingly overmatched opponent.
Closing the distance and backing him up wherever possible, Benn threw caution to the wind in getting Chris van Heerden engaged in a duel. He'd land a wicked left hand, series of quick one-two combos and didn't appear to respect the 33-year-old's power coming back at him either.
This was someone with almost thrice the amount of completed rounds, so perhaps the mileage and magnitude of this fight had done something to his risk management.
He initially appeared game to trade in the pocket, but Benn's ominous posture foreshadowed what was to come early in R2: a right-hand that wobbled him up against the ropes, then seven unanswered punches – body, head, uppercut, overhand, you name it – all connected in aplomb.
Earlier this week, van Heerden rubbished the 25-year-old's true boxing ability.
After sharing the ring with him for less than five minutes, the southpaw was forced to eat his words rather emphatically like so many before him have done in recent years and shortly afterwards looked happy to be in his presence, taking pictures and talking cordially by the end.
If that wasn't uncomfortable enough, Amir Khan – saved from himself in a long overdue grudge match against Kell Brook in February – was roundly booed as he entered the ring afterwards.
There, the former world champion engaged in a weird sequence with Benn, first claiming he was just there to show support, then pontificated when asked about possibly fighting him in future.
The whole scene made for uncomfortable viewing, especially considering this was billed as the last in a long line of necessary rungs for Benn to surpass on his way to world title contention.
Eddie Hearn, his promoter, namechecked former champions aplenty I've already covered – including Keith Thurman and Danny Garcia – both representing genuinely tough challenges.
The big summer fight has been promised, Benn doesn't seem to care who it is and if he continues producing like these, it'll translate well once the opposition level cranks even higher.