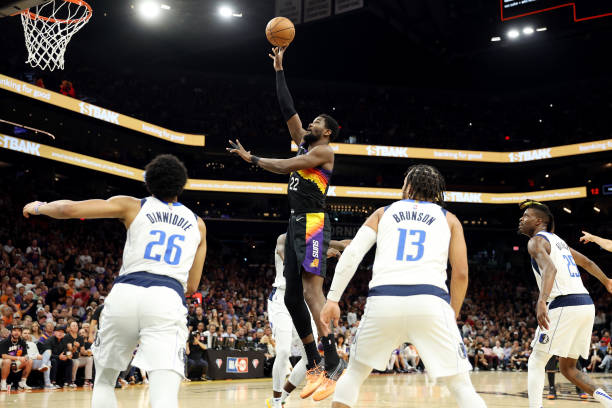 After a promising season ended with a forgettable postseason collapse on May 16, the cloud hanging over Deandre Ayton's long-term future in Phoenix appears to be clearing this summer: multiple teams are readying themselves with lucrative max contract offers for 2018's no. 1 pick.
Suns appear unwilling to pay Ayton's high extension price
Suns quietly gauged Ayton's trade value in February, including exploring a possible deal with Indiana centred around Domantas Sabonis, now on the Sacramento Kings
Big men Jakob Poeltl and Jusuf Nurkic linked as possible acquisitions if teams are trade partners in any potential Spurs/Portland summer moves for the 23-year-old
However Detroit's willingness to negotiate a possible Jerami Grant move, for the right price with the highest bidder, appears the best fit from Suns' standpoint
The ticking time bomb on Ayton's stint in Arizona felt like it began last summer after Phoenix were unwilling to commit at the five-year, $170m+ maximum figure mark.
There were questions over how he'd play, whether he'd be as enthusiastic as agemates elsewhere receiving lucrative contract extensions, and if the Suns would bite the bullet: trade him at his highest value or ultimately change their minds by verbally agreeing a compromise.
Instead, the 23-year-old center enters these summer months with his long-term future being discussed as one of the biggest storylines in a list of free agency buzz with Charlotte's Miles Bridges and Dallas Mavericks guard Jalen Brunson among his agemates attracting interest.
From reading Jake Fischer's insider piece on Bleacher Report this week, it'll be interesting to see now how rival teams across both conferences view his salary expectations. Is the well-documented tension he's navigating with Monty Williams likely to reoccur elsewhere?
"There were intel questions surrounding Ayton's motor and work ethic dating back to his days at Arizona, he's largely answer those doubts throughout the first four seasons of his professional career.

[Suns head coach Monty] Williams has purportedly griped about Ayton's waning focus, which some people contacted by B/R said has often been reflected by the ebbs of his playing time."
Ayton averaged 17.2 points, 10.2 rebounds and 1.4 assists per game in 58 regular season contests this term. While he recorded career-highs in FG% (63.4), 3P% (36.8), eFG% (63.9), most of his raw numbers have remained on the same consistent curve as years gone by.
His per 36 numbers are noticeably a bit better too, but questions of stagnation also speak to the fact he's not exactly the number one or two option on his team – Devin Booker and Chris Paul occupy that – so he's not getting the opportunity to dominate as a number one pick often would.
The three top selections drafted after Ayton – Zion Williamson, Anthony Edwards and Cade Cunningham – all speak to this notion that finding the right environment is paramount.
LaMelo Ball quickly made Charlotte his own team while Evan Mobley has flourished in Cleveland and was a fringe All-Star in Year 1 this campaign, with multiple other examples too.
---
Atlanta links, Detroit and a Jerami Grant push
Atlanta, who made the Eastern Conference Finals last season, appear primed for a mini rebuild of sorts as they look to focus their acquisitions around superstar guard Trae Young.
Everyone besides the fourth-year PG has reportedly been deemed available, though some players are more attainable than others in a side many feel overachieved twelve months ago.
To improve and avoid a repeat of the Miami Heat series in future, where Young was largely isolated and their role players stifled, they need to strengthen across the court.
Kevin Huerter, John Collins and DeAndre Hunter are among the young pieces linked with prospective summer trades, for the right price.
Cade Cunningham's start to NBA life wasn't as seamless as other rookies, Mobley and eventual ROY Scottie Barnes included. However, his post All-Star play did enough for the Detroit Pistons to be optimistic about their immediate future as far as yearly development.
On that topic, one of their Eastern Conference counterparts in Charlotte have progressed in the last two seasons, though it wasn't enough to save James Borrego his job last month.
As such, it'll be interesting to see what Detroit do with Jerami Grant. The 28-year-old versatile forward had a career-year in 2020-21, new highs in points (22.3), assists (2.8), FT% (84.5) and FGA (17.3) as he was the focal point in a forgettable Pistons team who won just 20 of their 72 games.
Despite integrating new options in Hamidou Diallo, Kelly Olynyk and Cunningham, Grant's production didn't tail off this past season.
He was still naturally linked with trades but none of the interested ball clubs provided Detroit an offer they couldn't refuse. 2022-23 is his final year under contract, so their leverage will weaken.
Phoenix want versatile players who can shoot, especially in the frontcourt. Grant, all things considered, is a better option than both Nurkic and Poeltl in that case.
Picture source: Getty Images