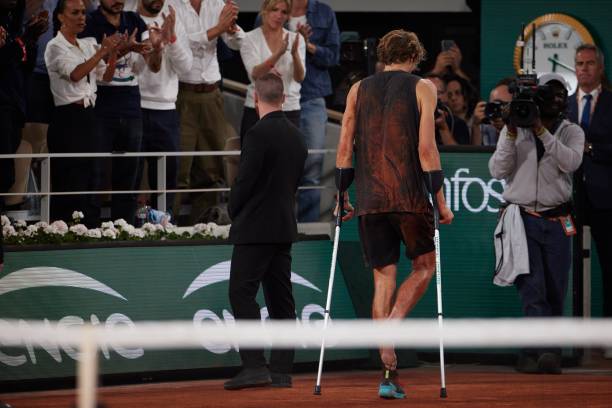 The 25-year-old, who reached a new career-high world ranking #2 this week, will be sidelined for several months after undergoing surgery on the multiple torn ligaments in his right foot – sustained during his French Open semi-final vs. eventual champion Rafael Nadal last Friday.
olympic champion smartly doesn't place timeframe on return
After falling and twisting his ankle mid-point with a set two tiebreak imminent, Zverev was helped to his feet but couldn't weight bare and was hauled off court in a wheelchair needing treatment. He limped back on crutches shortly after, telling the umpire he couldn't continue.
On his Instagram in the days afterwards, he provided an update confirming checks showed he sustained several lateral ligaments in his right foot and was flying home to Germany with more impending medical exams. Wimbledon, which begins on June 27, is already out of the picture.
"We all have our own journey in life, this is part of mine. Next week I'll reach a career high ranking of number 2 in the world, but this morning I had to undergo surgery. After further examination, we received confirmation that all three of the lateral ligaments in my right ankle were torn.

To return to competition as quickly as possible, ensuring all the ligaments heal properly, and to reclaim full stability in my ankle, surgery was the best choice. My rehab starts now, I'll do everything to come back stronger than ever!"
As for Flushing Meadows, where he reached his first Grand Slam final in 2020, it's unlikely – but not impossible – he could recover in time to compete, depending on how bad those torn ligaments are, as well as whether the powers of a speedy recuperation are present in this case.
Indian Wells titlist Taylor Fritz is a good example: the 24-year-old American, who outlasted Rafael Nadal to win the aforementioned tournament in March, underwent surgery to repair a torn meniscus at Roland Garros last year and recovered in record time to feature at SW19.
Despite a remarkably speedy recovery, he eventually lost a four-set battle in R3 against none other than Zverev. Timing is never good with sensitive injuries like this, impacting players differently. It'd be sad to declare the German's 2022 season is essentially over now though.
His four-set win over Carlos Alcaraz was his first top-10 victory at a Major in 12 attempts and for sustained periods, it looked like toppling Nadal wasn't merely a possibility, it was likely.
Despite going a break up, he eventually lost set one in a tiebreak (10-8) and had to weather the storm to start the second, as the emotional rollercoaster swung one way, then the next.
Nadal twice had to prolong the set and did so, with the final point before said tiebreak being the one where Zverev tumbled to the clay. Three hours passed and still the match hung in the balance, with the Philippe-Chatrier crowd applauding him as he begrudgingly trudged off.
Picture source: Getty Images