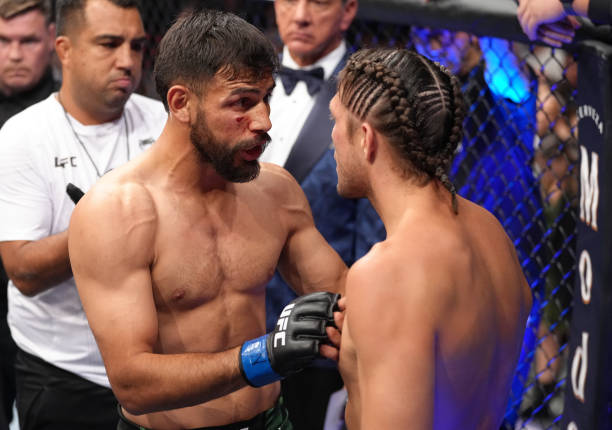 As he continues recovery from the broken thumb sustained during his dominant title defence over former champ Max Holloway earlier this month, featherweight king Alexander Volkanovski wants the winner of UFC 280's lightweight title headliner: Charles Oliveira vs. Islam Makhachev. Based on last weekend's result, should he attend to the business awaiting him at 145lbs first?
Rodriguez-Ortega ending muddies title picture at 145lbs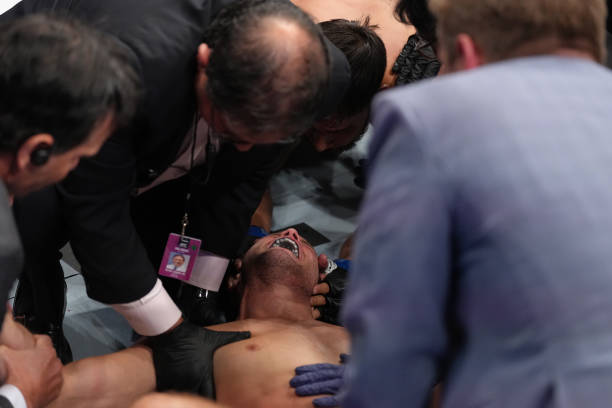 Everyone was excited for Saturday night's main event.
Not necessarily the one involving boxing's rising star Ryan Garcia in Los Angeles, but another happening several hours earlier from New York: two world-class athletes of Mexican heritage battling it out for, what was unofficially deemed a UFC featherweight title eliminator of sorts.
Both have suffered contrasting defeats by former champion Max Holloway, but the definitive nature of Blessed's latest decision defeat by Alexander Volkanovski means his future atop the ladder is unclear. It also opens up the initiative for fresh blood, new contenders to rise.
So while Rodriguez and Calvin Kattar's recent conqueror Josh Emmett (more on him later) haven't yet faced Volkanovski, the Ortega angle was built off how he came close with two submission chokes but ultimately fell short during their unforgettable tussle last September.
---
A timely reminder…
Ortega rapidly rocked Volkanovski with a sharp left hand, then almost instantly rolled on the mat to secure a tightly-held guillotine choke. Just like that, the complexion of this clash had been flipped on its head without warning.
Somehow, Volk fought off the squeeze and responded angrily with hammer fists in top position against the fence. Ortega responded with another submission, this time a triangle choke, taking advantage as the champion was again pulled into deep water on the mat.
Another tight squeeze and Volkanovski responded once more by almost finishing the fight with ground-and-pound as referee Herb Dean watched things unfold in a truly remarkable round.
---
Volk, love him or not, keeps receipts of all those who show disrespect in his direction. That much was evident again during his post-fight presser at the T-Mobile Arena earlier this month, as he actively sought out select journalists present who weren't so complimentary of him in the past.
It's an effective motivating tool the experienced Australian (25-1, 12-0 UFC) has adopted as his light continues shining brighter with each title defence and big stage he succeeds on.
The 33-year-old naturally is in search of the biggest challenges, hence his pursuit of what would be a compelling watch against the Oliveira-Makhachev winner at sometime in 2023. Yet he hasn't cleaned out the division of contenders ala Israel Adesanya nor Kamaru Usman have of late.
That's why you're now seeing social media posts like these:
Rodriguez, as he insisted during the post-fight interview, didn't want to beat Ortega in that way with a TKO (injury) on his resume. But as the 29-year-old has since reaffirmed, a win is a win.
As such, leapfrogging a now injured Ortega into the #2 ranking spot, Yair feels like that title shot awaits him next. Given the sensitivity of said shoulder injury (reportedly a torn labrum), as well as two previous surgeries, it's unlikely he'll train again, let alone fight, before the year's over.
Volkanovski has undergone surgery, so won't feature again now either. So when asked about the potential for an interim title fight between Rodriguez and Emmett, who hasn't been treated particularly well of late, UFC president Dana White didn't close the door on it at the weekend:
"Volkanovski I think is going to have surgery on his hand, I think there's something wrong [broken thumb]. You're asking if [Rodriguez vs. Emmett for an interim title is] a possibility? I like it. I don't hate it."
On the MMA Hour, Volkanovski welcomed the idea of an interim bout while he's recovering on the sidelines and presumably then able to pursue lightweight aspirations in the new year.
"I don't mind the idea, there's no clear – for that No. 1 contender right?Let them fight for that, because I think they both deserve it. Are they screaming out where it needs to be them before everyone? No, not really.

If it's for the interim belt and then we fit, sweet. I'm not lying when I say I want to be active, they do that, I go do my thing and a couple months after that, get me back in there, I'll do it.

Perfect world for me, lightweight title early next year, and then this interim thing, if that happens, will just make for a bigger fight anyway. I don't mind." 
We'll have to wait and see, but finally we're now starting to see movement near the top end of a competitive division – much like with welterweight – that has been a long time coming.
---
Tying up loose ends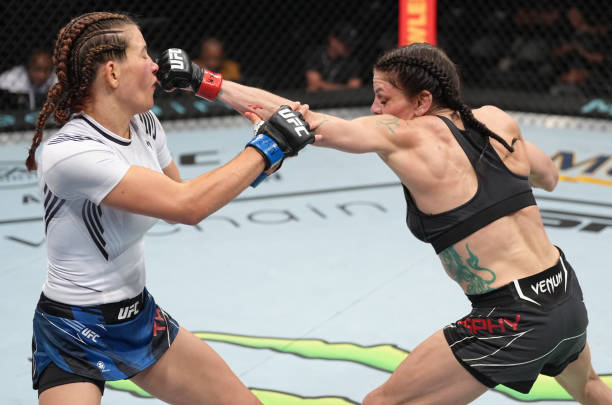 Elsewhere on the aforementioned card this past weekend…
There were impressive finish wins for Amanda Lemos (R2 guillotine choke vs. Michelle Waterson), welterweight Li Jingliang (R2 TKO vs. Muslim Salikhov) and an inspired comeback victory as #8 ranked flyweight Matt Schnell scored the first of three second-round stoppages, a triangle choke submission win over Su Madaerji [12] which also took Fight of the Night honours.
Shane Burgos [14] defended his top-15 ranking vs. Charles Jourdain in a thrilling featherweight contest living up to the billing despite some dispute over the scorecards, after former women's flyweight title challenger Lauren Murphy welcomed former bantamweight champion Miesha Tate to 125lbs with a brutal decision win (30-27 x 2, 29-28) kicking off the main card.
Ricky Simon ended Jack Shore's unblemished professional record (16-0) with a second-round arm-triangle choke submission, while Dustin Jacoby [14] is now ranked at light-heavyweight after extending his unbeaten streak to nine (8-0, 1 draw) with a R1 KO over Da Un Jung.
Picture source: Getty Images