Joe Joyce remains unbeaten at 15-0 with 14 KOs, the latest a thunderous one after softening up a gamely Joseph Parker effort in Manchester last weekend with overwhelming pressure and body shots. Now the WBO interim champion, again calling for Oleksandr Usyk or Tyson Fury, the 37-year-old is finally starting to gain the respect his heavyweight work has long warranted.
Joyce again justifies juggernaut tag, swarms Parker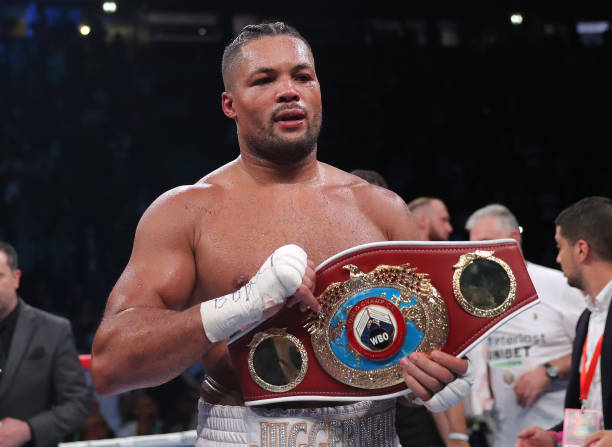 I talked up this matchup when it was announced because, among other things, it would've been easy for both contenders to dodge one another and pick softer opponents.
Parker isn't the same man who was a world champion in 2016, but you'd argue he learned from his defeats and used them as fuel to replicate his earlier feats – something he's recently admitted took a toll on him mentally and understandably so given the pressure placed on his shoulders.
Even still, it was remarkable to hear during their pre-fight press the 29-year-old actually reaffirming his belief he "belongs at the top," but we'd soon find out.
Meanwhile Joyce, jovial and deadpan as ever, spoke about a readiness to walk through the fire in a resume-building evening against a former champ.
It would stand him in good stead for future challenges, and he spoke about how Parker was the next level he needed to crack the inner circle of elite heavyweights.
"He's ready and gonna come for me but I'm used to it now, it [the ring] has become my comfort zone – it's about being level-headed and doing what I need to do. It's a big risk but loads of rewards too, only the hardcore elite." 
Richie Woodhall called Joyce fairly predictable with his shot selection when coming forward. That, alongside a slow and often ponderous pace to his movement, gave the perception he's merely a beneficiary of the UK's eagerness for fresh world title contenders.
Not anymore after this display.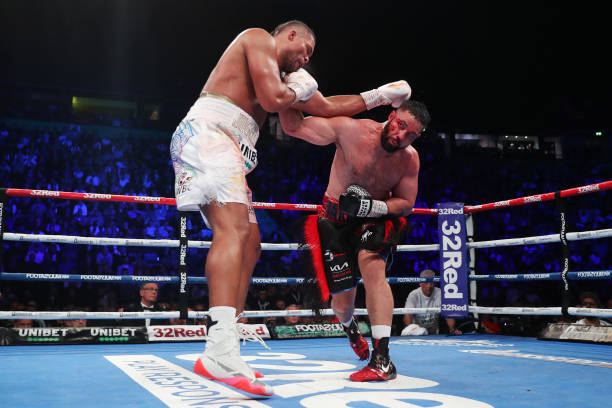 Parker jabbed his way to take the early initiative during a competitive first round, though Joyce was visibly stiffening him up with jabs of his own in R2.
Parker's investing-to-the-body tactic was working, though he continued absorbing damage that would only work against him when advancing forward to exchange shots in the pocket.
Backed up against the ropes a little too much for comfort, you could sense it wouldn't end well if this approach lasted longer than a few rounds.
Why? Joyce makes up for his defensive deficiencies by overwhelming opponents with volume, whether accurate or not, and often fights at an exhausting pace.
Billed as a slow starter, his fast start here was a definitive contrast on this occasion and that was key: Parker wasn't going to outwork him or build up an early lead on the scorecards.
Big clubbing rights and lefts marked an aggressive start to round three for Joyce, whose accumulative punishment on the Kiwi was beginning to show as he didn't take evasive action well enough.
A powerful uppercut was the pick of his best punches, finishing R3 well, but Joyce was unmoved.
Keeping with that theme, Joyce was unafraid to lead with his hands and let his head follow in R4. Frequent clinching didn't impact the fight's pacing, though Parker's conscious decision to box off the ropes wasn't particularly convincing.
He landed a big right and, once again, Joyce wasn't disturbed by it. Instead, the Olympic silver medallist kept walking forward and that would've been a demoralising sight for Parker.
Despite doing enough to win the round, how was he going to maintain that output for eight more if Joyce stayed put?
R5 was a back-and-forth round with good moments from both; Parker landing more power while Joyce continued to throw in high volume.
Rounds six through ten was where the tide turned, rather emphatically, in Joyce's favour.
CompuBox's punch stats had the Brit up 91-82 through 15 minutes in what was a competitive opening, but a never-ending gas tank and pressure saw him do to Parker things no other peer had managed in his career.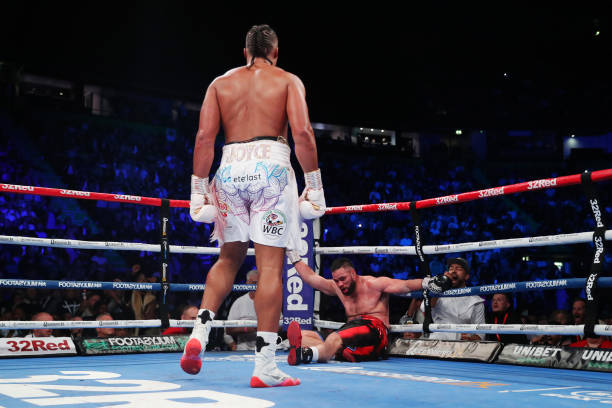 Joyce landed 308 punches (202 of them power), the most by any of Parker's 35 opponents while holding a 10% edge in jabbing accuracy and almost four times the precision — connecting on 29.1% of his jab.
You just have to ask Daniel Dubois about Joyce's piercing jab, one which is deceptively effective and you'd understand how he was able to set up his other attacks here.
STATS
His pressure and workrate (81.6 per round to JP's 54.7) helped overcome questions over his defensive issues, despite absorbing 48% of Parker's power shots — something he cannot afford to do against the world champions if he wants to prevail.
Joyce continued to physically wear on Parker, with body shots and making him hold the 37-year-old's weight whenever they clinched. Keeping the younger man pinned up against the ropes, all while popping that right-hand, meant there was an increasingly ominous feel after six rounds.
Former two-weight world champion David Haye marvelled at how Parker's punches were bouncing off his head and that Joyce could sustain this same pace for another 12 rounds.
Although Haye's hyperbole has shown itself often in his post-fight career, the sentiment couldn't be ignored.
Parker was fighting a losing battle, made worse by a nasty cut to his right eye as more clubbing blows and hooks landed flush to the face. Frequently beaten to land punches, he could only really connect with counters or single shots at the end of Joyce's combos.
The body language was increasingly negative and concerning in rounds eight and nine, having big reactions after being hit – understandably so by this stage – increasing Joyce's confidence and giving him the licence to be gung-ho, searching for the knockout punch.
Pawing at the cut, paying attention to it and watching as haymakers flew narrowly past him, energy expended galore, Parker found himself pinned back in an unenviable situation.
His response was telling, like that of a wounded animal – producing his best round for quite some time in the tenth, almost as if to say he wasn't going to fold under this unrelenting pressure. Instead, it proved a false dawn.
Despite landing less total punches and not as accurately as Joyce, the Kiwi frequently caught him clean with counters when he advanced — though you wouldn't really know it.
He landed a five-punch left hand combo in the last five seconds to finish well, getting an enthused crowd off their feet. Was this a second wind?
Not quite. Joyce replied by roughing him up against the ropes to start R11, landing uppercuts and making a conscious effort to maintain separation between them too.
That's how he secured the impressive finish: they broke after clinching, he landed a counter left hook as Parker shaped to throw and it was quickly clear from his dizzy body language he wouldn't beat referee Steve Gray's ten count before the fight was waved off.
---
Analysis, what's next?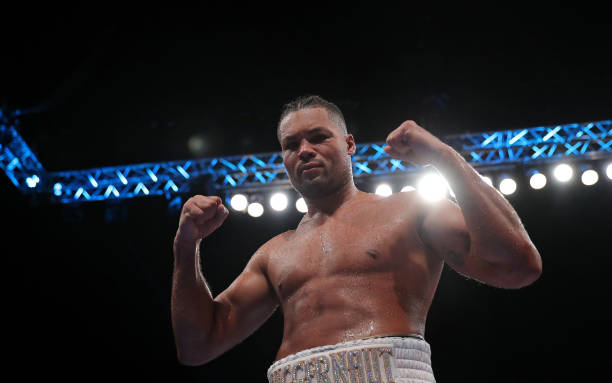 After earning the biggest win of his career, Joyce is right to feel enthused about his world title opportunities. Unfortunately though, the state of heavyweight boxing means options are limited.
WBC champion Tyson Fury's status remains uncertain – despite both sharing a promoter – while Oleksandr Usyk is understandably not keen on a rematch with the man he beat in the amateurs.
As quoted by Sky Sports, Joyce said:
"Probably Usyk, because that would be for the title (WBO), and then Fury, AJ, Wilder – there are plenty of names – Dillian Whyte would be a good fight.

Right now I just want to secure this world heavyweight champion[ship] and then either get more belts or be in bigger fights, this is a great fight that kind of pushed me onto that next level.

There are plenty of great fights out there for me, I didn't have to fight Parker but it then pushed me up to that next level."
Joyce, now 37, has been boxing for more than a decade – as an amateur and later professional – but as I've said before, time waits for no man in situations like these and he knows it too.
Besides compelling matchups against Anthony Joshua and Deontay Wilder, which both seem aspirational rather than probable in the near future, there's not many good non-title bouts that would elevate him further while he waits for the Usyk-Fury unification tussle to sort itself out.
Usyk has already said he's going to retire before long and has three mandatory or #1 contenders for his three world title belts: Daniel Dubois (WBA), Filip Hrgovic (IBF) and now Joyce (WBO).
Not everything is in his control but Joyce cannot afford any more stumbling blocks in 2023 as he looks to learn from Dillian Whyte's mistakes and realise his world title hopes sometime next year.
Picture source: Getty Images