As he prepares to make the first defence of his four lightweight titles against the man he comfortably beat just four months ago, undisputed world champion Devin Haney is both happy to stay active and has said the short spacing between title fights provides him a showcase for further improvements this weekend in Australia. George Kambosos Jr by contrast, quietly working away this time around, believes he'll shock the world – this time on home soil.
Haney, having silenced critics, is finally getting his respect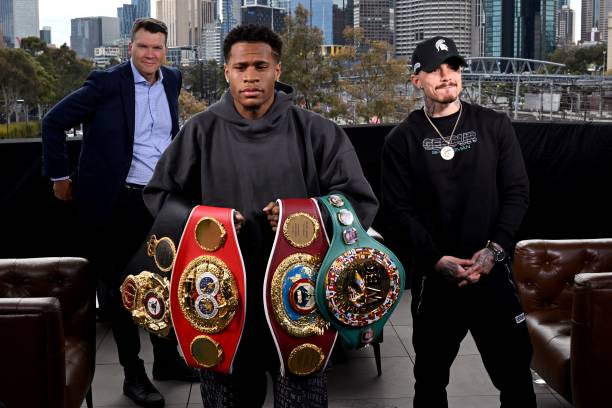 Often criticised for adopting a style of boxing that doesn't lend itself to casual observers or those who long for exciting firefights, Devin Haney (28-0, 15 KOs) has plenty of detractors.
Whether you questioned his resume, wondered when he'd finally need to swim in deep waters during a fight or simply feel the email champion was over-rated, no-one could say anything after that night in June.
Having had to juggle multiple obstacles like his father and head trainer Bill not being granted travel to enemy territory – for a drug charge in 1992 – until the eleventh hour. Having to move networks, at least temporarily, in order to agree terms on a two-fight deal.
Handling the weigh-in controversy well, in addition to the inflammatory remarks Kambosos repeatedly made in his direction beforehand.
Undisputed lightweight king, making history as the eighth man in the four-belt era, is a remarkable feat. On finally getting that recognition, the 23-year-old said (h/t: BoxingScene):
"I feel like now, I'm finally getting my just due. I think that [beating Kambosos] was the time for me to finally get my credit, first title fight where everything was against me, nothing was working in my favour, it was a do-or-die moment.

That was the time when I was able to show that if you gave me the right opportunity, I would earn my just due."
Kambosos (20-1, 10KOs) was dethroned in rather comprehensive fashion, seven months after stunning Teofimo Lopez on enemy soil. That's why you can excuse the pessimism around those expecting their rematch, just four months later, to be much different.
"I beat him one way the first [time], it's easy for me to beat him again that way.

But once they see the different way stylistically that I beat him in this fight, the world will love me even more. I am happy that I'm back in the ring quickly, kind of puts me back in the days when I was coming up – it will show how much sharper I am, how much better I've gotten since our last fight.
Vasiliy Lomachenko is the #1 contender for Haney's WBC and WBO titles, while Gervonta Davis holds the "Regular" WBA strap and Argentina's Gustavo Daniel Lemos is ranked #1 by the IBF.
Lomachenko makes his first appearance of 2022 against Jamel Herring's latest conqueror Jamaine Ortiz on Oct. 29, while Davis vs. Ryan Garcia is mooted for a December date and Lemos – who ended Lee Selby's career with a R5 KO in late March – currently remains unbooked.
So if Haney wants to be an active champion taking on all challengers before moving up in weight, there's a pathway to doing just that. Kambosos though, feels confident he'll penetrate Haney's defence this time around and get his belts back. He told the Sydney Morning Herald:
"It's going to be sweeter this time, getting them [titles] back and becoming a two-time undisputed champion. This here is serious legacy, not only in Australian boxing but world boxing.

This gives me goosebumps, that's why I'm so motivated. The fire is burning, I can't wait to get in there. I've been patient but am champing at the bit aswell."
The 29-year-old, training at an undisclosed location, has purposely remained quiet for months after being humbled on home soil. He spoke of a desire to bounce back against all odds again, vowing to avenge his first pro defeat, but has he made enough adjustments to match Haney?
Picture source: Getty Images