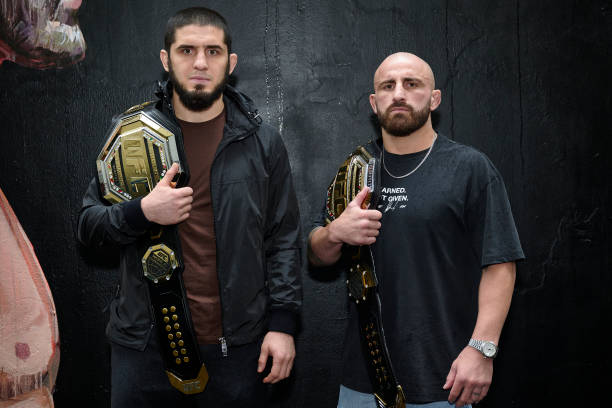 Before the promotion's top two pound-for-pound stars do battle this weekend, UFC lightweight champion Islam Makhachev believes he will make his first title defence an emphatic one against featherweight titlist Alexander Volkanovski, in the Aussie's backyard. The 34-year-old, moving up a weight division to chase history, feels he is well-prepared to physically surprise Makhachev, having bulked up in the months since his decisive trilogy win over Max Holloway.
Makhachev wants to showcase his striking prowess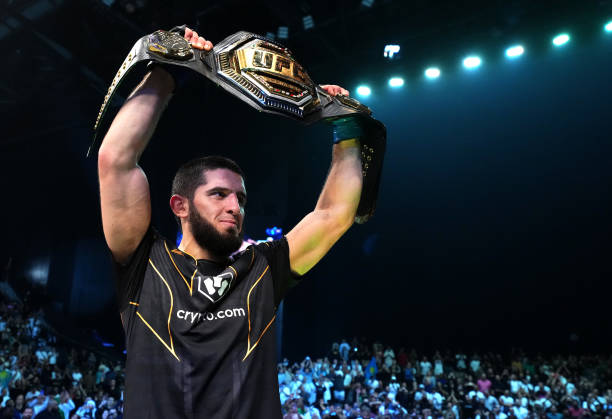 UFC 284
Lightweight championship: Islam Makhachev (c) vs. Alexander Volkanovski (c)
Volkanovski bidding to become fifth all-time champion in two divisions simultaneously (Conor McGregor, Daniel Cormier, Amanda Nunes and Henry Cejudo) vs. Islam's 11-fight win streak
"Honestly, I want to knock him out, because everybody says [that Islam is] a grappler or wrestler, but I want to show people my striking. He is a short guy, I really believe I can knock him out," Makhachev on perceptions about his skillset and a desire to score a big finish
"This is not his area, I'm from other division – this is not the same power – he's going to understand this, but he wants to try because he's not losing. What's he going to lose?" 31-year-old suggests Volkanovski's bullish attitude stems from being in a win-win situation
"I'm moving up, bulking, telling myself to work on that takedown defence, all of a sudden I'm twice as strong as I was. I can tell he [Islam] really thinks he's going to be way too strong. That [underestimating his strength] is exactly what's going to happen," Volk's response
Makhachev is known for his world-class grappling skills, but you can understand his desire to show he's just as skilled in the stand-up game. It'd be a big statement if he was about to outfox Volkanovski on the feet, en route to an emphatic result in his first lightweight title defence.
It's easy to forget he showed steely poise throughout and scored a knockdown against Charles Oliveira – a straight right hand – the catalyst en route to a submission victory back at UFC 280 in October. That's why he finds himself in this intriguing position against a fellow champion.
You can understand both sides of the coin, when it relates to confidence. Volkanovski has much to gain and little to lose, as far as the potential outcomes are concerned. He'll remain top dog at 145lbs, regardless of the result, on a card where two contenders are fighting for the interim title.
Sure, defeat would end his perfect 12-0 UFC record – but that loss would be in a higher weight class against perhaps the toughest available test in said division. There's no shame in that.
Per mmajunkie, Makhachev had this to say about Volkanovski's confidence levels:
"This is not his area. I'm from other division, this is not the same power. It's not the same, he's going to understand this, but wants to try because he's not losing. Just belt with him, but he wants to try to jump and make some good money, pay-per-view money, but this is not his area."
That being said, why wouldn't they be high? He just finished a trilogy series against one of the best featherweights of all-time in Max Holloway – won all three fights – and has looked increasingly dangerous on the feet against the likes of Brian Ortega and Korean Zombie too.
It's why he has repeatedly said being taken down isn't a problem against Makhachev, because he'd be resilient and strong enough to quickly recover back to a neutral position standing up.
"My defence is just on point. I'm like an absolute brick wall when people try to run into me, they feel it instantly, can already see the strength so it makes you think where I go from here.
You can see in his face like, 'This guy ain't too big,' seen that on plenty of people's faces on my previous fights – my last 4-5 – but it quickly changes when I'm in the Octagon.
All of a sudden, that size doesn't matter. Then I put my hands on him, there's another problem. They try to grab a hold of me, and I'm a little brick fucking wall. There's another problem." 
We'll have to wait and see how his tactics plan out, considering Makhachev's riding an excellent run of form himself and – bulking or not – will be the bigger man once that cage door closes.
---
UFC 284 card, is as follows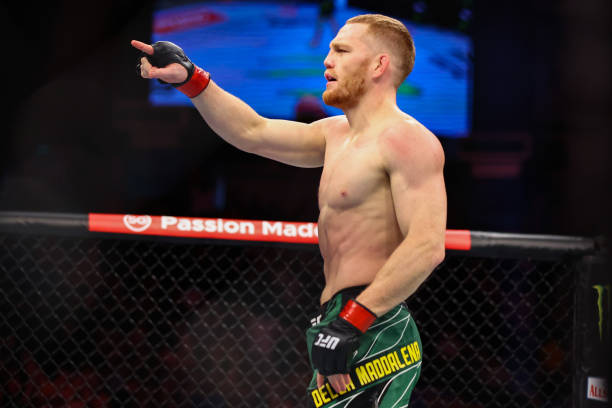 Card subject to change
Main card (Sunday, 3am BST)
Lightweight championship: Islam Makhachev (c) vs. Alexander Volkanovski (c)
Interim featherweight championship: Yair Rodriguez [2] vs. Josh Emmett [5]
Welterweight: Jack Della Maddalena vs. Randy Brown
Heavyweight: Justin Tafa vs. Parker Porter
Light-heavyweight: Jimmy Crute [12] vs. Alonzo Menifield
Prelims (Sunday, 1am BST)
Light-heavy: Tyson Pedro vs. Modestas Bukauskas
Featherweight: Joshua Culibao vs. Melsik Baghdasaryan
Flyweight: Shannon Ross vs. Kleydson Rodrigues
Lightweight: Jamie Mullarkey vs. Francisco Prado
Early prelims (Saturday, 11pm BST)
Featherweight: Jack Jenkins vs. Don Shainis
Women's strawweight: Loma Lookboonmee vs. Elise Reed
Featherweight: Shane Young vs. Blake Bilder
Lightweight: Zubaira Tukhugov vs. Elves Brenner
Picture source: Getty Images, quotes hyperlinked