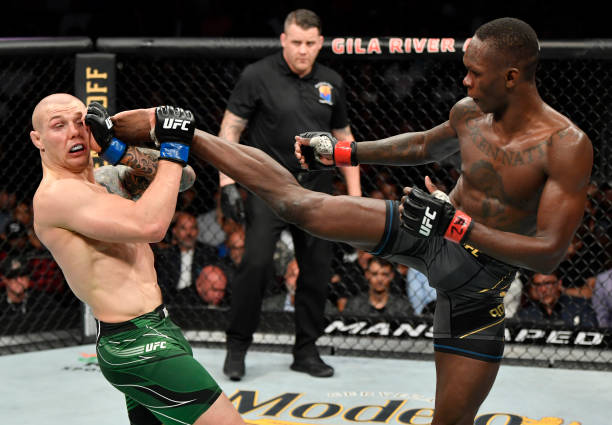 Israel Adesanya produced the third defence of his UFC middleweight strap and handily beat Marvin Vettori (#3) in their rematch, after flyweight Brandon Moreno made history by becoming the promotion's first Mexican champion – dethroning Deiveson Figueiredo in the co-main event.
Adesanya largely in cruise control vs. frustrating Vettori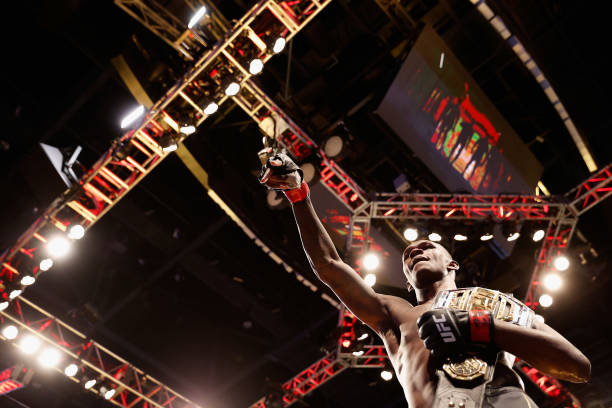 50-45, 50-45, 50-45: Israel Adesanya beats Marvin Vettori via UD, retains middleweight title
"Even when he got up at the press conference, I sat down. 

I didn't feel any threat. Bobby Knuckles [Robert Whittaker], we need to run that back in Auckland, my territory. You don't get to decide when we do it [the impending title rematch], I do. Why? I'm the motherfucking king, bitch."
Vettori loaded up on leg kicks in the early going, completed a well-timed takedown and started well. Besides a promising moment in round three, where he had the champion in a back mount and was close to squeezing a rear-naked choke, his success here proved frustratingly fleeting.
Why? Not only had the Italian been talking a big game about how he'd expose Adesanya's weaknesses – just like he felt was the case from their initial meeting three years ago – but riding a five-fight win streak and divisional circumstances had unexpectedly fallen into his lap.
Not even his head coach, Rafael Cordeiro, could convince him to make the requisite adjustments and force Adesanya into deep waters.
Instead, the champion happily chopped away at Vettori's legs and mixed his strikes well at distance as the crowd were quick to boo whenever the challenger shot in for takedowns.
It's not exactly a sexy tactic, but if it works, sure. Besides the aforementioned moments, Vettori found himself wasting energy as he repeatedly charged forward and largely against the fence, waiting for his moment to power through an attempt at forcing this matchup to the ground.
On the odd occasion it got there, Adesanya had an answer: reversing position and quickly returning to the feet, which would've been a disheartening sight for most fighters who saw him being manhandled on the ground for sustained periods by Blachowicz just three months ago.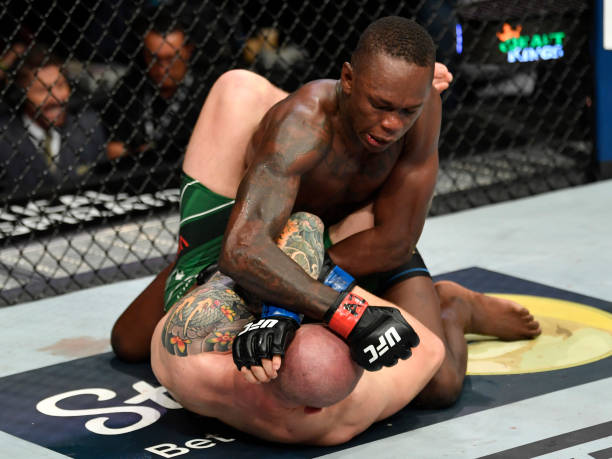 The difference here was stark: Adesanya certainly respected the Polish power, but not the Italian's. He was content to stay against the fence and showcase his impressive head movement, inviting pressure while waiting to counterstrike. Leg kicks continued, but Vettori didn't do much.
'Why are you waiting? You have to go first,' Cordeiro roared in-between rounds as Vettori's reactive nature was increasingly evident – being discouraged whenever he swung and missed.
Perhaps that's why he started round three with such energy and enthusiasm, but again that didn't last. His explosive takedown led to the choke attempt before Adesanya's swift reversal and scramble saw brief danger averted.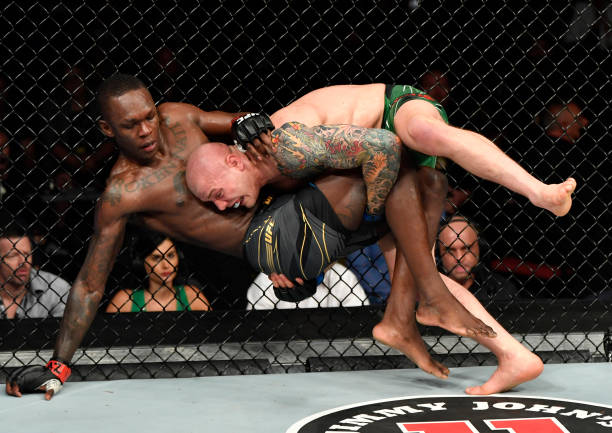 An inadvertent eye poke and groin strike saw action delayed, with Vettori aggrieved as Adesanya apologised – but he didn't channel that frustration into a clean striking display, instead persisting with those previously futile tactics while refusing to show patience in his punch output.
Rather than slip and move, Vettori would posture and firm more unnecessary damage as if you couldn't visibly see Adesanya's strikes marking him up – to the face and legs.
Calls for the double jab and increased volume from Cordeiro were, frankly ignored, as Vettori became frantic in his movements as time wore on but there was always enough distance between them for the champion to continue picking him apart with punches and kicks aplenty.
Kicks to the head and legs landed continually, as Vettori's persistence proved problematic – completing only 4 of 14 takedowns attempted (29%). Robert Whittaker (#1) awaits next.
Statistic: With this victory, Adesanya now has increased to a 10-fight UFC win streak at middleweight – the second-longest of all-time behind Anderson Silva (13).
---
Moreno eases past Figueiredo, crowned new flyweight champion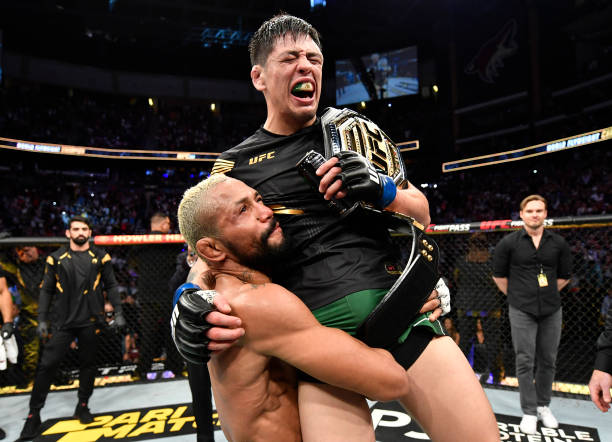 R3, 2:26 – Brandon Moreno beats Deiveson Figueiredo via submission (rear-naked choke), is new flyweight champion
"I feel so amazing, I worked so hard for this man… watch me now holding this… it's unbelievable. This training camp was so long, I used all six months for this, working on the gameplan, to be better and fucking watch me now."
Buoyed by a raucous crowd on his side, Brandon Moreno began as he meant to go on – purposefully and quickly.
Having already established some quiet confidence that he'd solved the Figueiredo conundrum from their first fight last December, the Mexican wasn't content to stand and trade with the champion again. He knew he had to take the fight to him, which is precisely what followed.
Figueiredo had a cautious striking approach but perhaps didn't want to expend too much unnecessary energy early on with aggressiveness, even though he was quickly being outworked by a motivated challenger who'd felt his power once before.
Moreno scored a knockdown late in round one, catching the champ clean with a left jab as Figueiredo started to wind up a swinging overhand punch of his own. Despite doing well enough to absorb the incoming onslaught and recover his senses, there was more of that to come.
Moreno went for a submission attempt in the second round and while it looked troublesome from Figueiredo's perspective, this was a wise tactic to follow.
He was continuing to drain the Brazilian on the ground, so much so that the champion's nasty elbows from bottom position didn't deter his grappling efforts.
The pair exchanged stand-up strikes before Moreno quickly transitioned to secure a body lock triangle, again wearing on Deiveson. This time, there was no escaping his submission pressure – a rear-naked choke was locked in tight and the tap inevitable.
---
Edwards earns a big win, but not without late scare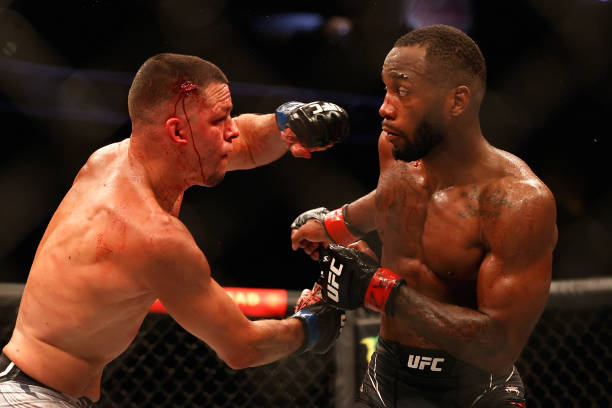 49-46, 49-46, 49-46: Leon Edwards (#3) beats Nate Diaz via unanimous decision
In shades of Devin Haney vs. Jorge Linares a few weeks ago, Edwards was largely commanding and impressive against the returning fan favourite in a gamely Diaz.
He recorded a new career-high four takedowns, busted open Nate's left eye with the slicing elbows Rafael dos Anjos and others know all too well and chopped at his legs all night.
His striking was sharp (83 of 139 landed, 60% success) and to the point, with minimal wasted energy even as Diaz produced some showmanship while engaging the crowd with his nonchalant approach upon occasion.
Diaz took Leon's best shots and kept coming, as his response at the final horn spoke volumes – he knew just how close he was to securing what would've been a remarkable turn of events.
A crafty one-two punch combination wobbled Edwards, who admitted to a bit of complacency in his post-fight press conference and had to survive the last minute or so on jelly legs. For someone now on a nine-fight win streak and targeting the next title shot, this was a sight to see.
Dana White reaffirmed the notion Colby Covington (#1) is next in-line for Kamaru Usman's welterweight title in a much-anticipated rematch, but Rocky acquitted himself well against a high-profile opponent with plenty to gain and nothing to lose here despite the late flurry.
It's easy to forget this was Leon's first full fight since July 2019 but he has certainly been improving on the fly. It'll be interesting to see where he goes from here, all things considered.
---
Rest of the main card's results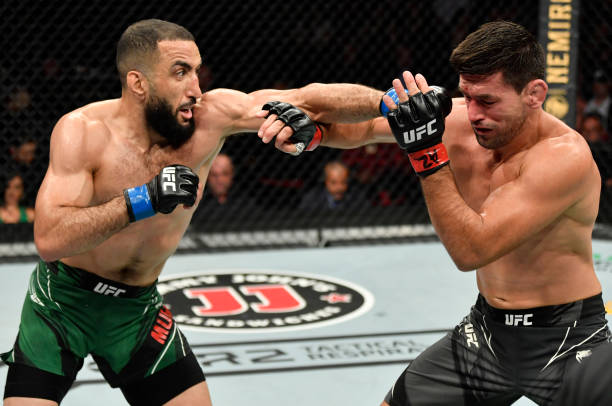 Armed with overwhelming takedown defence and an ability to produce beautiful boxing combinations as time wore on, welterweight contender Belal Muhammad (#12) produced another accomplished display to chalk up a big win over the legendary Demian Maia (#9).
If that was the 43-year-old's final appearance as a professional, the Brazilian did well to last all 15 minutes after appearing exhausted by his tireless dozen takedown attempts in round one.
Muhammad had stuffed 11 of 12 in the first five, blocked nine more over the next ten minutes and let his hands go as Maia visibly slowed – understandably so as his grappling-heavy style was nullified by an excellent opponent who maintained his balance and didn't fold under pressure.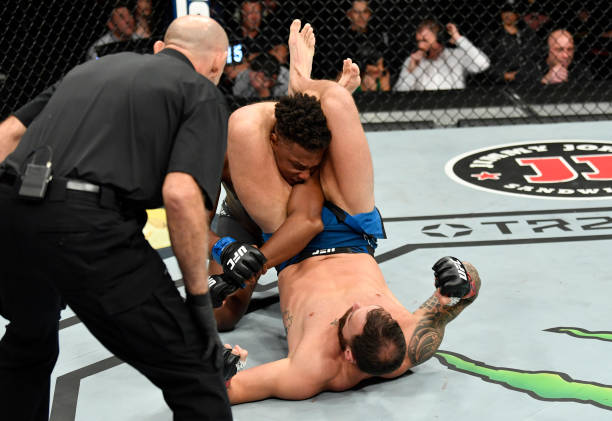 Scottish light-heavyweight Paul Craig (#14) retained his ranking and could get a boost next week too after ending Jamahal Hill's 8-0 unbeaten record with a technical submission finish inside two minutes, inflicting a nasty arm injury – extending his armbar long enough to contort Hill's limb.
During the pre-fight fighter interviews, Craig warned that he'd test the prospect's jiu-jitsu skills – but even Hill couldn't have foreseen the first round escalating as quickly as it did.
"My jiu-jitsu – you either tap, nap or it [your arm] snaps. The crowd says it all, I felt it [his arm] go, it's the referee's job to protect my opponent, my job is to finish the fight. It was like a wet fish all over, prancing around."

Paul Craig on his jiu-jitsu skills and Hill's arm
---
Prelim results as murphy and riddell earn big decision wins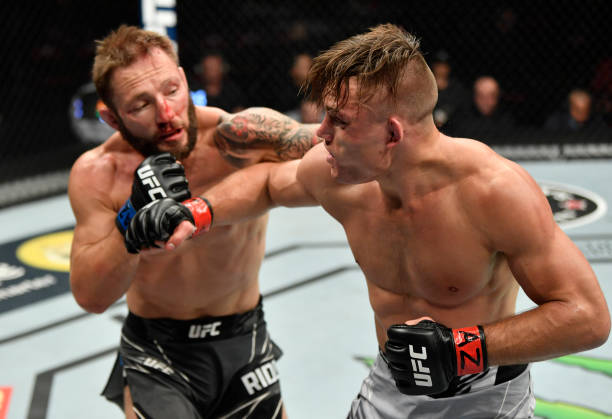 In the night's featured prelim, New Zealand's Brad Riddell (10-1) rallied from a sluggish start to outwork Drew Dober (#13) and will gladly snatch his top-15 ranking when the update arrives next week. He boasted a 35-strike advantage (113-78) over 15 minutes, with five takedowns to boot.
Dober has now suffered successive defeats for the first time since May 2014 and after being dominated by Islam Makhachev at UFC 259, this is perhaps a more frustrating loss to take – because he showed considerable improvements but failed to sustain that level throughout.
In a repeat of their March matchup which ended controversially as a no-contest after the American landed a illegal knee, Eryk Anders redeemed himself in a light-heavyweight bout vs. fellow middleweight Darren Stewart and earned a comfortable decision win (29-27 x 2, 29-28).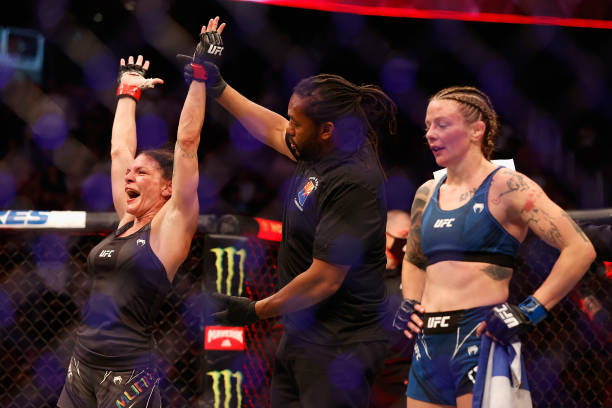 Women's flyweight Lauren Murphy (#3) retained her ranking while increasing to a five-fight win streak against a tricky test in the form of Scotland's gamely Joanne Calderwood (#6).
After absorbing more damage than was ideal in round one, Murphy began to assert her physical advantages in the second – totalling four minutes' control time on the ground and stifling JoJo.
Although Calderwood responded well in round three, outworking her in their stand-up exchanges while landing some impactful clinch strikes, Murphy edged out a split decision win.
It was 29-28, 28-29 and 29-28 on the three judges' scorecards. Even at 37, she'll hope that this display proves she's worthy of a Valentina Shevchenko title challenge before long – if not next.
"I knew this would be a tough test, I find ways to win these fights and want these toughest, best girls in the world."
In a fun featherweight scrap to start the two-hour featured prelim slot, Movsar Evloev (#14) improved to 15-0 and 5-0 in the UFC during a competitive duel with a motivated Hakeem Dawodu (#15) – who rocked him in round three but wasn't allowed to sustain stand-up pressure.
Why? He had to survive the first two rounds down on the ground, as Evloev was happy to swarm and eventually maul him – completing nine of his 13 attempted takedowns in 15 minutes.
---
Early prelim results
In the women's bantamweight division, Pannie Kianzad (#11) retained her top-15 ranking with a gritty decision win (30-27 x 2, 29-28) over Alexis Davis. The 29-year-old Iranian-born Swedish national is enjoying her best run for over a half-decade – four straight UFC wins after starting 0-2.
In the lightweight division, promotional newcomer Terrance McKinney wasted no time finishing Matt Frevola – needing just seven seconds to knock out the 31-year-old with a devastating one-two punch combination… before it appeared he blew out his knee during the jubilant celebrations immediately afterwards, landing awkwardly after jumping on the top of the cage.
In a catchweight bout at 148.5lbs, Steven Peterson surrendered 20% of his fight purse after missing weight yesterday but most importantly outstruck featherweight youngster Chase Hooper (102-98, 8% more efficient striking) to win on all three scorecards – 30-27 x 2 and 29-28.
In the lightweight division, France's Fares Ziam improved to 12-3 and 2-1 in the UFC with his second successive victory – a majority decision (29-28 x 2, 28-28) over Luigi Vendramini.
Armed with a new four-fight contract, Brazilian heavyweight Carlos Felipe earned a second successive split decision victory (29-28 x 2, 28-29) – this time over Jake Collier – improving to 11-1 in his MMA career despite being outstruck in all three rounds, outworked 130-94 in 15 minutes.
Picture source: Getty Images