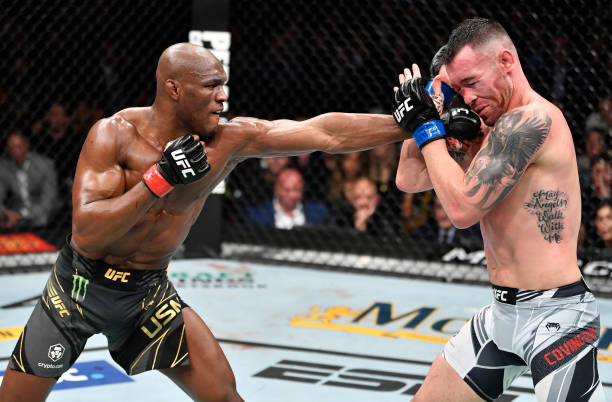 UFC welterweight champion Kamaru Usman made the fifth defence of his 170lb title with a back-and-forth, competitive decision win over Colby Covington (#1) in their much-anticipated rematch, making it a perfect night for trainer Trevor Wittman after wins for Justin Gaethje (#2) in a lightweight title eliminator as well as Rose Namajunas defending her strawweight strap.
Usman starts strong, Covington rallies in competitive rematch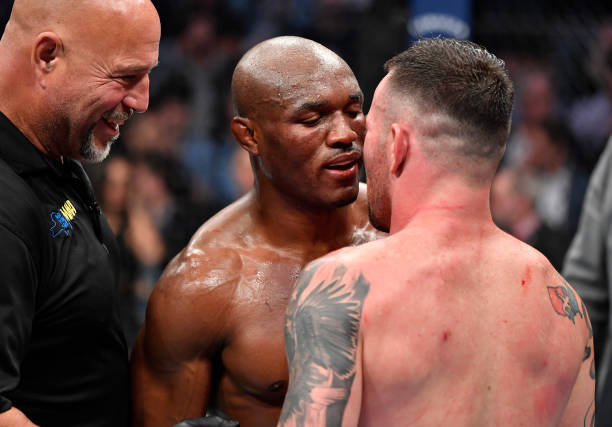 48-47, 48-47, 49-46: Kamaru Usman retains his title, beats Colby Covington (#1) via UD
Although the encounter ended with a whimper after a tense start, Usman-Covington 2 lived up to expectations – even if a KO finish felt increasingly ominous towards the end of round two.
Instead, Covington reaffirmed why he's second-best at 170lbs by applying urgency and technical nous needed to repeatedly hurt the champion – baiting him into mistakes, humanising a seemingly immovable object in the process. He started slowly though, paying the ultimate price.
---
best welterweight of all-time? dana believes so
Among topics UFC promoter Dana White covered in the post-fight press conference, his Kamaru Usman declaration felt inevitable. He's now 15-0 in the UFC (20-1 MMA), with five title defences.
"If Usman doesn't exist, Colby Covington is the champion here – he's the best ever, the best welterweight of all-time, on his way to possible GOAT status. 

Fighting everybody, coming back the second time and beating guys… look at who he's facing. How much longer does he want to fight? Could do 18, 20.."

Dana's Usman praise, potentially surpassing Anderson Silva's 16-fight win streak
---
Despite throwing multiple kicks early on, Colby was noticeably cautious and didn't want to exchange haymakers in the pocket against Usman. Instead he shot for a takedown, which quickly backfired on him as the champion produced some explosive defence during a scramble.
Both decorated wrestlers in their own right, Usman produced a storming takedown after Covington persisted attacking his legs with kicks and landed a pair of solid left-hand strikes too.
Colby's attempts at a blitz attack saw him stung whenever he tried closing the distance and after being cut below his right eye from an inadvertent clash of heads, he was wearing damage all over his face as the action continued and Usman's jab continued picking him apart at distance.
Usman landed a series of good left hooks alongside a big body shot in R2 and forced sustained periods of hesistancy many didn't expect from the challenger, who was eager to avoid engaging unnecessarily in another strike-heavy slugfest given he's felt that devastating power before.
After having another takedown snuffed, Covington's evening could easily have been cut short not long after. Usman scored two quick knockdowns with short left hooks, one stunning him before another left Chaos confined to the mat in a turtle position absorbing hammer fists.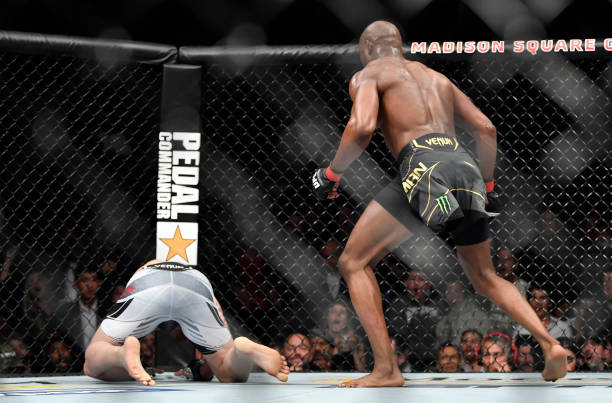 He held firm to avoid a stoppage in the final seconds of that round, but questions over his recovery powers were emphatically answered by the end of a back-and-forth third stanza.
A tense start was punctuated by a good one-two combo, though Colby wasn't throwing enough to truly force Usman into being more risk-averse – instead the champion was content fighting at his own pace, popping the jab with increasing confidence as he's done regularly in recent fights.
Colby's takedown tactic was again blocked (0/11 on takedown attempts) but he finished the third better: a promising punch combination and blitz attack had Usman uncomfortable as he threatened to try pushing this fight towards the ground again, with more success than before.
Sensing a momentum shift, Covington picked up the pace at the start of round four and was beginning to land his jab more frequently too.
Winging shots with bad intentions, he was connecting on the bigger punches when they did exchange in the pocket – but without the follow-up pressure that Usman inflicted upon him earlier on to truly solidify the hard work.
He stung Usman with a body kick which instinctively forced the champion backpedalling up against the fence, then wobbled him with a fierce uppercut just before the horn.
If he hadn't won a round to this point, he certainly had earned one now. "15 more seconds, you knock him out," yelled his cornermen as the 33-year-old returned to his stool momentarily.
Trevor Wittman meanwhile, stressed the importance of Usman staying sharp and avoiding a needless firefight – sound advice but easier said than done given how this fight was unfolding.
Covington began the final round well too, landing another one-two punch combo before the pair buzzed one another with big shots – Colby's uppercut continued giving the champ all sorts of problems, before Kamaru popped the jab and they exchanged furiously in the pocket.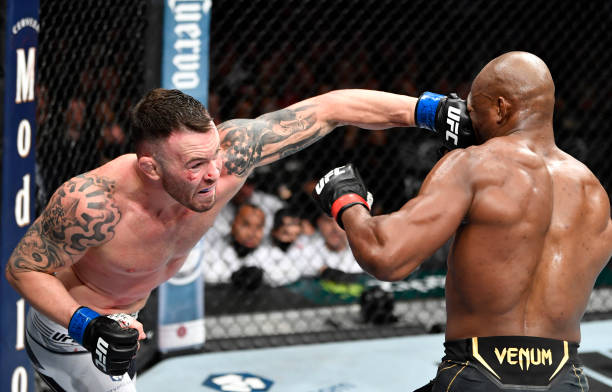 Bafflingly, given how he baited Usman into the firefight trap, Covington shot for another takedown. Any momentum he had was essentially thrown out of the window and an inadvertent Usman eye poke – coupled with a 60-second delay – amplified that scrambled decision-making.
The crowd were anticipating a big finish, not least as this matchup had progressively increased in its competitiveness – but instead Usman dodged a bullet and also landed the more impactful shots, in what would've been an unsettling finish for the champ's family watching Octagonside.
He's human after all.
"I gotta give it up, there's a lot of bad blood, trash talk, this guy's a tough son of a bitch, wanted to get him out of there quick. When you share an Octagon with someone this tough, you can't help it, I can tell him and his coaches have been working. The power came up a bit, so had to show him respect.

I'm the pound-for-pound best alive right now, he's super tough. I wanted to get crazy, get him outta there but that's not what the best do. We take our time, stay calculated, listen to our coaches and find the finish. Unfortunately, that's the next best guy in the division and he wasn't going to let me find it." 

Usman's post-fight assessment in the cage with Joe Rogan

"I had my moments, wobbled him a couple times, wasn't able to capitalise. It was his night, thanks to everyone who came out tonight – love or hate me, you haven't seen the best of me yet, I'll be back in the gym on Monday."

Covington vowing to return even better in future
---
Namajunas edges past Weili on scorecards in gruelling battle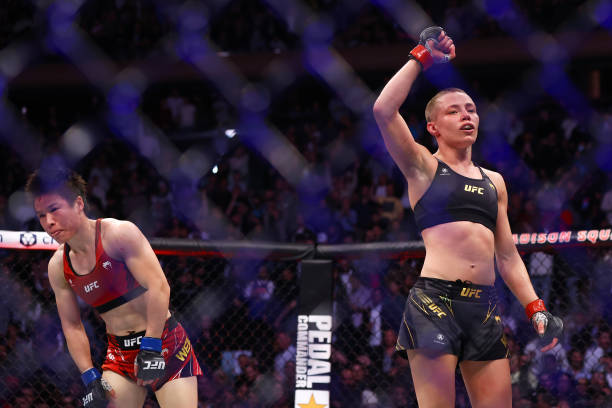 47-48, 48-47, 49-46: Rose Namajunas (c) defends her strawweight strap, beats Zhang Weili
Even after catching her clean with that devastating first-round head kick victory in April, Namajunas had to grit her teeth to win a tough rematch against Weili that could've gone either way over 25 minutes – evidenced by the contention surrounding the result on social media.
Weili had moved her camp from Beijing to Arizona and was armed with a secret training weapon in former two-division UFC champion Henry Cejudo (alongside his coach Eric Albarracin).
Weili showcased her strength and wrestling skills in the first two rounds, unleashing some big punches in the second – as the pair's fast hands were on display, alongside various heavy kicks and a timely takedown by Rose to finish R2 in mount.
It rather emphasised the back-and-forth nature of this affair, as they exchanged strikes at distance but also missed wildly when they loaded up with power shots.
Twice through three rounds, Weili fell to the mat and the crowd erupted – almost as if she was knocked down – but the slippery surface saw her lose footing.
Even with the art of perception against her with a partisan crowd in Thug Rose's corner, it wouldn't matter on the scorecards if she continued outgrappling Namajunas like the latter stages of round three – getting into mount and logging almost a minute of control time to boot.
In a competitive fight decided by the finest of margins, Rose scrambled to stay on top as her own grappling expertise saw her reverse a compromising position on the ground in R4.
It happened again early in the final round near the centre of the Octagon, with Namajunas securing a seismic takedown at a time where the championship still hung in the balance.
She finished strong in mount and although close, that gutsy grappling duel decided Rose retained her strap despite Weili doing more than enough to become a two-time 115lb titlist.
"I had a feeling it would be a way tougher fight, she improved a lot so props to her – I know what I gotta work on now. I'm pretty healthy as of right now so I can probably get back in there, we'll see."

Namajunas on a tough rematch and potentially returning sooner rather than later, with former champion Carla Esparza (#2) among those waiting
---
Vicious Vera earns another big win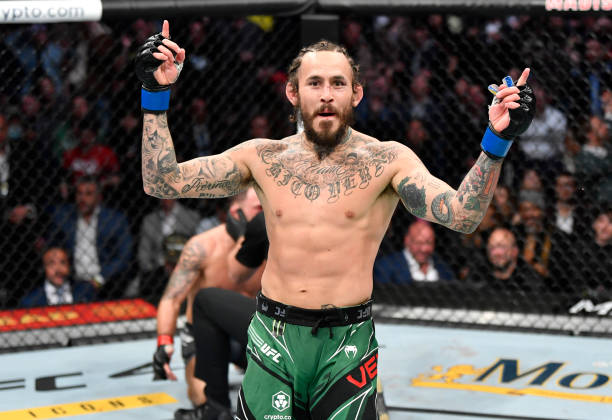 Elsewhere on the main card, bantamweight contender Marlon Vera (#13) overcame early adversity to eventually snatch a big third-round TKO win over former lightweight champion Frankie Edgar (#8), so should rise into the top-10 rankings when they update next week.
A picture-perfect front kick up the middle, finishing with punches to inflict another Edgar loss:
"He took me down in round one, my corner said it's okay, you like to lose the first… those elbows from the bottom hurt him but thanks to my coaches, we going good and winning fights – that's the best thing I could've done for my career [is to have added striking coach] Jason Parillo, now finally I can box."

Vera will continue venturing up the bantamweight ladder
Dating back to July 2019 – a featherweight title shot against then-champion Max Holloway – Edgar is now 1-4, with three devastating stoppage defeats during that run. Having turned 40 last month, it's valiant he doesn't want to retire on a low note but it was sad to see him afterwards.
Statistic: With his 12th UFC victory, Vera now has the most finishes in bantamweight history (9), overtaking former two-time titlist TJ Dillashaw to standalone for that achievement at 135lbs.
Burgos absorbs Quarantillo's fire to retain his ranking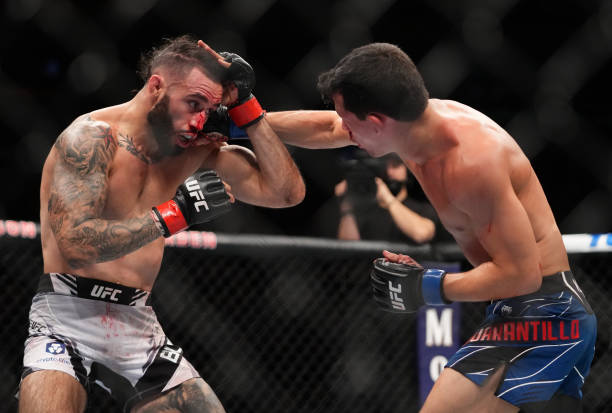 29-28, 29-28, 29-28: Shane Burgos (#14) beats Billy Quarantillo via unanimous decision
After successful post-pandemic defeats by Josh Emmett and Edson Barboza, Burgos needed a return to winning ways and dug deep against a durable Quarantillo showing on this occasion.
However, the Contender Series graduate reinforced the notion he can hang with ranked contenders – while visibly injured – in a featherweight division packed with dangerous fighters.
Both were awarded Fight of the Night honours during their most recent outing, but it was Billy Q who won his last content in style more recently and this matchup felt like his to lose early on – such was his slick boxing skills and readiness to outwork Burgos in their striking exchanges.
Physically the bigger of the two, Burgos tried imposing his will in the clinch and importantly had moments late in the first two rounds which could've easily seen a close round swing in his favour, such was the tightly-contested clash the New York crowd were witnessing.
Experiencing somewhat of an adrenaline dump after the remarkable matchup they'd just seen minutes later, the crowd's intensity started to pick up as this one went long.
Quarantillo's lack of seasoning reared its head – winding up a lot on his punches while Burgos was happy to counter him while stuffing a whopping 14 takedown attempts through 15 minutes.
Quarantillo pressed him up against the fence where possible, refusing to get disheartened by Burgos' defence, but his left leg was wavering drastically as the #14 ranked featherweight made a conscious decision to pepper him with kicks and it eventually paid dividends.
It was acknowledged by his corner before the final round and looked like dropfoot, something Jimmy Crute memorably suffered in late April on PPV, but he kept fighting regardless.
Going for a leg lock and logging 78 seconds of control time in R3, despite being visibly compromised, was testament to the 32-year-old's defiant fighting spirit – cliche and all.
Punished for failing to check those legs (28/32 leg strikes landed) and being less defensively astute than he needed, this was a much-needed war of attrition that he'll learn from. As for Burgos? The tactic worked perfectly and he's finally back in the win column.
Statistic: This duel broke the record for most significant strikes landed in UFC featherweight history for a three-round fight (357), with the previous record standing at 274.
"100% this was the gameplan from the jump, I was fighting too emotional. He's tough as shit because I landed hard, he ate them and kept coming so props to him, it was a great fight.

I'm a fan of the guy, was gonna approach him over the summer because I've heard he fights just like me – it's been too long since I had my hand raised!"
---
Gaethje-Chandler involved in a war to kick off main card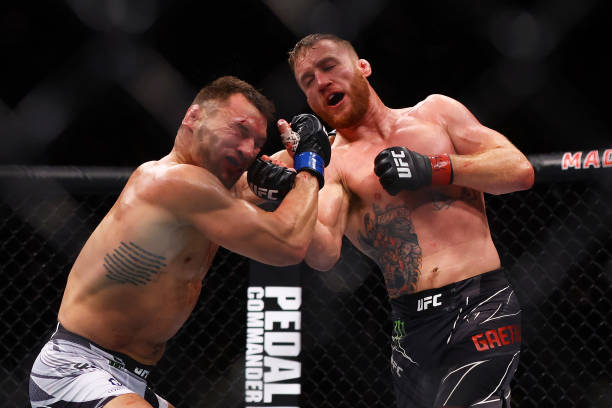 29-28, 29-28, 30-27: Justin Gaethje (#2) defeats Michael Chandler (#5) via UD
It was hard for this electric lightweight title eliminator battle to match expectations, but Gaethje-Chandler easily exceeded them before leaving the New York crowd in somewhat of a food coma-like spell for an hour or so, such was the high-quality on display to kick off a stacked main card.
Anyone who has watched Gaethje fight, for better or worse, knows what he can do to opponents. Break them down, bit-by-bit, over sustained periods – or stun you into submission with reckless flurries when he smells blood, having (probably) taken some big shots himself.
It's why Namajunas and Usman – his champion teammates – discussed his typically fearless striking display during the post-fight presser with awe while sharing the emotions they must've been feeling watching the carnage all unfold helplessly from their locker rooms in the back.
Landing big shots in the pocket early, Chandler set the tone with a rapid pace packed with hard punches – Gaethje met him in the middle and mirrored him: you hit my legs? I'll hit yours harder.
Going tit-for-tat like this made for a frenetic affair with little rest, packed with plenty of wobbling and big shots as the crowd couldn't believe what they were seeing. How was this still going on?
Gaethje's defensive uppercuts kept him from being knocked down in R1, Chandler meanwhile loaded up wildly with power but you could sense his chances of winning decreased with each passing minute. Why? His left leg was increasingly compromised (26/28 leg strikes absorbed).
Then, he shot for a takedown in the final minute and got an emphatic response from the former interim champion, reading the tactic well and swiftly thrusting him back where he'd come from.
Gaethje's confidence grew as he began stringing his attacks better in round two, while Chandler's ferocious kicks were losing some of their initial sting. He didn't throw many, even if he wanted to.
Having buzzed Iron Mike up against the cage with an uppercut, Justin then knocked him down less than 20 seconds later with another one – splitting the guard beautifully and forcing the three-time Bellator champion to turtle up, recover and defend enough to avoid a stoppage loss.
Gaethje's significant strike success increased as the night wore on, while Chandler – as valiant as he was – found his best moments later on with counter-punch combos and furious flurries.
He should've been more careful with head movement, instead he was asking (and subsequently received) more punishment with needless acts of bravado like these in a potential swing round:
You can't help but wonder what the 35-year-old's head coach, Henri Hooft, was thinking Octagonside in the final minute as Chandler bounced from side-to-side and moved around but only threw six strikes in 60 seconds, almost as if he'd already earned a reprieve.
He wasn't active nor accurate enough with his striking and especially after having his explosive takedown reversed, needed to do more. Gaethje – who was stung badly much earlier – remained composed and was in rhythm, leaving an indelible mark on Chandler and those in attendance.
"He's a warrior, we're living in the wrong times, we should be fighting to the death in a colosseum. I know, at this level, with what was on the line tonight, I had to put him to sleep – same with him – the winner in December, I will be fucking stepping in there and pushing you everywhere and anywhere.

Hopefully it's Oliveira in Brazil or Poirier in Louisiana, I don't give a fuck. I'm ranked no. 2, just got an impressive win, of course. Who else?
---
Prelim and early prelim results – featuring furious finishes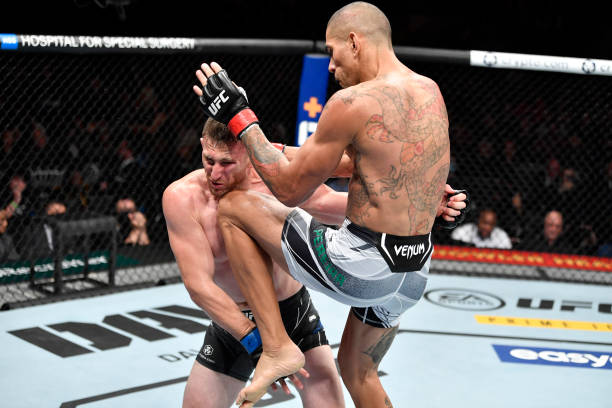 The card began with three straight unanimous decision wins for favourites, before six successive finishes – including a beautiful boxing display by Bobby Green followed by highly-rated debutant Alex Pereira's thunderous R2 flying knee TKO victory in the night's featured prelim.
A chorus of boos reverberated around Madison Square Garden as Andreas Michailidis shot for takedowns, repeatedly, trying to keep the kickboxer down. He was only credited with three significant strikes but while successful, the tactic didn't last as he tired between rounds.
Finding out the hard way just why Pereira, a relative notice to MMA, was so highly-rated, he got knocked on his back just seconds into round two as the New York crowd erupted with surprise.
After showing admirable heart and determination despite being outpointed by Rafael Fiziev three months ago, Green needed just under half-a-round to dismiss Al Iaquinta in a battle of lightweight veterans. He was sharp and well, marvel at this one-two punch combo sequence:
In the middleweight division, there will be a new name in next week's rankings update after Nassourdine Imavov embraced a gritty challenge against Ronda Rousey's protege Edmen Shahbazyan to earn a second-round TKO win (via elbows) – inflicting a third straight defeat.
Elsewhere at 185lbs, Phil Hawes landed 48 significant strikes in just under a round that looked eerily dominant for the 32-year-old but ultimately saw his four-year winning run – featuring seven fights across three promotions – ended by a come-from-behind TKO victory for Chris Curtis.
After clinching Cage Warriors gold in his seventh pro outing back in late June, 23-year-old Irish welterweight prospect Ian Garry overcame a nervy start to finish his UFC debut with a counter right-hand punch which sent Jordan Williams flying – one second before the first round ended.
Experienced heavyweight Chris Barnett certainly won a lot of new fans with this piece of magic, sending Gian Villante into retirement with a second-round TKO finish that no-one expected:
Contender Series graduate Melsik Baghdasaryan continued his promising start to life in the promotion and is now 2-0 this year after earning a decision win (29-28 x 3), while also getting a 20% bonus after Bruno Souza came in overweight (148.4lbs) for their featherweight duel.
Dustin Jacoby remains unbeaten inside the Octagon in his second stint, after landing a new career-high 153 significant strikes against John Allan during their light-heavyweight clash.
After suffering a first-round defeat by Manel Kape at UFC 265 three months prior, Ode' Osbourne returned to winning ways with a UD win (29-28, 29-28, 29-28) and also earned a 20% bonus for his troubles after CJ Vergara missed weight in their scheduled flyweight clash.
Picture source: Getty Images