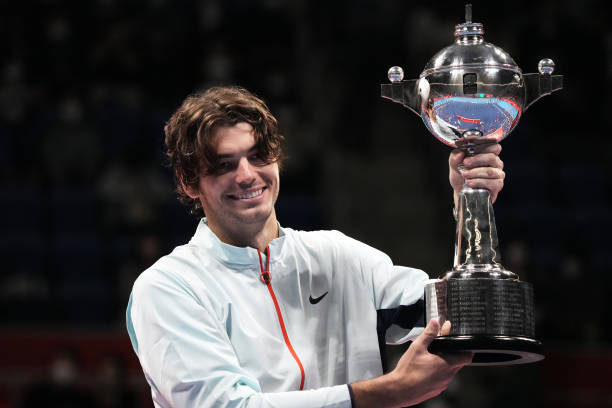 New career-highs sealed, valuable points for the year-end finals secured, records broken and more besides across the tennis circuit. Taylor Fritz, Novak Djokovic, Elise Mertens and Barbora Krejcikova all won their respective finals across Europe, Asia and Africa – read on for more.

Inspired Fritz outlasts Tiafoe in two tiebreaks, wins japan Open
Fritz [3] bt. Tiafoe [4] 7-6 (7-3), 7-6 (7-2)
This result means the 24-year-old American, Indian Wells champion back in March,  clinches his first ATP500 title while improving to a new career-high world no. 8 ranking
Tiafoe, up to world no. 17, jokingly says he's tired of losing to Taylor and hopes he'll "get him" one day with more battles to come in post-match trophy presentation
Fritz: "He's been on fire recently, had to play my absolute best to beat him today, I'm sure it won't be the last time we play for a big title," after tiebreak triumph
Taylor Fritz became the 10th American to win the Japan Open and first since Pete Sampras in 1996, after outplaying US Open semi-finalist Frances Tiafoe in two tiebreaks to cap a whirlwind week which began with him stuck in South Korean quarantine after testing positive for COVID-19.
As I mentioned late last week, he's now known for his powers of recovery from precarious situations. Despite benefiting from a Nick Kyrgios injury-enforced withdrawal in the quarters, he dropped a set in all three matches before the final and it's fair to say he's not feeling 100% either.
All things considered, that only serves to elevate the sense of achievement here against a close friend and compatriot who is similarly improving – not the norm in American tennis – and while it will hurt, must put this latest defeat into perspective after a memorable few months on tour.
Tiafoe relinquished favourable positions a few times on this occasion and it cost him dearly: from gifting the break back with a double-fault and successive unforced errors early in set one.
He saved two set points before even making it to the first set breaker, winning a 14-shot rally under pressure while hitting a forehand winner to finish a well-constructed point – after a 77mph second serve no less. His first serve percentage stung him against Alcaraz, but not here.
In said tiebreak, Fritz began with an ace and quickly ran away with the lead. Tiafoe's backhand wasn't doing him justice as Fritz crushed the ball down the other end, before narrowly missing a down-the-line shot and being forced into another error as three more set points arrived.
A forehand up-the-line winner secured the advantage, one he maintained despite having scoreboard pressure in set two as the second to serve.
It's easy to say in hindsight that Tiafoe needed to better mix up his ball-striking, but he should've made Fritz defend more behind the baseline during rallies to give him that buffer like Denis Shapovalov did during Saturday's semi-final.
That approach would've subsequently increased his margin for error with shot placement, rather than being willing to exchange at the back of the court with someone matching his power.
As such, it made his service games longer and would've given Fritz renewed hope that Tiafoe was starting to wear, given his predictable shot selection and inability to frontrun here.
Living dangerously can only last so long, as Tiafoe repeatedly saved break points before finally using the drop shot well as the pair continued exchanging holds of serve.
Into another breaker and it was more of the same. Fritz powered his way into another mini break early, forcing Tiafoe wide and into more errors, pulling him one way then the next.
He had 12 winners and just three unforced errors in set two at one stage in the tiebreak, as Tiafoe was snatching at his shots more and getting increasingly frustrated. He played well, but not enough to withstand Fritz's formidable hitting as the match quickly evaded his grasp.
A pair of winners gave Fritz a 5-1 lead and though he saved one championship point, another unforced error abruptly ended his comeback in a tight final with statistics to reinforce that belief.
Match stats
Tiafoe – 29 winners, 26 unforced errors – had won 13 straight tiebreaks before this final
Fritz – 27 winners, 13 unforced – won 14 more points (90-76) overall
---
Djokovic defeats Tsitsipas for 90th ATP title
Djokovic [4] bt. Tsitsipas [3] 6-3, 6-4
Wimbledon champion Novak Djokovic had no hiccups on Sunday, earning his 90th ATP Tour singles title with a commanding 6-3, 6-4 victory over Stefanos Tsitsipas – a result which has subsequently sealed his berth during the season-ending ATP Finals in Turin next month.
He was under the kosh on Saturday afternoon against a determined Daniil Medvedev, who found himself just two points away from a morale-boosting win in the second set tiebreak but missed a volley at the net and abruptly retired for an adductor injury before the start of their deciding set.
Djokovic, winner in Tel Aviv eight days ago, has improved to an 8-2 H2H record against Tsitsipas – with the 24-year-old Greek now 0-9 in ATP 500 finals dating back to 2018 as questions will continue to persist over his attainment against the world's best when it matters most.
---
Mertens outplays Cornet to earn 7th wta title
Mertens [5] bt. Cornet [3] 6-2, 6-0
Alize Cornet saved break points in multiple service games early, but couldn't cope with the Elise Mertens pressure avalanche – as evidenced by their exchange in the match's very first point:
The Belgian maintained her pressure while displaying great court coverage to snuff out Cornet's drop shots and painted the lines with winners at Monastir, the tournament's inaugural year.
A 6-2 set, after saving two break points to level at 2-2, typifies what quickly turned into a rout as the 26-year-old earned her seventh WTA singles title against a Frenchwoman who served an eyewatering nine double faults and wasn't at her best. It probably wouldn't have mattered.
---
Krejcikova overwhelms Swiatek in match of the year contender
Krejcikova bt. Swiatek [1] 5-7, 7-6, 6-3
Meanwhile in Ostrava, there was a real party atmosphere and the finale matchup lived up to the billing as home favourite Barbora Krejcikova recovered from a set down to topple world no. 1 Iga Swiatek during a contest of fine margins, gripping rallies and excellent winners aplenty.
Swiatek led 5-1 early in set one, but Krejcikova's persistence helped her win four consecutive games in a set lasting one hour 13 minutes. Although she eventually lost it 7-5, seeds were being planted for a competitive comeback as she wrestled control her way midway through set two.
Krejcikova has struggled with injury this season and recency bias made her an afterthought, though the 2021 French Open champion now has sealed successive titles after dropping just five games against Anett Kontaveit in her native Estonia at the Tallinn Open the week prior.
Back into the world's top 20 and now riding a nine-match winning streak, the 26-year-old Czech international will be motivated by her success of late. While not featuring in San Diego this week, her play has done more than enough to suggest 2023 will see her at the top table once more.
Picture source: Getty Images