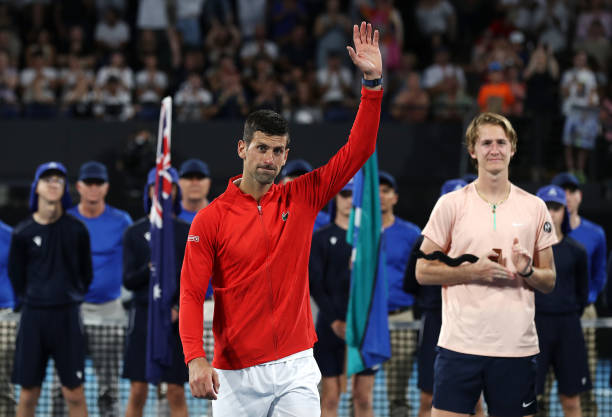 What a day of finals action. USA swept Italy in the inaugural United Cup, before American teenager Coco Gauff and world no. 5 Aryna Sabalenka both prevailed in straight-sets to clinch their first WTA singles titles since May 2021 while Novak Djokovic recovered from the brink – match point down – to eventually overwhelm Sebastian Korda to win his 92nd ATP title.
Usa sweep aside italy to become united cup champions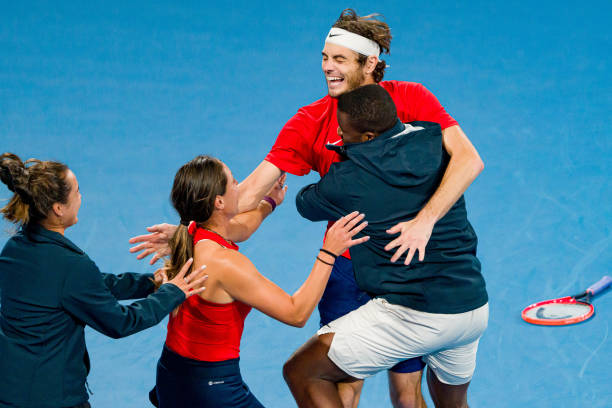 Given their depth across both tours, the USA were favoured by many and have proved worthy winners of the inaugural United Cup tournament, after a 4-0 sweep against team Italy today.
World no. 3 Jessica Pegula got them off to the perfect start, winning 6-4, 6-2 against Martina Trevisan in their first-ever H2H meeting.
She won 17 of 24 points behind her first serve – 71% – compared to less than half for the 29-year-old, who was down an early break and found herself fighting a losing battle as they exchanged breaks of serve midway through set one.
Set two was much more straightforward, in the Guadalajara champion's favour.
2022 US Open semifinalist Frances Tiafoe was down 0-1, 0-40 and needed to save three break points – but did exactly that – en route to a storming set of tennis (6-2) against Lorenzo Musetti.
The 20-year-old, currently ranked two places below him at a new career-high world no. 19, retired with an injured right shoulder – complaining that he felt something odd in his back.
Then it was the turn of Tokyo titlist Taylor Fritz next, and he ultimately sealed an American victory by playing the big points better against Matteo Berrettini: 7-6 (7-4), 7-6 (8-6).
Madison Keys needed little over an hour to dismiss Lucia Bronzetti 6-3, 6-2, and the aforementioned results meant no need for a doubles rubber to decide this year's champion.
Both Keys (world no. 10) and Tiafoe (new career-high #17) have moved up places in their respective rankings on tour as a result of their play this week.
Meanwhile Trevisan (NCH #21), Bronzetti (NCH #51) and Berrettini (#14) have done the same despite the disappointment of finishing runners-up in this team-format competition.
---
Djokovic digs deep, saves match point to overcome Korda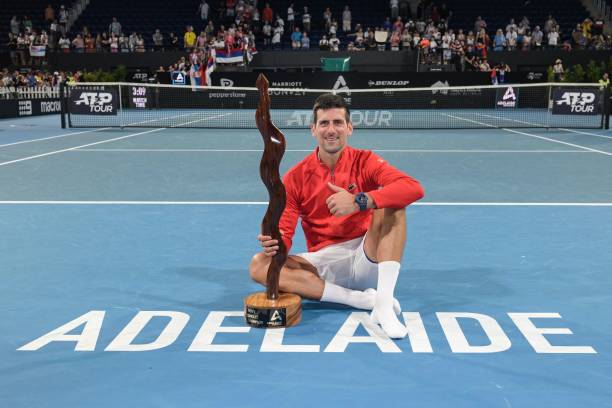 Djokovic-Korda: 6-7 (7-9), 7-6 (7-3), 6-4
"We've been practicing quite a bit, I'm very grateful and hopefully we have many more battles. Great start to the year, wish we could've got it done today but a long journey and lot of positives, think we'll have a great year together," Korda post-match
"Hope you enjoyed the show. Sebi, amazing effort, you were closer to victory than me – decided by a few points – tough luck today but future is bright, you're an amazing player, well done," Djokovic after saving a match point en route to his 92nd ATP title
Both go into the Australian Open with renewed targets after big week; Korda poised for a big run as a first-time seed, Djokovic a favourite despite injury scare to earn 10th title
Djokovic said pre-match that he wanted to make things messy for someone who plays some beautiful tennis in Korda.
That proved easier said than done, as the 22-year-old's beautiful backhand was on full display and he was outdueling the Serb in that rally exchange while holding his own for the most part.
A pair of big groundstrokes: backhand and fantastic forehand up-the-line forced Djokovic to net a pair of returns, presenting the American with two break points.
A backhand winner up-the-line – there's a theme here – secured a 5-4 Korda advantage and suddenly, the 21-time Major champion found himself beaten at his own game.
He's the player notorious for stepping up his game at crucial junctures in matches. 4-4 and a set there to be won, he's the man you trust to deliver.
Korda had three set points, two disappeared in a flash, but still one remained. He set it up well with a kick serve, before netting a backhand with more than half the open court to aim at.
After saving those opportunities, Djokovic broke back and eventually held. Korda faced a break point too, producing a 198km/h serve out wide to save it, so into a tiebreak they went.
Korda's backhand down-the-line was an aesthetically-pleasing, impactful weapon for which Djokovic had limited answers.
Taking advantage of his tentative approach to their rallies, expecting a mistake rather than being aggressive, Korda should've got the job done soon.
On set point #7, he displayed mental strength aplenty in eventually doing so.
Djokovic, having framed a forehand into the sky on the one set point he had five minutes prior, was agitated.
His play had been dicey in parts, hesitant to finish a closely-contested set and Korda finally punished him.
He punished a few of his support team in his player box before set two began, angrily admonishing them out of sight. Some fans courtside didn't know how to react.
Was he imploding, or would he eventually work himself into a groove and play with more aggression now he had a deficit to overturn? The latter, though it wasn't instantaneous.
Korda saved two break points early on, then both held serve relatively easily until pressure intensified as set two reached its apex. Serving at 4-5, then 6-5 down, Djokovic felt it first.
It would intensify at 30-30 on serve, as Korda's excellent ball-striking saw him win a long rally. There it was, championship point.
Sure, this was *only* an ATP250 event but the moment wasn't lost on Korda. Despite his assured nature, he didn't need telling what this would mean – beating Djokovic on a hard court this close to his best Grand Slam. Given the law of averages, it was probably the best possible play too.
Djokovic's overhead smashes aren't a surefire conclusion, not least in such a situation after a tension-packed rally. Korda forced the former world no. 1 to beat him, and that he did, by being aggressive championship point down and having no regrets.
That said, the Serbian's first serve deserted him.
Luckily enough from his perspective, that was Korda's one and only chance to seal a famous win – missing a crosscourt backhand – as they went into another breaker. He looked laser-focused, much different than the same situation an hour earlier, and raced to a 5-1 tiebreak lead.
Korda again compelled the veteran to beat him, serving a pair of aces, and soon enough they were level at one set apiece. Time for a change of clothes, but not mindset for Djokovic. He cranked up the pressure to start set three – he had to – and Korda saved more break points.
If you didn't watch this, it'd be easy to assume Korda just crumbled under the pressure. He rose in the face of it, especially down 3-4 0-30 as Djokovic's fans were in full voice.
He blasted a trio of big serves – 203, 201 and 195km/h – to continue their back-and-forth battle.
Djokovic appeared to briefly lose his bearings, attempting to play a rally ball up 40-30 that was going wide on the stretch. He eventually secured an important hold, Korda still pressing him, and now the roles would be reversed.
Korda peppered him, from one corner to the next, being repelled everytime. Djokovic decided to switch it up, looping a defensive lob high into the sky, and Korda smashed into the net.
Just like that, 30-30 on serve, Korda was now facing championship point.
Djokovic clinched it after another gritty rally.
---
Gauff downs first-time finalist Masarova with relative ease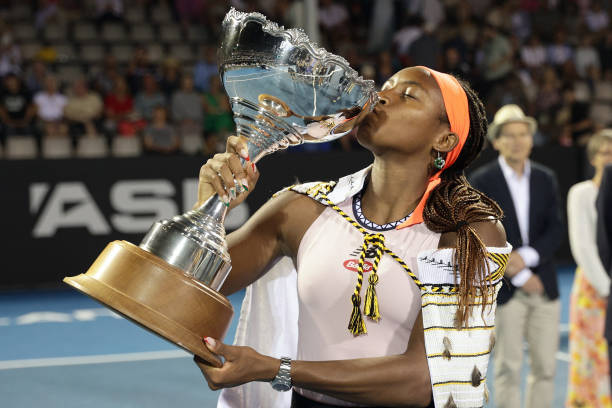 Gauff bt. Masarova 6-1, 6-1 for her third WTA career singles title, first since May 2021
"Great week, can't ask for a better start to the season. First title on hard courts since I was 15, good to do well on the surface I love most. Offseason I play with a bunch of guys, mostly losing so it felt good to get some wins under my belt, thanks to my coach for prepping me – even though it was tough – he knows what he's doing," Gauff post-match
Teenager then reserves praise for 23-year-old Spaniard Masarova, who exceeded all expectations as a qualifier to reach the final in the first place – and must play Australian Open qualifying early next week too despite moving up to career-high world no. 94
"Super happy I could play this week, really disappointed in my first WTA Final but Coco played amazing and didn't give me a chance. The few I had, she played unbelievable so yeah. Definitely a long week, but hope I can play many more [finals] to come," Masarova
Coco Gauff had to deal with a two-hour rain delay, serving at set point, but at the fourth time of asking – having raced into a 5-1 lead – got the job done.
Masarova appeared to be playing much better after the break, with a heavy deficit giving the Spaniard freedom to strike with intent and potentially prolong what was a one-sided contest.
It's easy to forget, amidst all the hubbub of weather-enforced breaks in play, that Masarova has Australian Open qualifying on Monday overnight (BST) against Romania's Gabriela Lee.
She'll have to fly from New Zealand into Melbourne, quickly get acclimatised and importantly play with more steely execution under pressure than she showed during periods in set two.
A netted forehand gave Gauff an early break as the 23-year-old angrily whacked herself with her racquet in frustration. This wasn't to be her day.
She continued going for her shots and produced a few impressive winners, while saving two break points after a nasty net cord threatened to derail her further on serve.
Some timely big serving helped get on the board down 2-1, as it was Gauff's turn to fend off a bit of adversity. She did so with excellent drop shot usage, while Masarova's errors were heightened.
Five break point opportunities came and went for Masarova to keep things competitive, with Coco completing an unorthodox serve-and-volley tactic to go 5-1 up.
Masarova set up a point beautifully, before netting a volley and having to save two championship points to ask Gauff the serve it out question. She aced the first, but netted a forehand with the second after a rally forced both players forward. Gauff eased to victory.
---
Sabalenka sinks Noskova in Adelaide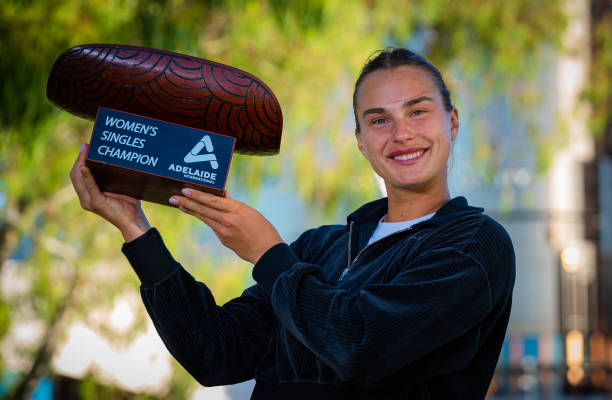 Sabalenka bt. Noskova 6-3, 7-6 (7-4), wins her 11th WTA career singles title
"Just wanna say something about this young lady… 100% you're gonna be in more finals! Thanks to my team for everything, everyone who makes this happen and thanks to the fans for an amazing atmosphere," Sabalenka during her post-match interview
Czech teenage qualifier Noskova – who saved match points in two separate occasions over the past week alone – made history after becoming the youngest finalist at a WTA 500 event since former world no. 1 Caroline Wozniacki managed the feat back in 2008
Aryna Sabalenka is a WTA tour-level champion again. It wasn't as easy as many of her successful scorelines have seemed over the past week, but the 24-year-old ended a three-match losing streak in finals to clinch a morale-boosting piece of silverware ahead of the Australian Open.
It's remarkable what twelve months can do, especially in an ever-changing environment like the tennis circuit: the Belarusian was heavy criticised and under big scrutiny this time last year, as she had a case of the well-documented serving yips that subsequently hurt the rest of her game.
After reaching the US Open semi-finals and finishing runner-up at the WTA Finals last season, Sabalenka could be poised to produce a big 2023. Key word there is could, rather than will, given how the previous two years – in the biggest matches – have unfortunately unfolded with defeats.
Noskova meanwhile, finds herself in the same situation as Masarova – no immediate reward for rising almost 50 ranking spots to world no. 56, especially given the latest tournament withdrawals this weekend. More on that later, but the 18-year-old deserves some shine here.
Noskova navigated past three rounds of French Open qualifying before I watched a full match of hers last May, and she's already improved considerably since losing in three sets against Emma Raducanu on clay. You saw the best of her this past week. At the time, I wrote:
She's the second-highest U18 in the WTA rankings (#158) and given how she played for sustained stretches, it'd be surprising if that number isn't firmly in single digits before 2022 ends. During an era where the Czech Republic have quality and depth aplenty as far as women's tennis is concerned, there's no reason why Noskova cannot add to that in future.
I'll be back with more coverage in the coming week, a little less daily round-ups and more build-up before the Australian Open proper – with qualifying getting underway overnight.
Picture source: Getty Images