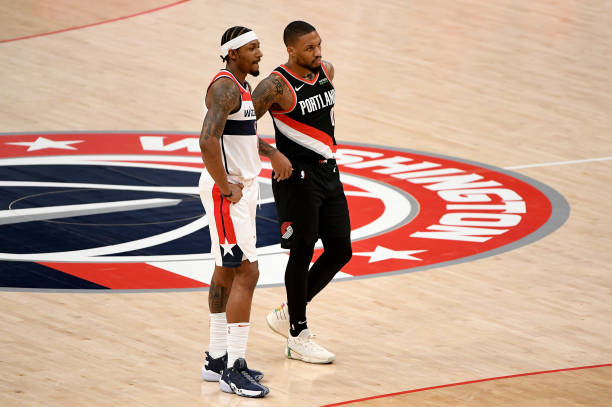 Bradley Beal became the 10th player in league history to receive a no-trade clause as part of his five-year, $251m max contract extension with the Wizards. Ten days later, another All-Star – Portland's franchise star Damian Lillard – inked a two-year, $121m max vet deal to remain with the Trail Blazers, now under contract until the 2026-27 season. Will these decisions age well? 

after all that speculation, Beal's big break
Beal averaged 23.2 points, 6.6 assists and 4.7 rebounds on 45.1% shooting in 40 regular season games last term before being shut down with a wrist injury
Philadelphia 76ers and Miami Heat were just two of the teams eyeing his situation in recent months despite him revealing four months ago, Wizards extension was likely
"I want to win a championship and do it here, I believe we can win in DC," Beal stresses, despite insufficient evidence nor a quality supporting cast to justify that belief
Washington Wizards owner Ted Leonsis' main buzzword in last week's news conference surrounded the sentiment of loyalty. Bradley Beal, if there was any doubt, has firmly cemented himself as their franchise cornerstone with a massive max contract extension this offseason.
The deal also means the three-time All-Star joins rarefied air: LeBron James (Cleveland), Kevin Garnett, Carmelo Anthony, Dirk Nowitzki, Kobe Bryant, Dwyane Wade, Tim Duncan, David Robinson and John Stockton as a player with a no-trade clause inserted into their contract.
It means, should Wizards GM Tommy Sheppard one day decide a rebuild is needed, he needs Beal's permission to make a trade and the 29-year-old has say over his next destination.
Washington might not have advanced past the second round in the postseason during Beal's lifetime, but the franchise's reputation for rewarding commitment will make them a sought-after destination for the league's best free agents.
That's according to Leonsis, whose long-term optimism is understandable but equally should be taken with more than a pinch of salt given their underwhelming history in that same regard.
"If you can show the industry, the world you can draft, develop, keep great players, that's how you start to make your way to become a destination.

There's a lot of movement, a lot of non-partnership that you see around the league. For there to be a public statement essentially saying 'we have a player that wants to be here, serve out his contract, as do we,' that allows your GM to plan, have the confidence that your best player is a part of the process.

I didn't take it as a point of leverage; I took it more as a point of partnership, all we can do is show you that we're in this together."
John Wall, widely regarded as their franchise player before serious injuries saw Beal take the mantle, has this month agreed a two-year, $13.2m deal with the LA Clippers.
After a decade in DC, with just under $146m in salary alone, the 31-year-old point guard will look to rebuild the rest of his career alongside a much better roster out West with Kawhi Leonard, Paul George and co in Los Angeles – immediately a championship contender if injury-free.
Sandwiched between the Wizards and LA, was an ill-fated trade featuring Russell Westbrook in December 2020. Although you can't argue with Russ' impact during a one-year stint in Washington, Wall's tenure among a rebuilding Houston Rockets team was rough to say the least.
The way he felt treated and subsequently discarded by the Wizards isn't exactly going to portray the franchise in a good light for prospective free agents seeking a new destination, especially given Beal's readiness to play with him again before the aforementioned trade was made.
Having a motivated Kristaps Porzingis on your team is a boost, while Rui Hachimura, Spencer Dinwiddie and Kyle Kuzma are nice pieces too. If they're serious about cracking into the ever-improving Eastern Conference's set of title challengers, the Wizards need a lot more than that.
---
Lillard stays loyal too
Lillard averaged 24 points, 7.3 assists and 3.7 rebounds in 29 regular season games on 40.2% shooting — the least efficient FG% of his career — but was hampered by injury
The six-time All-Star and All-NBA guard, who turns 32 on Friday, discussed being in a great space both mentally and physically, while also ready to make up for lost time
Jerami Grant, an Olympic teammate of his as they won gold with team USA in Tokyo last summer, was acquired via trade with the Detroit Pistons last month
After the emotionally-charged departure of long-time friend and backcourt partner CJ McCollum to the New Orleans Pelicans earlier this year, Damian Lillard had a decision to make.
Many felt he already did, by cooling off on a reported willingness to leave the Blazers twelve months ago for his ability to truly contend for a title in Portland. It didn't help that, at the time, they were sifting through applications and shortlisting candidates to take the head coach job.
Settling on LA Clippers assistant coach Chauncey Billups, a controversial choice in itself, saw them endure a rough campaign as Lillard's abdominal problems saw him regularly sidelined — coupled with the McCollum trade — meant they weren't going to be particularly competitive.
Instead, low expectations helped Anfernee Simons earn himself a four-year, $100m contract extension while new acquisitions Josh Hart and Drew Eubanks quietly impressed post-trade.
Gary Payton II, undrafted six years ago, has joined Portland in a three-year, $28m deal after emerging as an integral part of Golden State's title run this past season. Grant, a familiar face from Lillard's gold medal in Tokyo last summer, was acquired for a surprisingly cheap trade haul.
Understandably, he's looking forward to what's next. As has proven the case a few too many seasons now, will he still have such a positive outlook heading into the new year?
"I'm as anxious as I've ever been to get out there, make something happen. I'm in a great space mentally and physically, I'm gonna come into this season comfortable and ready to do me, at the highest level.

In my entire career, I haven't been injured – one injury that put me out [broken foot in college]. That was the last time I got to step away, I didn't recreate myself, just charged back up, came back and was better than I had ever been.

"I don't think that you earn something like this [max extension] just by going out there and scoring a bunch of points.

Something that's missing in our league is the character and the fight, the passion and pride about not just the name on the back, but the name on the front and how you impact the people that you come in contact with."
Just like with Beal's mammoth deal, Lillard's max extension comes at a time where disgruntled stars aren't in short supply – especially those in smaller markets. We'll have to wait and see.
Picture source: Getty Images — quotes via Washington Post, OregonLive