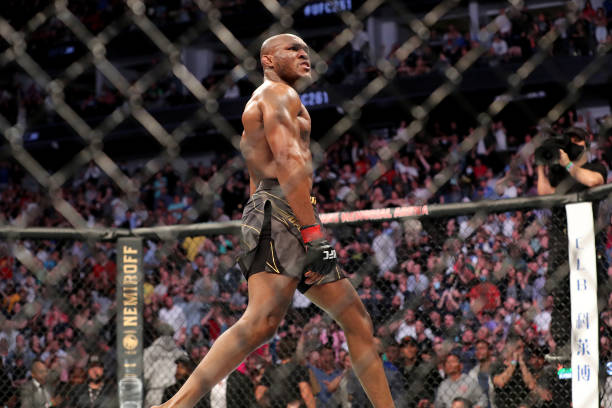 Welterweight champion Kamaru Usman is itching for more activity and wants to make the fifth defence of his 170-lb strap at UFC 263, on what would be another stacked card with three title fights, per an ESPN interview with his manager Ali Abdelaziz. While promoter Dana White said a Colby Covington rematch is next, they're targeting others like Michael Chiesa (#7) instead.
Active champion Usman targeting UFC 263 return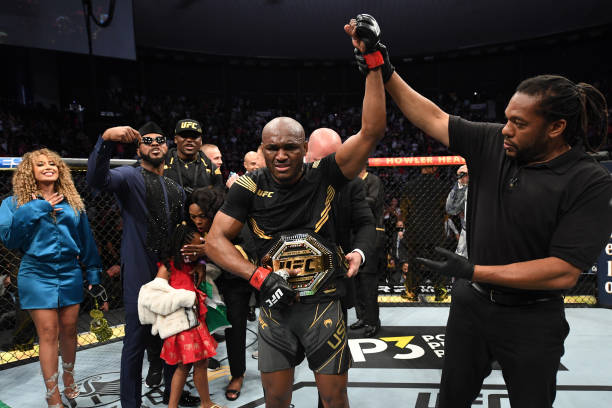 After successive title defences against Gilbert Burns at UFC 258 and Jorge Masvidal last weekend to cap an electric UFC 261 pay-per-view in Florida, Usman remains hungry for more.
During an interview with ESPN's Brett Okamoto, Usman's manager Ali Abdelaziz rubbished the idea that Colby Covington (16-2) is a surefire #1 contender less than 18 months removed from their first outing – an exciting fight but one which ended rather decisively in December 2019.
"After Kamaru destroyed his jaw and disfigured his face, he fought three times in the last ten months against very tough opponents. Colby [has fought] three times in three years.

He fought Woodley, the guy isn't even in the UFC anymore! Maybe he's good for business, who cares? Chiesa, four-fight winning streak, Luque three, Leon Edwards nine. Why is Colby so special?"
He threw out the idea of trying to do one better than his compatriot Israel Adesanya and fighting for middleweight gold, should he lose his 185-lb strap vs. Marvin Vettori (UFC 263, June 12).
That fight is slated to headline a night of two exciting rematches, with flyweight champion Deiveson Figueireido again defending his strap vs. Brandon Moreno in the co-main event.
While the prospect of that happening is unlikely to say the least, Abdelaziz said Usman is in a position where he's "earned every right to do whatever he wants now," while also being respectful of Dana White's wishes.
"We will work together regardless, to make it [Usman's next fight] happen. Usman called me yesterday, said June 12… let's throw Michael Chiesa a bone.

He doesn't have a fight [the rest besides Covington are all currently booked], I told the UFC he wants to fight, three more times this year. The only way to stay relevant is to fight often.

Why not Chiesa? He can't take Usman down, can't lay and pray, so stylistically it's a good fight. I'm talking scenarios. June 12, 100%. You send me a contract, Usman will fight Chiesa… or whoever is on a winning streak."
On potentially going against Dana's wishes, given his eagerness for Usman-Covington 2 next:
"Dana respects Kamaru, let's get this clear. They have a beautiful relationship, he's not just a tyrant who runs over people, you can talk to him.

He said knocking out Masvidal, [Usman] has become a different level. You see so many big media [outlets] talking about him, but guess what? He sat at home for 24 hours and said I need to fight, I love this [sport]."
He cited Stephen A and Max's ESPN show among the media outlets that covered Usman's brilliant knockout to start this week – proof the Nigerian Nightmare's star continues to grow:
---
Assessing the welterweight division, Usman's next challenge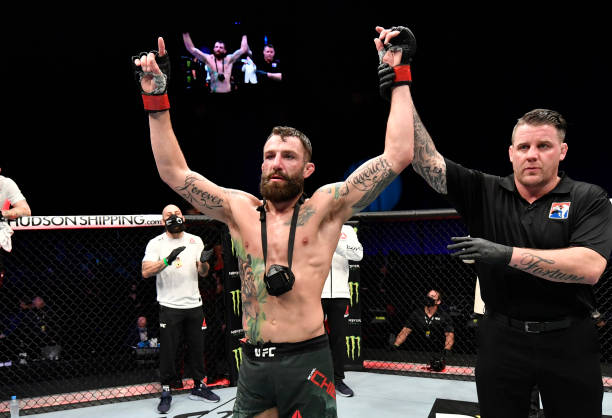 Judging by this interview, Usman is injury-free after fighting for six minutes last weekend and understandably wants to keep building momentum despite some clear logjam in a 170-lb division where fresh matchups – like Chiesa (18-4) and Vicente Luque (20-7-1) – still remain.
#2 Gilbert Burns vs Stephen Thompson #4 (UFC 264, July 10)
#3 Leon Edwards vs Nate Diaz (UFC 262, May 15)
#1 Colby Covington, #6 Vicente Luque, #7 Michael Chiesa all currently unbooked
Considering Abdelaziz's logic, it's either Covington or Chiesa next this summer for the champion – Luque was rocked early and in serious trouble against Woodley at UFC 260 last month before ultimately earning a first-round submission, but hasn't exactly fought top 170-lb competition.
Chiesa has wins over former lightweight champion Rafael dos Anjos and Neil Magny (#9) in his last two Octagon appearances, the former faced Usman in his final non-title bout before the 33-year-old's existing reign (November 2018), earning his second Performance of the Night bonus.
READ: Chiesa hoped to make a statement vs. Magny and his comments were proved true
Usman, who turns 34 on May 11, has entered his physical prime and knows time is of the essence as he wants to continue building his championship resume. Quick turnarounds between title defences, despite being increasingly rare, are understandable in this case.
Picture source: Getty Images