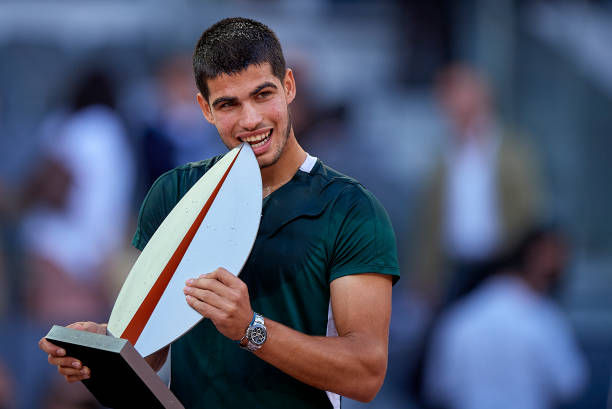 After sealing his maiden title at this level against Casper Ruud in Miami last month, the 19-year-old Spaniard showed nerves of steel and made history to finish an awe-inspiring week beating three of the world's top four – Rafael Nadal, Novak Djokovic and Alexander Zverev – to seize a second successive Masters 1000 title, just two weeks before this year's second Major in Paris.
Alcaraz rises further, as fatigued zverev firmly second best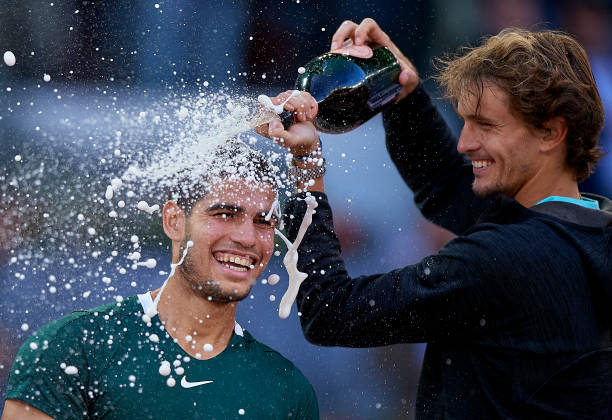 Alcaraz [7] bt. Zverev [2] 6-3, 6-1
Zverev will bemoan the tournament's unrelenting match scheduling for what was a flat, frustrating display lasting barely an hour, but it'd be disingenuous using that to detract from another memorable week for Carlos – who celebrated his 19th birthday earlier this week too.
He's already avenged two of his three 2022 defeats in Wimbledon finalist Matteo Berrettini and a gritty Nadal effort this past week, while the other – 21-year-old American talent Sebastian Korda – is among the new generation who too has been inspired by the Spaniard's play lately.
He beat Miomir Kecmanovic, Hubert Hurkacz and Casper Ruud en route to clinching the Miami title on Apr. 3, but this trio are in another stratosphere with regards to pedigree and experience – even if the last one is still without a Major title, he's the reigning Olympic champion after all.
Outlasting Nadal, whose chronic foot issues have resurfaced in recent months, is one thing. To recover from a set down to down Djokovic in a deciding set tiebreak – even this version of Novak still regaining match sharpness – the very next day is remarkable, not least on clay.
Zverev, who had a markedly serene route to the final by contrast, has been worryingly inconsistent so far this season but dropping just four games against the German? It reinforces the fact his confidence is only intensifying with Roland Garros less than two weeks away.
As a result of his latest Masters 1000 title, Carlos is now at a new career-high world #6 ranking and it feels inevitable that will continue to surge, such is the inspired way he's playing.
Whether poise with delicately drilled drop shots, punchy groundstroke power, a high kick serve weapon or the ability to continuously rack up cheap points without playing at his best, these are all combining factors justifying the fandom developing for him over the past 18 months.
He's withdrawn from next week's Italian Open in Rome, predictably given how much tennis – in quick succession – he's played against some of the world's best. The next question is whether that high level can be sustained over five-set format, which has proven an undoing for most.
He's shown it in flashes, like against Tsitsipas at last year's US Open or pushing Berrettini to the brink in Melbourne to start 2022. Whether he can consistently produce that over a gruelling fortnight, rather than one-off moments against top opposition, remains to be seen.
Armed with fearlessness, the weapons to hang with anybody as well as the forward momentum to certainly try – not to mention having the crowd on side, such is the electric nature of his tennis.
Picture source: Getty Images