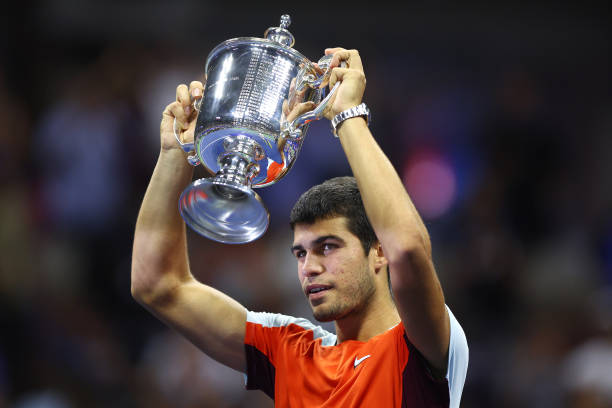 Carlos Alcaraz began with renewed vigour, Casper Ruud pegged him back with some brilliant shot-making as questions over fatigue arose – after setting a record for the longest time played at a Grand Slam on record. The 19-year-old saved two set points in the third, before powering home in four as he earned his first Major title and will be the new world no. 1 come Monday.
Alcaraz saves two set points during four-set win over ruud
Alcaraz [3] bt. Ruud [5] 6-4, 2-6, 7-6 (7-1), 6-3 in three hours 20 minutes
Alcaraz, youngest Major finalist since Rafael Nadal (2005, French Open), youngest US Open finalist since Pete Sampras (1990), first male player born in the 2000s to reach a Major final, now becomes youngest world no. 1 in ATP rankings history with victory
This also means he's the first player to save match point (Sinner in QF) during a prior match and win the tournament since Stan Wawrinka in 2016 US Open (R3 vs. Dan Evans)
This was the first final featuring two men competing for their first Grand Slam title as well as the world no. 1 ranking, after Medvedev and Nadal's early exits mid-tournament
1st post-US Open change at No. 1 since 2003, when Alcaraz's coach Juan Carlos Ferrero rose to #1 after run to final – losing in straight-sets against home hero Andy Roddick
For all of Carlos Alcaraz's awe-inspiring court coverage, those fearsome forehands, his delightful drop shots, the Spanish teenager didn't start as well as he might've liked in this Major final.
Yet here he was, up a break in set one and uncomfortably again at risk of being broken at 4-3, 15-30. A body serve ace – moments after making his 12th unforced error – followed by a forehand volley at the net and backhand into the corner eradicated that possibility rather emphatically.
After the initial nerves had dissipated – saving three break points in two service games – both players held serve well enough to amble by and Alcaraz finished set one assertively, as Casper Ruud's chances of mounting a comeback were under heavy scrutiny by analysts courtside.
As he's resolutely proven multiple times already this year, that scepticism was quickly replaced with defiance from a 23-year-old who had already been to a Slam final and blitzed before.
That wasn't going to happen here, with timely big serves – 116mph to save break point – and some scrambled Alcaraz drop shots helping him push ahead midway through set two.
Three unforced errors handed Carlos a break back opportunity after they exchanged blows during a flurry of frenetic rallies, yet again Ruud wouldn't budge. For someone whose serving isn't given the respect it deserves, how do you like a 127mph reply?
Alcaraz audibly fumed as the set, one which he once led 2-0, had suddenly passed him by with some disconcerting lapses in concentration.
But alas, Alcaraz responded well to start the third. He had to, a drop shot winner helping him grab an early break, while Ruud kept composed to save going down a double break before putting them back on serve.
Commentators have been keen to highlight Alcaraz's levels of fatigue after battling through a trio of five-set victories, especially given how he wilted here twelve months ago.
Two hours in and the observations came, suggesting his footwork was more hurried and shot selection a little tired after being repeatedly dragged into deep water over this fortnight. On he fought, though Casper wasn't just here to compete, revenge and success was on his mind.
So it felt fitting he won a 17-shot rally – the match's longest – as the pressure intensified for both on serve. Ruud's 124mph serve, as well as another Alcaraz drop shot miss, gave him a 5-4 advantage before both held serve with a tiebreak approaching. Not so fast.
A wicked forehand and return ace gave the Norwegian two set points, both of which were saved by well-executed drop volleys at the net.
Into a breaker they went and, unsurprisingly, Ruud seemed deflated because despite winning the opening point, he ballooned two returns and shanked another. Seven straight points went the Spaniard's way, and that proved the catalyst for a furious finish.
After two aggressive backhand winners helped him snatch a break midway through set four, a 120mph serve – after missing an easy forehand smash – created two championship points.
He skewed a forehand long with the first, but produced a 125mph unreturnable serve with the second – his 14th ace of the evening – to secure a historic triumph.
---
Analysis, what's next for both?
In the early hours on Friday, I wrote about how Ruud making his second Major final – doing so playing the excellent tennis shattering persistent naysayers questioning his rise – would stand him in good stead against a different proposition in Nadal's younger compatriot Alcaraz here.
A feature ran on the US Open's official website said something similar, describing him as someone not blessed with "titanic strokes of a take-notice serve, but an unperturbable ground game and elite court coverage," while adding the retort he's had an easier run through the draw.
"Still, as impressive as he's been in 2022 – three titles, plus a Miami final, semis in Rome and Cincinnati – much of his season's success will hinge on whether he can solve Alcaraz on Sunday," read their website's pre-match coverage of Ruud
Although it ended sharply in the fourth, Casper didn't play poorly. Instead he – like many others at this tournament – found himself ground down by Alcaraz's shot depth, footwork and ability to adjust with more weapons (and relentless conviction) than he could consistently match.
He'll naturally be kicking himself wondering what might've happened had he seized one of those two set points in the third, while the drastic drop-off during the subsequent tiebreak was rough.
However, this was pendulum-swinging tennis at its finest and he should be heartened from this showing – much more encouragement than the straight-sets defeat by Nadal, who he had too much respect for. Here, Alcaraz refused to be beaten and when equal, Ruud blinked. It happens.
As for Carlos? Well, much like Iga Swiatek, he has won the title without being at his best – there were some electrifying moments sprinkled in for good measure – but he and the team, Juan Carlos Ferrero and others would be the first to tell you there's vast improvements still to come.
That's a scary proposition for the chasing pack. Rafael Nadal is 36 and his injury issues keep him pondering life after tennis, Roger Federer has long been that way, quietly out of the limelight.
Wimbledon champion Novak Djokovic, a year younger than Nadal, still has the desire and physical capabilities to prolong his career perhaps four-or-five more years with the Paris Olympics on his mind. Everyone else – Zverev, Tsitsipas, Medvedev et al – is playing catch up.
Remarkable to think that just a few days ago, he was match point down against budding rival Jannik Sinner and now? He'll wake up to being world no. 1, is rightly being heralded for producing transformative tennis and his dizzying ascension to superstardom continues.
Time flies. Twelve months ago, Medvedev looked like he'd go from strength-to-strength, utilising his maiden slam triumph as further motivation to affirm himself as the world's best.
The 26-year-old still can, but how might we be viewing him completely differently had he flattened Nadal's comeback in Melbourne four months later? You could argue similar about Djokovic and his vaccination status, Zverev and a bad injury in Paris, as well as others too.
The point is, fluctuation is an inevitability in elite sport. It's remarkably difficult to maintain excellence especially with a target on your back – like Alcaraz will now experience. How he navigates the rest of this season, and the early months of 2023, could indicate plenty.
Picture source: Getty Images