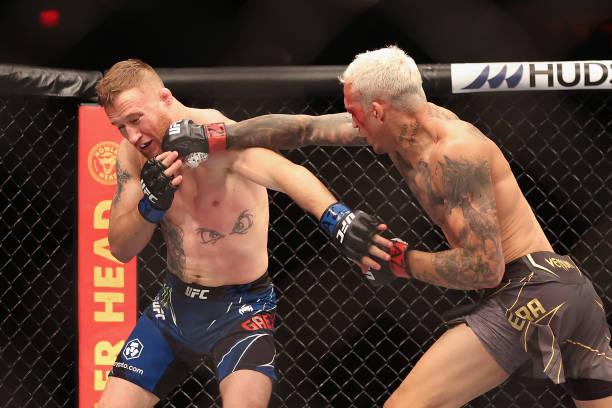 With no UFC card for fans to digest this past weekend, I look back at the five things we learned from May's electric UFC 274 PPV card – where one championship was controversially stripped on the scale beforehand, another title fight changed hands and plenty more happened besides.
#1: Charles Oliveira overcomes nightmare week in style
An animal is always at their most dangerous when wounded or threatened….
Gaethje had that rueful look on his face after being drawn into a battle he never looked likely to win. How did the former interim champion, who scored two knockdowns with his boxing, find himself on his back and being submitted with a rear-naked choke in R1 of his latest title shot?
Oliveira missed weight by half a pound during Friday's weigh-ins, so history was made as the 32-year-old became the first champion stripped of their title on the scales 24 hours before what would've been his second title defence. As I suggested might happen, he didn't let it affect him.
Considering all that, the emotional energy expended during fight week to cut said weight, the embarrassment that would've followed the miss, numerous questions over whether how badly he'd be physically compromised… he went out and produced that, another resilient display.
For a second successive time, after a third-round submission win over Dustin Poirier before Christmas, Do Bronx hasn't just played spoiler for those continuing to doubt him. No, he's shown much more than that and proven why he was champion in the first place – this is no accident.
Increasing his own personal records for most finishes (19) and submission wins (16) in promotional history, the Brazilian is thriving and it's refreshing to watch, whether he physically has the lightweight strap or not. Right now, he's the #1 at 155lbs and his confidence is growing.
---
#2: Namajunas fumbles title in stinker, but Esparza won't care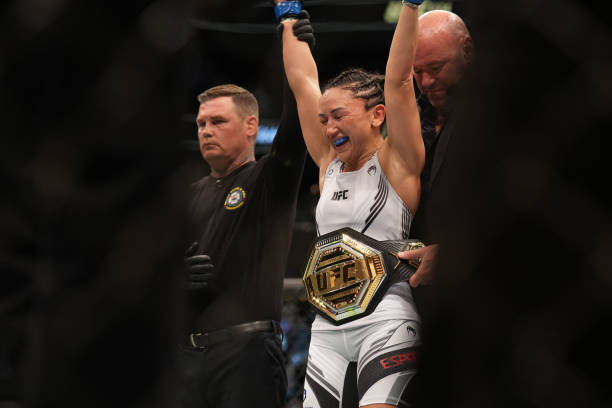 A forgettable championship fight went the way of Carla again during their rematch, but the fact the commentators struggled to digest this bafflingly slow-paced, minimal action, that said it all.
Although some fans voice their dislike for Joe Rogan's matter-of-fact style on the mic, Jon Anik and newly-confirmed Hall of Famer Daniel Cormier were swimming against the tide trying to justify what was unfolding before their eyes too. Why could these two champions not engage?
Esparza has earned a reputation for being a decision machine, with the second-round TKO win over Yan Xiaonan last year her first stoppage since submitting Namajunas during their maiden matchup in Dec. 2014. Whether she wins or loses, Thug Rose's fights always seem compelling.
So when you consider both sides, as well as the weirdly-sounding positive reinforcement from the champion's corner in-between rounds, that's why it felt like she lost the belt here more than Esparza snatched it. The pair landed 68 of 270 strikes landed over 25 minutes, per UFC stats.
So neither should've walked away feeling hard done by here. Regretful they didn't do more, sure. Robbery? No chance.
The judges' scorecards mirrored that belief, with two preferring Esparza's wrestling engagement (2 of 11 on takedown attempts) while one gave the edge Rose's way, all three scoring it 48-47.
One thing's for sure: there's certainly no active clamour to see a trilogy, especially with another battle between former champions coming next month in Zhang Weili vs. Joanna Jedrzejczyk.
Considering the winner will feature as Carla's first title defence, hopefully by the year's end, the stakes for their 2020 Fight of the Year clash – which didn't need intensifying – got just that.
---
#3: Michael Chandler reinforces why he's must-see TV once again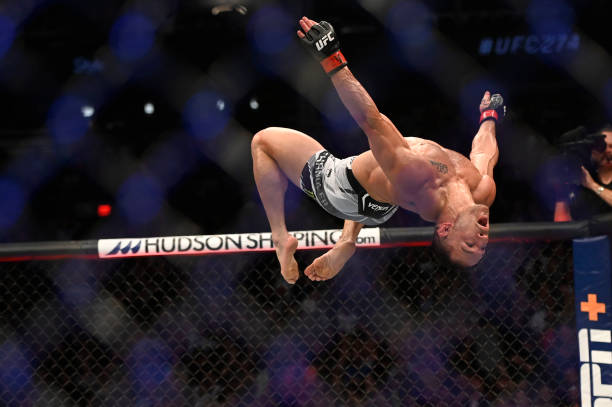 Two electrifying but damaging losses didn't dampen the lightweight contender's spirit…
A thunderous KO, passionate post-fight speech and Conor McGregor callout to boot.
It wasn't a reassuring round one but ultimately Michael Chandler's evening just reaffirmed the fact the three-time Bellator lightweight champion has provided an-already stacked 155lb division with more electricity in the near two-year stint since signing with the promotion.
Now 36, Iron Mike caused a stir after serving as the backup option for Khabib-Gaethje at UFC 254 but has quickly built up ample goodwill among sceptics with his performances, win or lose.
After quickly blasting Dan Hooker into oblivion on his debut, he was arguably an ill-fated takedown attempt away from toppling Oliveira to capture gold this time twelve months ago and won Fight of the Year honours for a battle exceeding high expectations with Justin Gaethje.
Those last two ended in defeat though, prolonging a wait for an accomplishment reserved for very few. For all we know, he might never achieve the ultimate goal.
But he's making the case to have fun and create carnage trying. If head movement and pacing was the issue vs. Gaethje, his striking defence and distance management reared its head in R1 here. Ferguson landed 20 significant strikes in those five minutes, 13 of which were to the head.
You don't need to be told about the unsustainability of Chandler's style to continue with his existing striking numbers (4.87 strikes absorbed per minute, 45% defence), but Islam Makhachev and a prospective Oliveira rematch would likely be exploited. Other contenders too.
The point is, styles make fights.
Chandler will likely need to rack up a few more wins before he can think about title contention, and those would against the likes of a returning McGregor, Rafael dos Anjos and perhaps Beneil Dariush — all below him in the rankings at present. We'll have to wait and see what's next.
---
#4: Surely though, that's it for Tony Ferguson?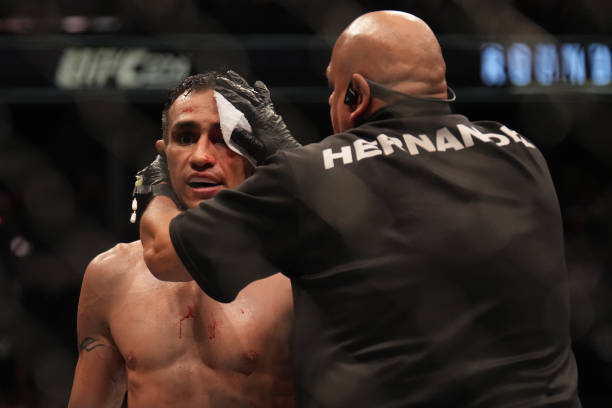 After four straight defeats – two by contrasting knockouts and two gruelling decisions – will someone finally save Tony from further punishment? Guess we'll have to wait and see.
He produced an encouraging R1 and won it on all three judges' scorecards, you might respond back. Sure, but no-one will remember that… they'll always recall that stupendous front kick KO, one you'd never have imagined Tony being susceptible to during his 12-win streak prime days.
El Cucuy, 38 in February, certainly looked every bit his age and then some during dominant decision defeats by Oliveira and Beneil Dariush before this latest loss. Predictably, that interim title fight against Gaethje left indelible marks that have only become very pronounced since.
This excerpt is from my UFC 256 piece in Dec. 2020, after the aforementioned defeat by future champion Oliveira:
"The control time numbers continued as Ferguson found himself swarmed on the ground, beaten from pillar to post and with no seeming way to stop what was happening either.

You could make a case that they were both 10-8 rounds, such was Oliveira's overpowering nature for which Ferguson had no answers to. His ability to withstand punishment has never been questioned and was key in helping him avoid a stoppage defeat, but you could see disappointment etched across his face as R3 began.

More of the same and Oliveira made a defiant statement against someone many believed would prove Khabib's toughest test in this division. That fight didn't happen, despite multiple bookings over several years, and perhaps it was for the best."
But being the stubborn perennial contender he is, it'd be much harder to walk away now – at an all-time low – despite the hungry names at 155lbs eager for their moment to shine and finally reach the top-15. He can still win, but not against the elite competition at lightweight any more.
---
#5: Randy Brown vs. Khaos Williams, worthy of a rewatch?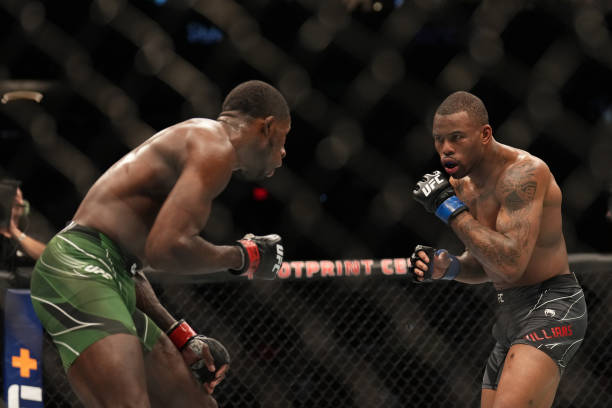 The result was a split decision, but did two of the three judges get it right?
This was understandably billed as a pick em' fight beforehand, and you could immediately see why from the opening round. Khaos Williams' ferocious punch power against Randy Brown's technical smarts and killer instincts, which one would cancel out the other?
The former's aggressive start gave him the edge for me in R1, while Brown's attempts at masking damage only lasted a little while as he waded into the fire with head movement and was aware of a need to push the pace in R2.
He had more success, but subsequently absorbed more strikes as a result. Most media members' social media posts shown on the broadcast mid-fight had it all tied up after 10 minutes, and although a tough round to score, they both brought urgency in the final stanza.
Williams scored a third-round knockdown and logged 4:09 worth of control time, but boos reverberated around the Footprint Center after the split decision result was announced.
Brown admitted he was apprehensive to engage with the power Williams possesses, before eventually perservering after some choic words from his cornermen between rounds.
While he fought well and this was a competitive matchup, he didn't win R3 though, so watch it again for yourself…
---
Other tidbits, prelims and early prelim results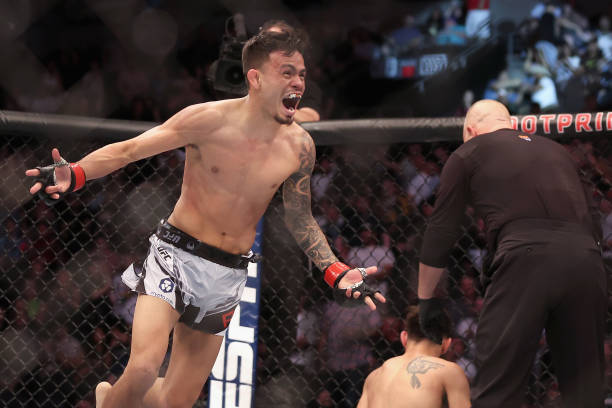 With nine fights across the prelim and early prelims to enjoy on this card, there were only two finishes: Portuguese welterweight Andre Fialho blasting Cameron VanCamp inside half-a-round.
Elsewhere, #5 ranked flyweight contender Brandon Royval won Fight of the Night honours for the third time in six UFC fights – with a R1 submission (via guillotine choke) against Matt Schnell.
Fialho didn't mince words, revealing post-fight that he's planning to stay active this year, with another matchup against a TBD opponent slated for UFC 275 in Singapore next month.
As for Royval, he's already faced the division's current top two with contrasting results: submitting Kara-France in a back-and-forth duel also winning Fight of the Night honours at UFC 253, before suffering a TKO loss by now-former champion Moreno at UFC 255 two months later.
If I was to play matchmaker given the current state at 125lbs… Askar Askarov, who lost his unbeaten record with a narrow decision to KKF last month, could pose an intriguing test next.
After successive split decision defeats by Derrick Lewis and Augusto Sakai, Bulgarian heavyweight Blagoy Ivanov ended a near two-year layoff by returning to winning ways while defending his #15 ranking with a UD win (29-28 x 3) against Brazil's Marcos Rogerio de Lima.
Brazil's Norma Dumont had a rough fight week: weighing in at 146.5lbs, forfeiting 30% of her purse, before ultimately failing to build on last October's main event win over Aspen Ladd. Here, two of the judges favoured Macy Chiasson in a split decision result (30-27, 28-29, 30-27).
Dumont's compatriot, welterweight Francisco Trinaldo is still going strong at 43 and now has earned successive wins for the first time in two years after outworking Danny Roberts. The judges all saw the contest differently, despite getting the same result: 30-27, 30-26 and 29-28.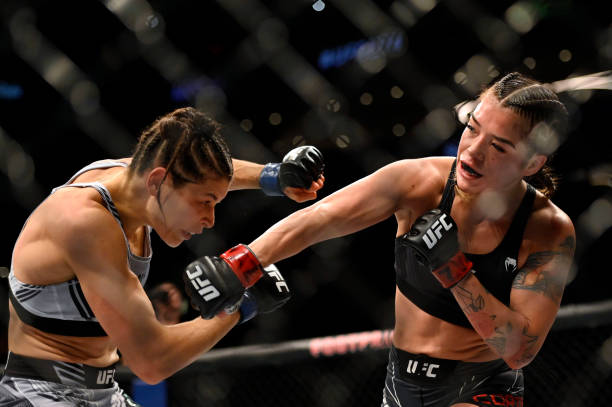 Tracy Cortez (10-1) has now entered the top-15 rankings at women's flyweight, after logging two takedowns and almost eight minutes' control time in her UD win over Melissa Gatto (29-28 x 3).
Since losing on her pro debut in Aug. 2017, the 28-year-old has proven her pedigree with four decision victories since besting Mariya Agapova on the Contender Series three summers ago.
Meanwhile flyweight C.J. Vergara landed less significant strikes (81-71) but more total volume (155-93) en route to edging past Kleydson Rodrigues via split decision (29-28, 28-29, 29-28).
Women's strawweight Lupita Godinez was thoroughly dominant and would've been frustrated not to get a finish, en route to a one-sided decision win (30-26 x 2, 30-27) vs. Ariane Carnelossi.
Considering she landed 130 strikes, completed all eight of her takedown attempts and had more than 13 minutes' control time in a 15-minute matchup, that says all you need to know.
To start the night, Journey Newson marked his return from a 20-month layoff with a UD win (30-27 x 2, 29-28) over Fernie Garcia. The 33-year-old was KO'd by Randy Costa last time out.
Picture source: Getty Images